This weekend flew by! Though I wasn't as productive as I would have liked, I'm thankful I got to spend quality time with friends & family. Every moment this weekend was enjoyed with people I love, and there isn't a better way to celebrate a holiday…don't ya agree?
I had "baking something new" on my to-do list, so it was natural to bake a 4th of July dessert. I came across these delish krispy treats with cheesecake topping and knew I'd hit the jackpot. I'm usually not impressed with themed desserts, but I thought this one was tasteful & subtle enough. They were so easy to make, yet looked so elaborate! The sweetness of the krispy treat was a match made in heaven with the tartness of the cheesecake.
Ingredients:
Krispy Treats (recipe makes ~16 pieces)
Cooking spray
3 tablespoons unsalted butter
5 ounces mini marshmallows
2 teaspoons honey
1/2 teaspoon pure vanilla extract
Kosher salt
4 cups rice krispy cereal
Line a 8 or 9 inch square pan with aluminum foil and coat the foil with cooking spray. Start by melting the butter, and then add the marshmallows, honey, vanilla and a pinch of salt. Continue to mix until everything has melted – takes about 5 minutes. Add in the rice cereal and stir until everything is mixed. Move the mixture into the pan and press so that it's level. Let it harden for ~20 minutes.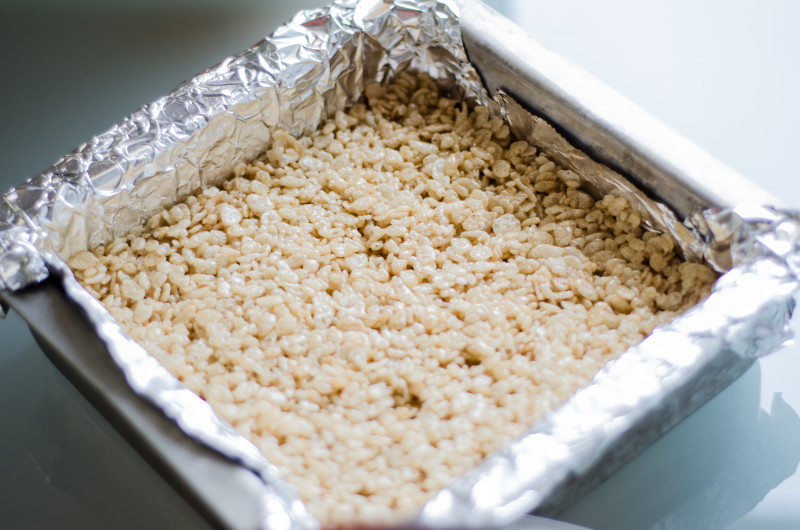 Cheesecake Topping: I ended up using only half of the topping, so next time I'll cut this recipe in half!
1/4-ounce packet unflavored powdered gelatin
Two 8-ounce packages cream cheese, at room temperature
1 cup sour cream
1 cup confectioners' sugar
1 tablespoon fresh lemon juice
1/2 teaspoon pure vanilla extract
Kosher salt
2 cups mixed raspberries and blueberries, for topping
Mix the gelatin with 2 tablespoons water in a small microwave-safe bowl, and set it aside to soften for 5 minutes.
Beat the cream cheese on medium-high speed (you can use a stand mixer or a hand mixer) until smooth, ~1 minute. Add sour cream, sugar, lemon juice, vanilla and a pinch of salt, and beat again for another minute, until the mixture is even and smooth.
Microwave the gelatin until it melts, should take 20-25 seconds. Add the gelatin to the cream cheese mixture, and beat on medium high speed to combine, about 30 seconds.
Assembly: Pour the cheesecake over the krispy treats, make sure the top layer is even. Cover the pan with plastic wrap and refrigerate for at least 2 hours. After the cheesecake has hardened, cut into pieces and add the berries as toppings. Enjoy!