Blazer: Vintage Escada (from one of my favorite vintage shops!), I couldn't find a leather blazer, but here's a navy moto jacket! | Jeans: Levi's, similar here| Silver Sandals: Massimo Dutti, sold out (similar here and here) | White Tee: Frank & Oak | Sunglasses: Celine, more affordable option here
It may not feel like fall yet, but it's definitely here. I've been rocking fall clothes & sweating my ass off, but I don't care. I refuse to wear summer gear in October. It's just not happening. NO MORE OPEN TOES. Done…except for these silver sandals, though. They just went too well with this navy blazer. I had to do it. But after this, I'm done. For real.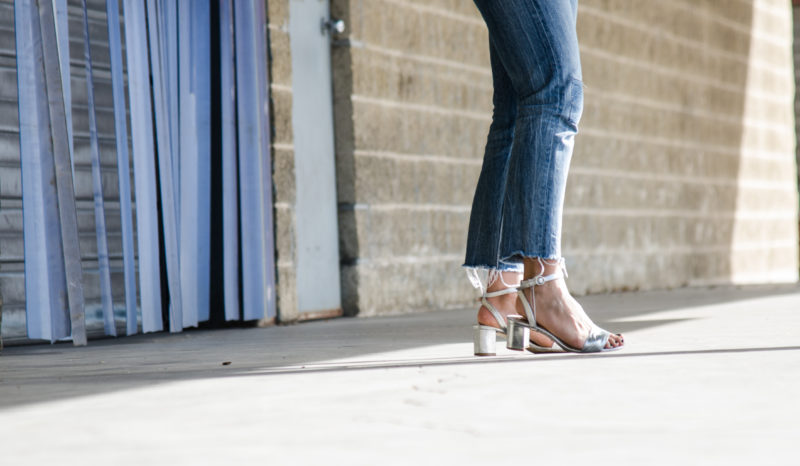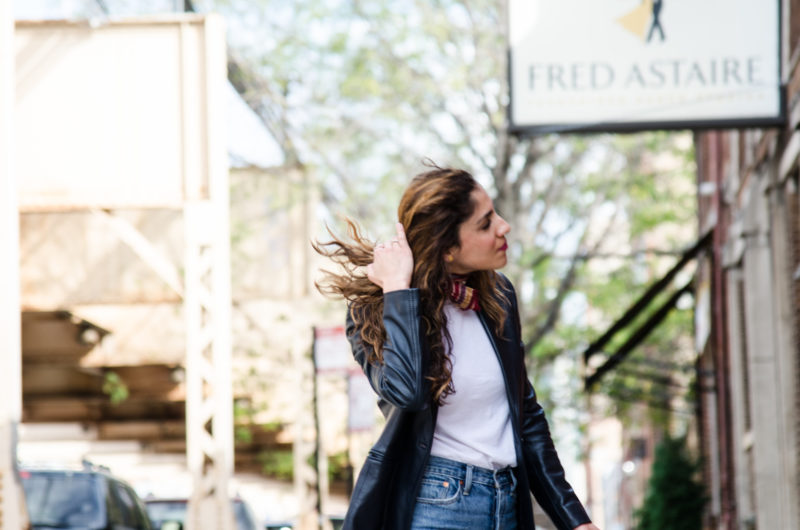 I've said this before & I'll say it again – minus the part that comes after, fall is my favorite season of all. I love the changing leaves, the weather, the clothing…I even love prepping for the holidays! Last year, we were so slammed with moving and remodeling (our kitchen, master bath + then some), that we didn't have moment to enjoy fall. I still have some pending items from last year's bucket list! This year, I'm mainly hoping to make time for things I miss I miss the most. Here's what's on my bucket list this fall –
Go apple picking (& make apple pie!).
This was one from last year that I didn't get to do! I've NEVER been apple picking, and apparently there are some beautiful farms right outside of Chicago. I need to make this happen…I've already locked it in next weekend with Mom. Fingers crossed it comes to fruition! Also, after all the apples I pick, because I def won't eat them all, I'm going to make apple pie. It's happening.
Spend the day at the library in my hometown.
Okay, I know this sounds crazy, but I really miss going to the library. It was one of my favorite things to do growing up, and we used to go to the library in my hometown (a suburb right outside of Chicago) on the regular. I really really miss those lazy days where I spent the entire afternoon at the library. I also want to start reading again – I haven't read since my Greece trip, sad – so I'm hoping this will get me inspired to hit the books.
Learn Greek.
Yeah, this probably isn't going to happen in one season, but one of Leo's requests for his birthday gift this year was that I at least TRY to learn Greek. It would definitely be nice to understand what everyone is saying around me on our annual Greece summer trip, so I might as well give this a shot. I have the whole Rosetta Stone set up & everything. It's fun to learn a new language. So far, I know about as much as a 2 year old, but hey, progress. PS – if you want to learn a new language, here are a few language apps to try!
Actually celebrate Halloween
Confession. I LOVE Halloween. Like, it's in my top 3 favorite holidays. The sad thing is, I haven't celebrated it in years! This year, I've already committed to going to the Halloween Parade in Chicago. That's right, I'm going ALL OUT. I still don't know what to dress up as. Any ideas? I need help.
Knit a throw
That's right, I can knit (kind of). Don't I sound like a big nerd after reading this list? I'm now having realizations about my nerdy-ness. Oh well. I'm almost 30, time to own it. Anyway, I really adore this throw for our living room, but I cannot stomach spending $600+ on a throw. There are a million other ways I'd rather spend $600, and this is not one of them. The solution? I'm going to try and make it myself. It can't be that hard right? Let's hope I figure it out. If I do, I'll be sure to share it! Wish me luck.