I know I'm not alone when I say that I have a denim obsession (point proven here here and here). I own probably around 10-15 pairs, but truthfully speaking, there are about 5 pairs I rotate between regularly. You can imagine, I wear these 5 pairs of jeans A LOT. There are a couple pairs that I've had for 5+ years (my favorite are my J Brand Maria High-Rise – I have 4 pairs of these in different washes). As we all know, denim can be an investment and once you find that favorite pair it's kind of like the beginning of a long term relationship.
As with all relationships, you have to treat your denim with tender loving care to ensure it lasts as long as possible (or if you're in it for the long haul, forever! haha). After many trials, and lots of failures, I've officially gotten my denim care routine down to a science.

If you take any advice from this post, this is the one to act on. Seriously, go as long as possible without washing your jeans. I'm talking MONTHS. Washing is harsh on your denim in terms of the color fading, the shape changing, etc, so only do it when you absolutely have to. If you stain them, spot clean with a cotton swab, water and a mild detergent.

Sometimes, washing is inevitable. When I do wash my jeans, I always do it cold water on a delicate cycle with a mild detergent (The Laundress & Woolite Darks are my go-to detergents). I wash them inside out and only throw a few pairs in the washer – I never overstuff as this could lead to the jeans getting caught/tangled & stretching out.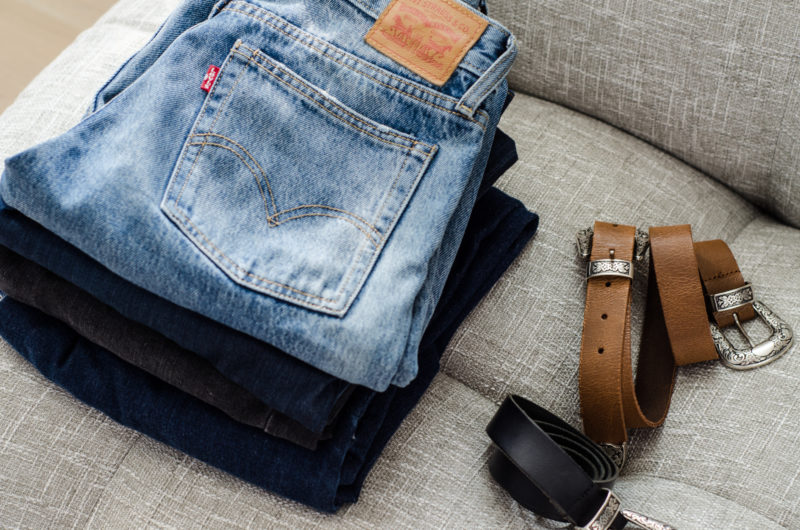 I've gotten to the point where the only clothes I put in the dryer are PJs, socks, & workout gear. Jeans never go in the dryer, EVER. It's the worst thing you can do. Invest in a good drying rack & use it – it's SO worth it.

There's nothing worse than jeans that are ripped up at the hem (unless it's intentional, of course). I invest in altering in jeans – and all clothes, really –  because fit can be a dealbreaker. I'm particular about the length of jeans & how they fit…sometimes $20-30 at the tailor makes a world of a difference. Highly recommend it!