I'll be the first admit that I legit like grocery shopping. Is that weird? I don't get to cook everyday, but I love going to the grocery store on the weekends to stock up on my go-to snacks and whatever recipes I'm making that week (really it's "recipe", singular, but I shoot for the stars). I also enjoy hunting for new stuff to try, and Trader Joe's is one of my favorite places to do this. They're always introducing new items to the mix – I'm like a child in a candy store when I shop their "new in" section. That and the section where they have the samples. I love samples.
I've been a Trader Joe's shopper ever since I graduated college, which feels like forever ago (because it is). They've been popping up everywhere in the city which is amazing. Rumor has it, they'll be opening on in Wicker Park soon – heyoooo. Cannot wait. Since I'm a long time T Joe's shopper, there are specific things I always buy from there, on top of the experimental purchases I throw in the mix. Below are my favorite things to buy from Trader Joe's (all of these items are Trader Joe's exclusives). I've linked to the items that aren't pictured so you can easily find them!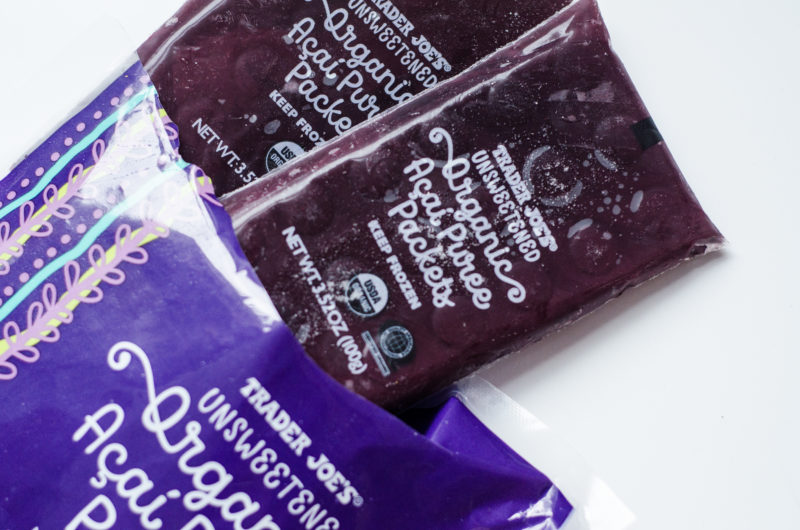 Organic Acai Puree Packets – I previously only indulged in acai bowls when out in Cali, so when I came across this I cannot explain how excited I was. It's not that I've never seen pureed acai at a grocery store, but usually when I do it's loaded with sugar. This one is not! No added sugars, all organic. I add a touch of honey, bananas, blueberries & some granola for a tasty & healthy treat (it comes with significantly less guilt too – so that's nice).
High Fiber Cereal – I don't eat cereal often, but when I do I make sure it's loaded with either fiber or protein (or both!). This cereal has 9 grams of fiber per serving and is low in calories (only 60 calories per 1/2 cup) & low in sugar. Most high fiber cereals taste like cardboard, but this one is an exception. I like to eat it with vanilla almond milk to add a little sweetness to it.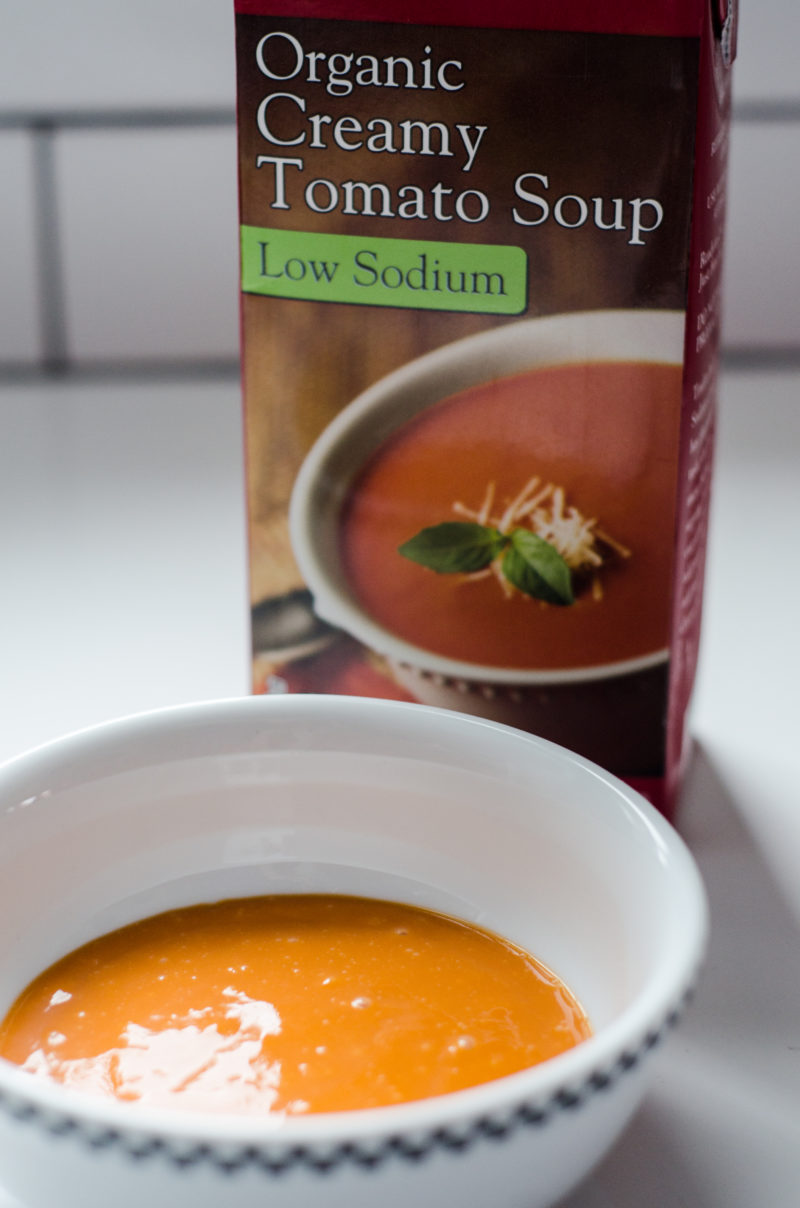 Organic Creamy Tomato Soup – I always crave a good tomato soup, but so many variations have cream, which I'm not a fan of. This soup is so so creamy without actually having cream, and is overall delicious (I recently got Leo hooked on it too). There's a normal sodium & low sodium version – both are equally good. Our last Trader Joe's trip, we saw a girl with a shopping cart full of just this soup. Leo and I looked at each other and were like, "she knows what's up". Too funny.
Organic Superfood Pilaf – This is my go-to when I'm too lazy to cook an elaborate meal (which is most days). It's so easy to make and it's full of good-for-you ingredients. It can be a bit bland, so I season it up with salt & pepper before indulging!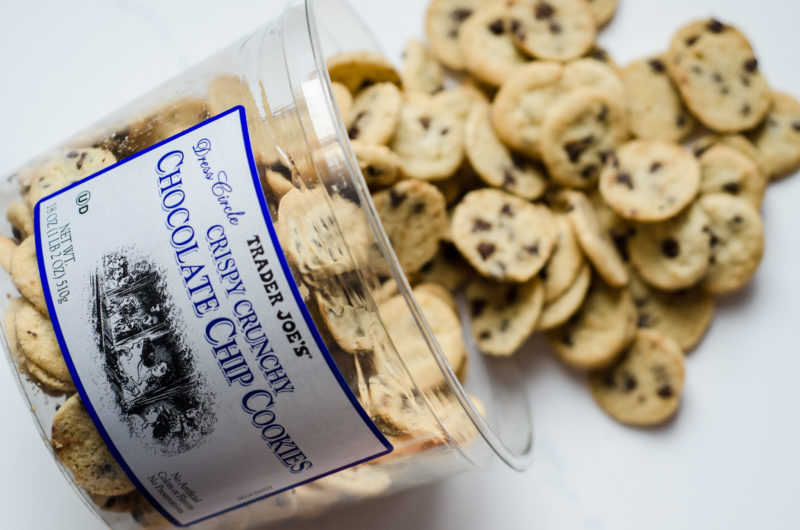 Dress Circle Crispy Crunchy Chocolate Chip Cookies – As you know, I am a dessert addict, and cookies are a favorite of mine. I typically prefer soft cookies, but these totally satisfy my sweet tooth. I love how mini they are! They're perfect with a cup of coffee or tea.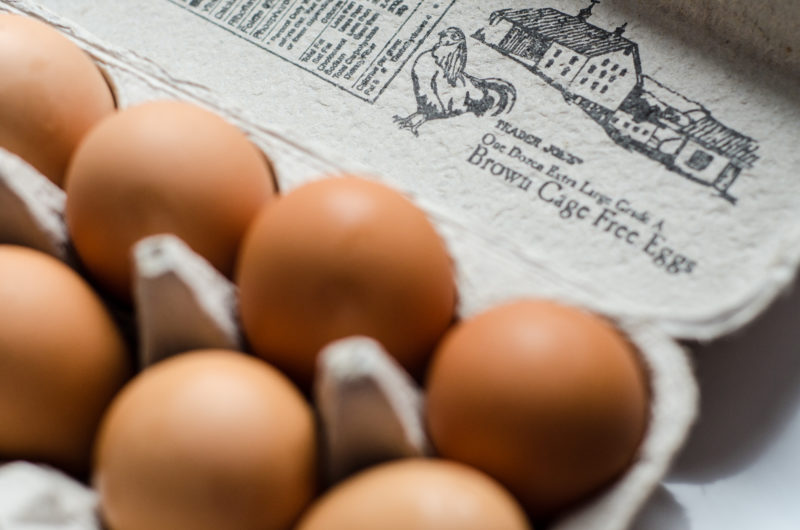 Extra Large Grade A Brown Cage Free Eggs – Maybe I'm crazy, but I am convinced Trader Joe's has the best quality eggs. They're full of flavor and I really like that the egg whites are fluffy & thick.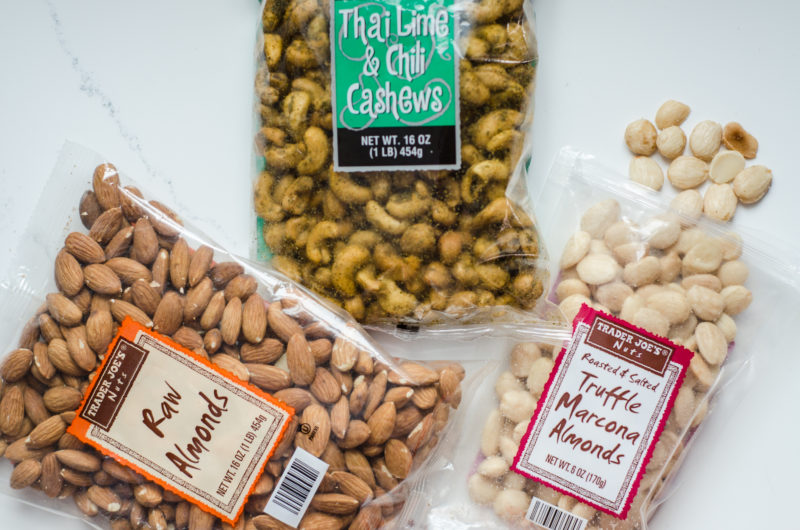 Nuts & Trail Mix – There are so many variation of nuts I buy from Trader Joe's, I don't even know where to begin. Their nuts are high quality and a great value when you compare prices to other grocery stores. My current favorite mixes are the Thai Chili Lime Cashews (warning – they are highly addictive), the Truffle Marcona Almonds & just plain and simple Raw Almonds.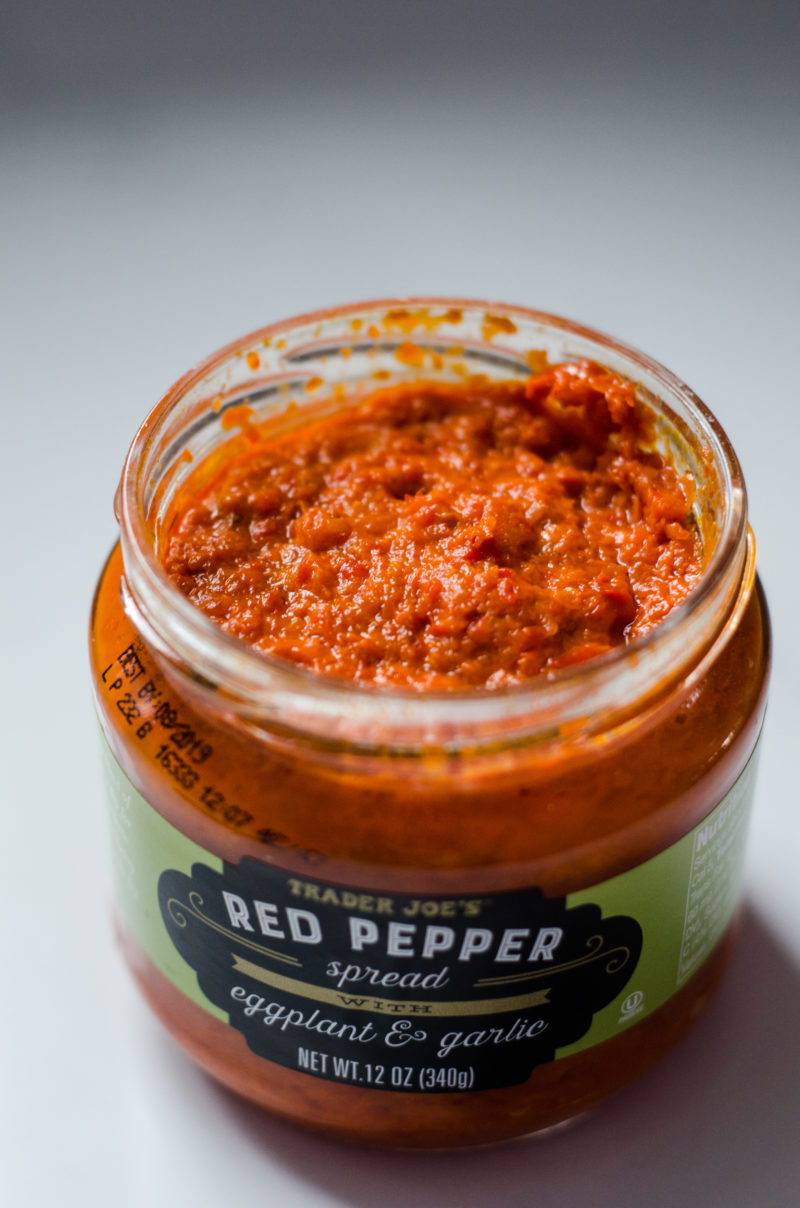 Red Pepper Spread w/ Eggplant & Garlic – This spread is BOMB, and it's mostly just vegetables! It will blow your mind how low it is in calories. I use it in sandwiches, or mix it in an egg scramble.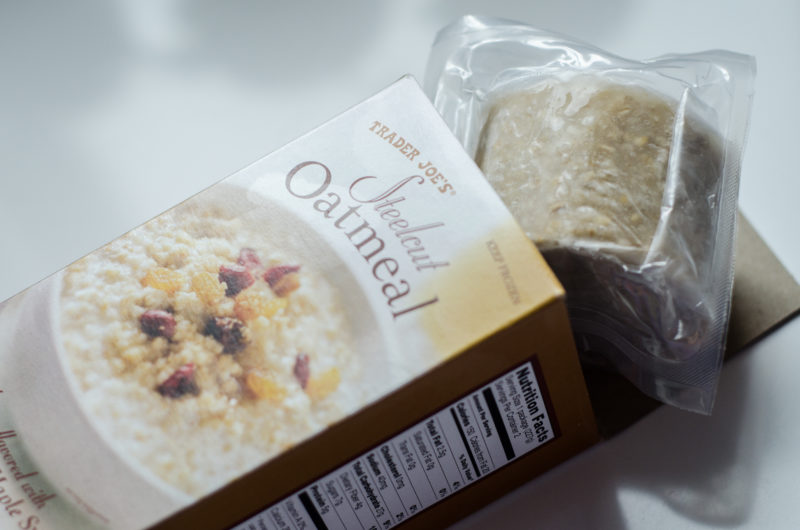 Steelcut Oatmeal Packs – I try to make steelcut oatmeal from scratch when I can, but when I don't have the time, these packs are my go-to. Pop them in the microwave for 4 mins and breakfast is ready to serve! They already have a touch of brown sugar, so I typically add cinnamon and fruit and I'm set.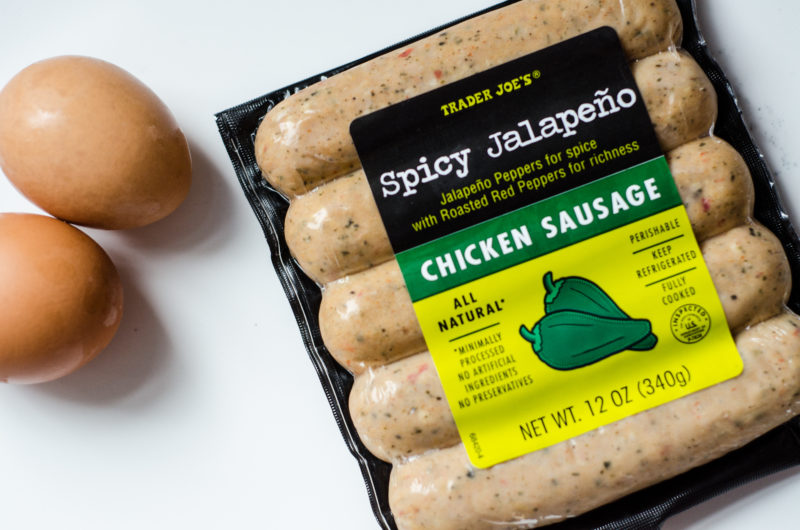 Chicken Sausage – Trader Joe's carries several flavors, but I rotate between the Spicy Jalapeno and Sweet Apple. The sausages are flavorful, packed with protein and are low in fat. They cook quickly too, which is always a bonus for me.