This time of year calls for bundling up on my comfy couch and binge watching movies & television series. Not going to lie, this is probably the only thing I like about winter. I'm not one to watch live TV (I don't even have cable) but I'm a sucker for a good series on Hulu/Netflix when the time is right. It helps that there is an abundance of amazing series available right now…and as the weeks go by my list keeps on growing. Here's what's currently on my must-watch list.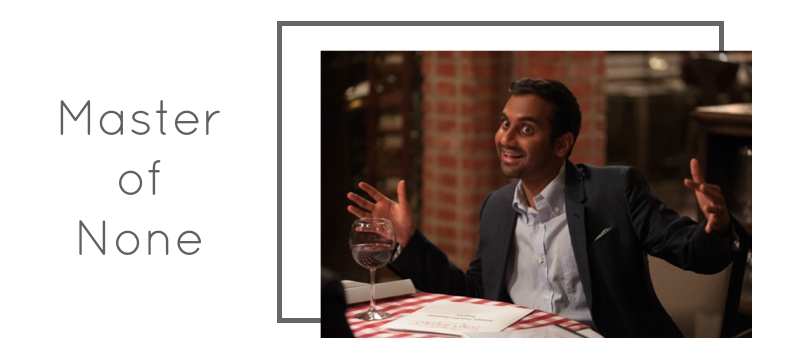 This show was created by Aziz Ansari. Enough said. I'm a few episodes in and I find myself in at least one laughing fit per show. The show is about Dev, a 30 year old actor in NYC, and his life. A lot of the material covered in the show is actually pulled from Aziz's stand ups, so some things may sound familiar. Topics range from having foreign parents, dating, hanging with grandparents to hunting down the best tacos in NYC…basically stuff any human being can relate to. Bottom line is, it's good. Watch it on Netflix.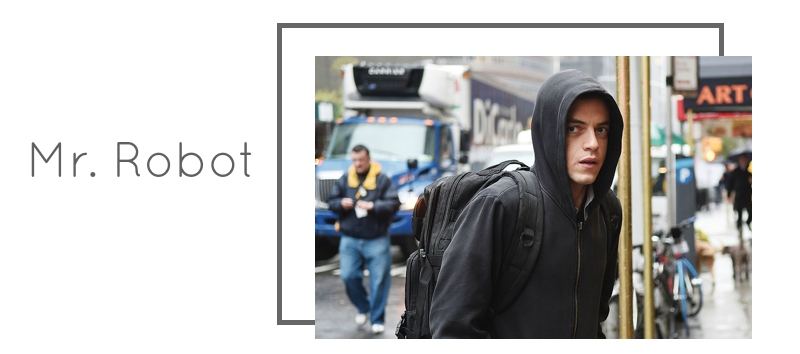 I would have NEVER thought that I'd be into this show, but I've been sucked in the vortex. I watched the first 5 episodes over one Saturday afternoon. Brief synopsis: Elliot, a computer programmer (& hacker) with a social anxiety disorder (amongst other things), gets recruited into an anarchist cult lead by a guy who calls himself Mr. Robot. The show follows the relationships he forms and the interesting situations he gets into as a result. Great acting – I mean, Christian Slater? – super cute lead (Rami Malek) and tons of suspense. You'll be glued to your TV for hours, promise. Catch it on USA Network.
If you were a fan of Lost back in the day (prior to watching the disappointing ending), this is the show for you. It takes place in the not-too-distant future, and a small percentage of the world's population (approx. 140 million people) just disappear into thin air. The show focuses on how the people of Mapleton, a small town in New York, cope with what has happened. I will admit it's a bit strange and depressing at times (insinuation that it's the beginning of the end of the world), but there are a lot of twists and pieces of the story that weave in and out throughout the seasons. It's really well done. I'm just hoping it doesn't turn into another Lost where we end up with unanswered questions…it's based on a book so that gives me hope we'll actually have an ending. Give it a chance – watch it on HBO.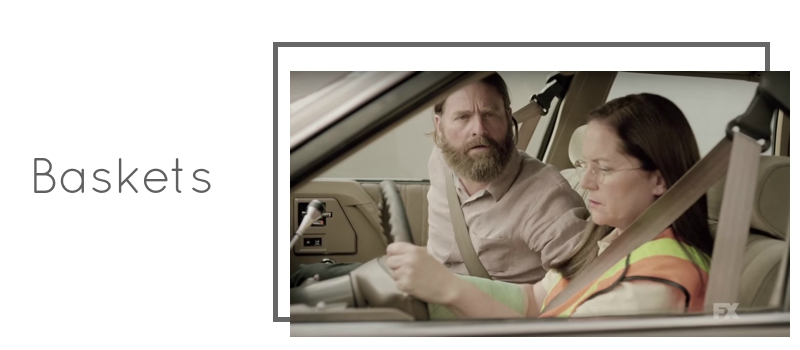 Co-created by Louie CK and featuring Zach Galifianakis, Baskets just aired yesterday on FX. I was able to catch the first episode last night, and let's just say I'll be watching the next. Chip Baskets has a dream of becoming a French clown, but ends up failing miserably due to the language barrier (yeah, he doesn't speak French…). "He fails out of clown school" and ends up having to move back home to Bakersfield, California. Watching him have to adjust to his normal life & face his past is hilarious. I have a good feeling about this one.
What have you guys been watching lately?