FUN FACT: My grandma was a nail technician (she worked at Marshall Fields' beauty salon for 30+ years), so growing up, I always got treated to free manis at Nana's. She had a little setup in the basement, it was one of my favorite activities. She'd yell at me every time for biting my cuticles (which I still do), but that was the trade off. Bottom line is, I had the best nails in the 4th grade.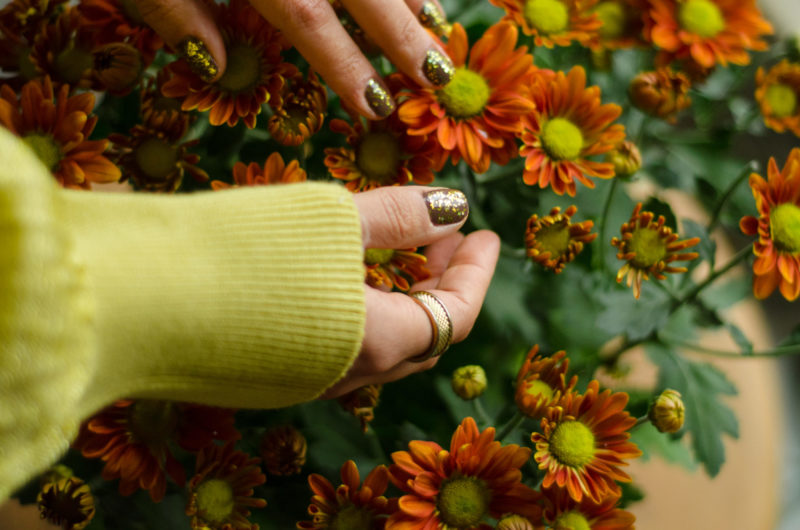 After my nana retired, I started doing my nails on my own. I get my nails professionally done once every couple of months, to buff them out and clean up my cuticles (at least what's left of them – I know, I know, it's a terrible habit!). Let me clarify – I CANNOT do my own toes. That takes the work of a professional. I'm talking the nails on my hands here…just wanted to make sure that was clear. I'm not capable of working the magic required to make my toenails look presentable, unfortunately.
I typically do my nails once a week on the weekends to prep for the week ahead. And because I'm doing them on my own, I like to stock up on new polishes every season so I'm actually EXCITED to paint them (isn't that a weird thing to say – "paint" my nails – who came up with that?!). Plus, old polish is a recipe for disaster – it doesn't dry or go on smoothly, and you'll end up frustrated & running to the nail salon last minute.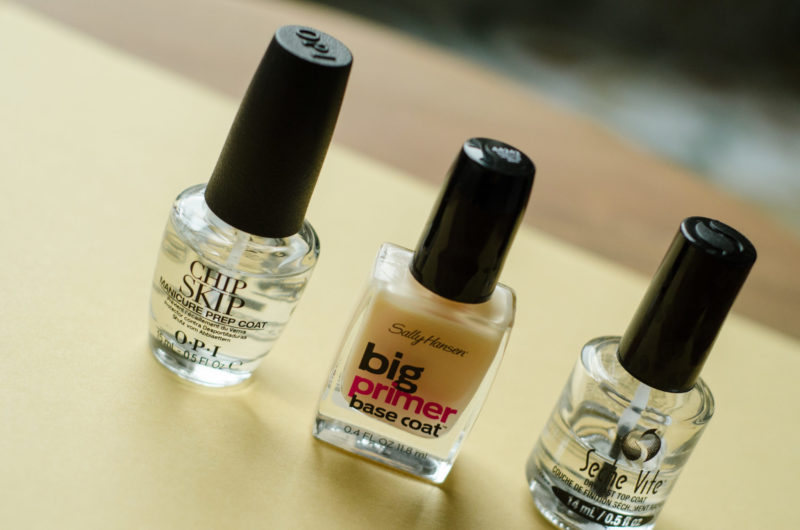 In addition to fresh new polish, it's important to invest in a good base & top coat. I also use a chip skip prep coat to extend the life of my at-home mani. This stuff works like a charm. I recently ran out of base coat and grabbed this Sally Hansen Big Primer base coat a few weeks back, and so far I'm happy with it! It helps take care of the ridges and makes for a nice even layer for polish. In terms of top coat, the BEST BEST BEST one is Seche Vite Dry Fast Top Coat. I've used this one for almost 15 years now – it's life changing.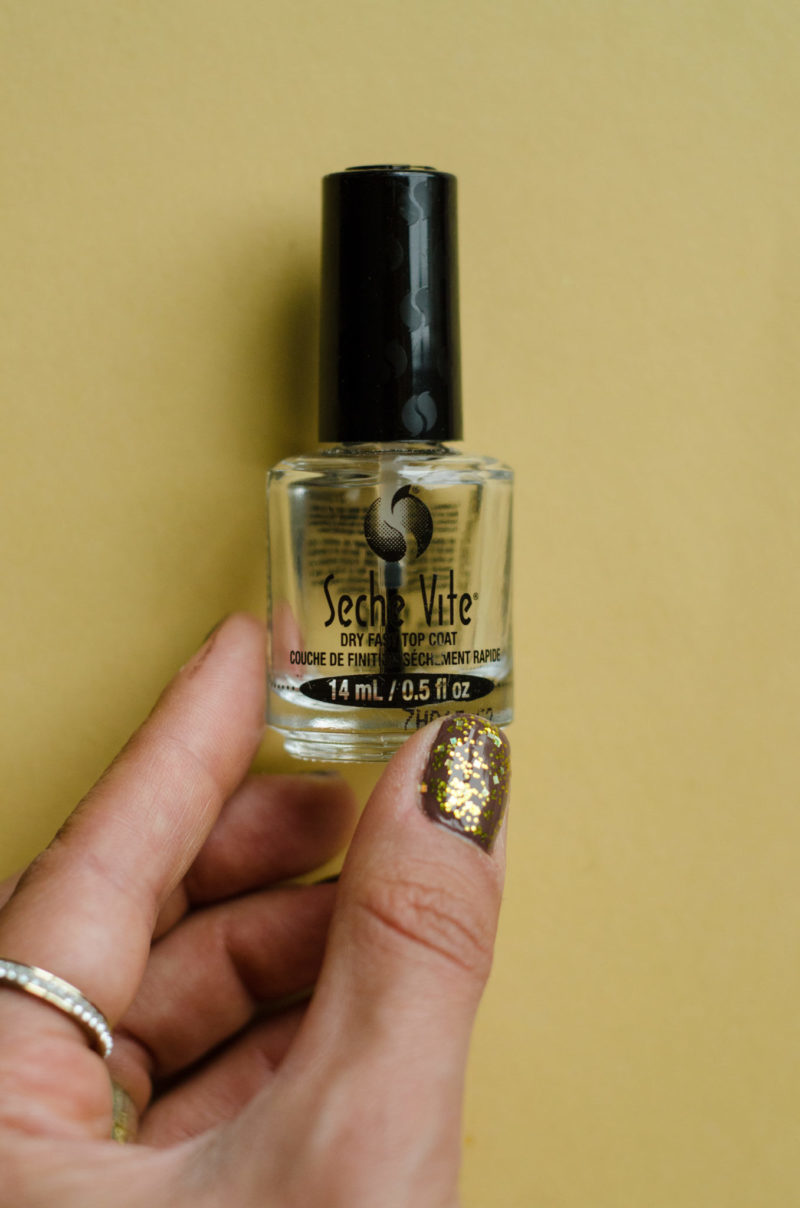 NOW, let's talk fall nail colors! This season, after purging and getting a full new stock of polish, I found myself gravitating to a few categories of colors.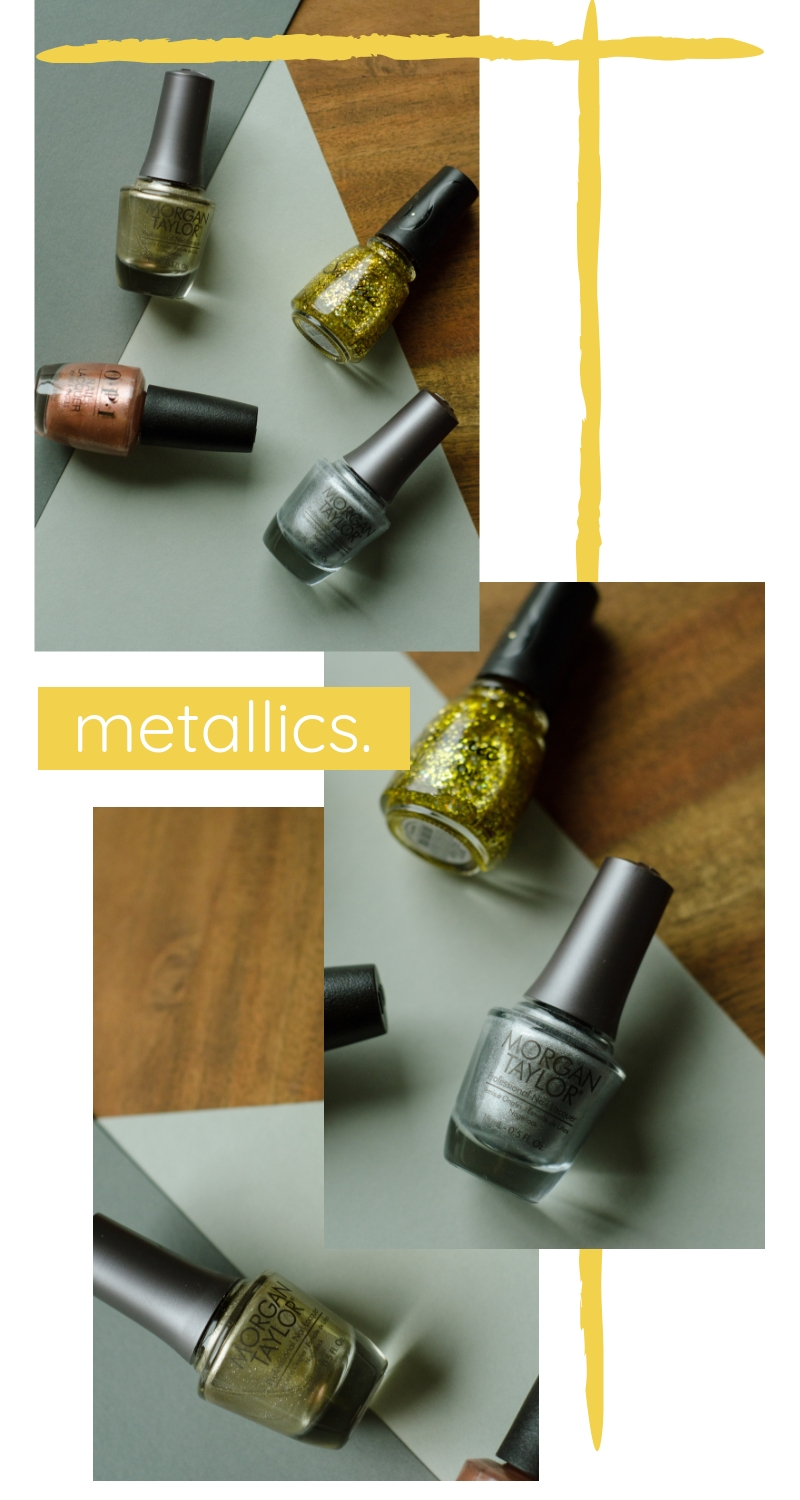 My obsession with metallic nail polish started last fall, where for my birthday weekend in Paris, I went with all silver nails. It was glorious! I began experimenting by adding one metallic nail on my ring finger, and it's escalated since. More recently, I've been adding a layer of gold glitter on my nail polish (which was you see in these picture here with OPI's Squeaker of the House and clear glitter polish). Metallic polish is not only festive, but a unique way to give your nails some personality. They can be a statement piece too!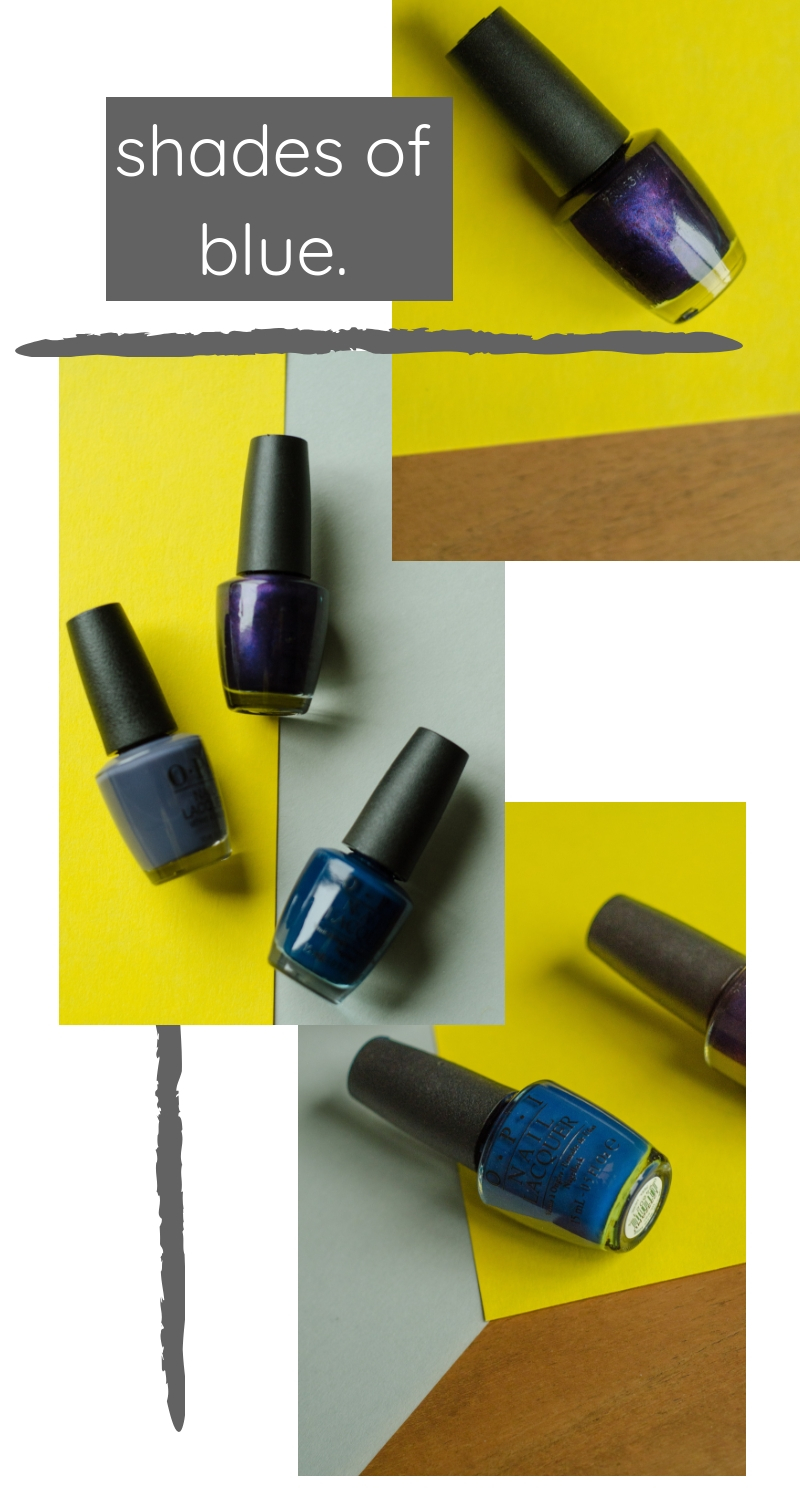 Blue polish has been in my rotation for a few years now, and OPI's Russian Navy in particular has been a favorite of mine since college. A dark, deep blue is sophisticated and also matches with practically everything. Blues are more adventurous than a deep red or purple, so you'll see it less (which to me is a positive!). Lately, I've expanded out into bluish gray tones as well as royal blues.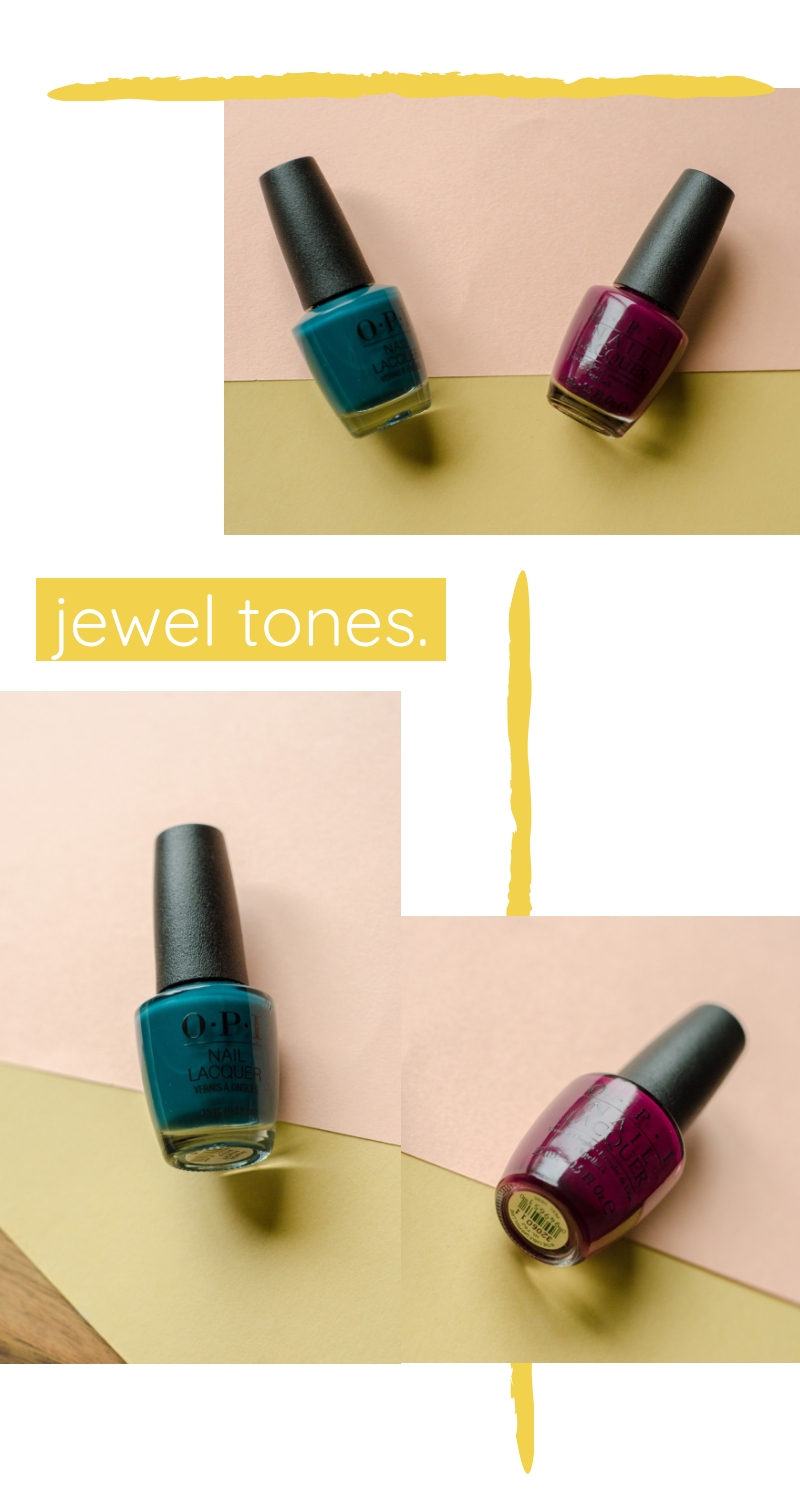 I thought I would have been over the jewel tones by now, but they just scream fall to me. I love me a good berry color – I used to be hooked on Essie's Berry Hard, and, as they all do, it got discontinued. SAD. I've recently discovered OPI's in the Cable Carpool Lane, and so far it's been a solid alternative. Other jewel tones I've been using include pretty teal colors, and mustard yellows.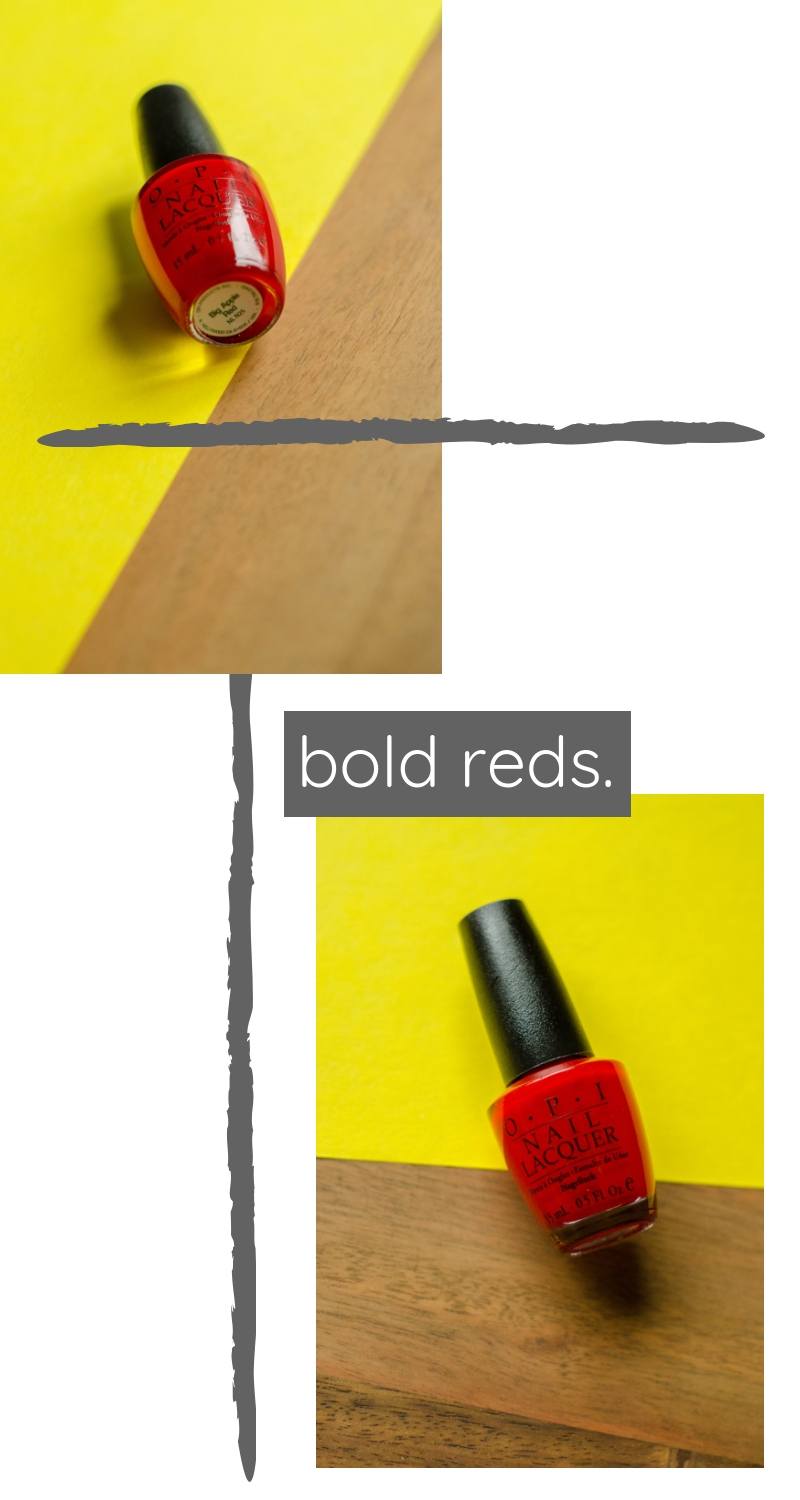 And last but not least, you can't do fall without a bold red polish. You gotta have at LEAST ONE of these in your collection. I don't do reds often, but this is the time of year I'll bring them out. I adore OPI's Big Apple Red for special occasions – it's just the perfect bright, bold red. I've linked to a few others I love as well!