As I've been building up my wardrobe for fall, I noticed that I have a lack of good basics in my closet. Jeans, turtlenecks…and the most important…a good white tee. Sure, I HAVE a white tee, but I'm not that fond of it, and yet I continue to wear it because it's all I've got. I was determined to find the BEST white tee, and came to you guys on Instagram to find out where YOU shop for white tees. I bought a white tee from five places you recommended, and tried and tested each.
I've ranked them from five to one, one being the best. Watch the video to see them up close & personal! I've also explained my rankings in detail below.
I ranked this tee as #5 because I really didn't like the fit of it. It was WAY too boxy for me, and it fanned out at the bottom as a result (because I'm larger busted). Just not a good look for me, and made me look larger than I am. I also don't like how the sleeves fan up, and they were shorter than I would have liked.
And this is the one I've actually had for awhile! Not surprised that it didn't rank well, as I haven't been a fan of the fit for some time now. It does fit better than the Madewell tee, as it's slimmer in the waist and not nearly as boxy. My main issue with this tee is that it still doesn't fit great, and the quality of cotton is sub par compared to other tees I tried, despite it being on the pricier side (relatively speaking). I also don't like that it's sheer, it makes it tough to wear as a standalone tee vs. just for layering.
I was conflicted with this one, because I really really loved the overall fit. The length of the sleeves was on point (longest sleeves of all the tees I tried), it looks clean and is super comfortable. It was slim fitting in all the right places. My main issue with this tee shirt was the material. It was a stretchy, ribbed cotton fabric that was reminiscent of my childhood pajamas. That said, it would be a great tee for layering, but not as a standalone.
This one came HIGHLY recommended by you guys, and I can totally see why! The fit is on point, the cotton is excellent quality, and the price is just right. I love the longer sleeves, neckline and length of the tee. The problem? It's slightly sheer, which as I mentioned earlier, I don't like for a tee I plan on wearing solo. If the cotton was slightly thicker, this one would have come in at number one.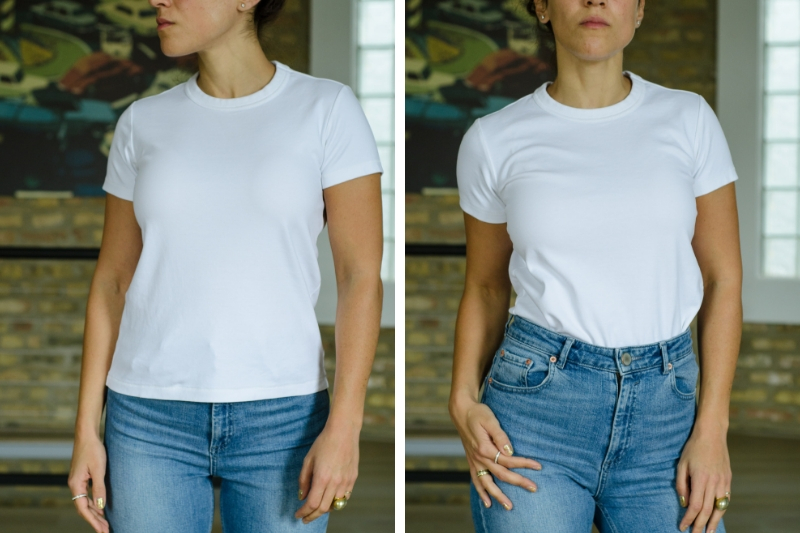 Who would've thought that my favorite tee shirt would be the cheapest of them all?! This tee by Uniqlo checked off all the boxes. The material is a beautiful, thick cotton, making it look like a luxury white tee vs. one that is under $10. The fit is nice as well! The ONLY thing I would adjust if I could is the length of the tee and the sleeves. I would like them slightly longer, but honestly, I love everything else about this tee so I'm willing to let that slide. I plan on ordering this in other colors as well (there are so many good ones, and it comes in long sleeve too)!