It took time to get my skincare routine down this winter, and after a lot of trial and error, I've discovered a few products that I absolutely love. My skin is on the drier side, so my main challenge is finding products that are hydrating and also contain the important ingredients I need. I've narrowed it down to 7 products that I use on a daily basis (I know, it seems excessive but trust me, it's really not that bad!).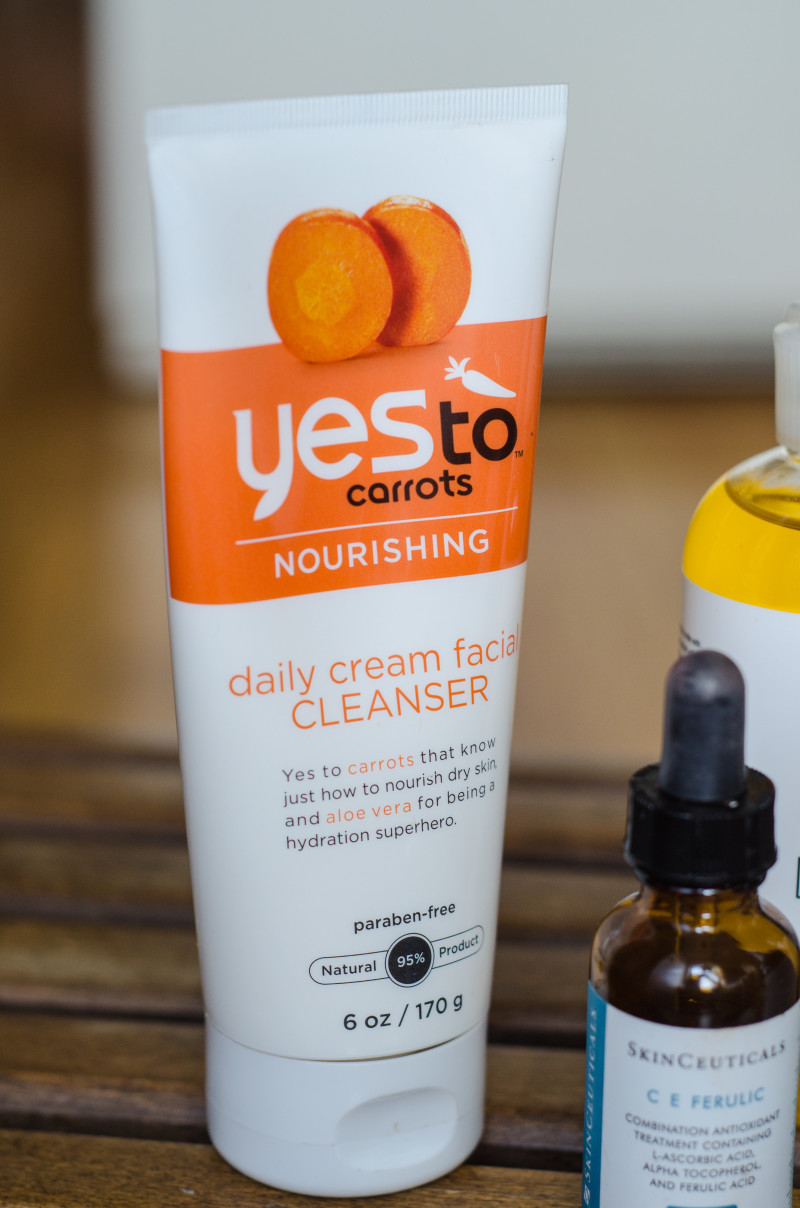 Cleanser
My favorite cleanser lately has been Yes to Carrot's Daily Cream Facial Cleanser. For just $7, this product does the trick. It's hydrating, 95% natural, and the carrots bring in antioxidant properties that help protect the skin. My only complaint with this product is that it doesn't completely remove my makeup, so I rub off my makeup with coconut oil and a cotton ball prior to cleansing in the evening. Aside from that, it's a great winter moisturizer, and the price is right.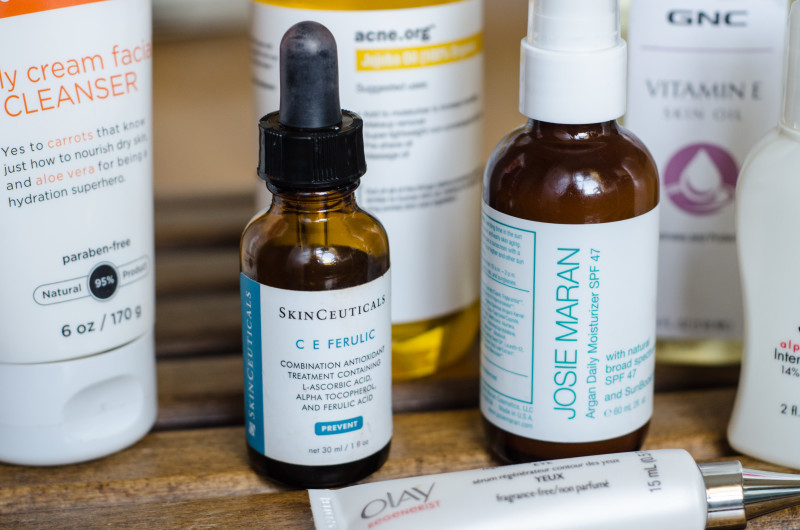 Serum
After cleansing my face in the morning, I put 4-5 drops of SkinCeuticals C E Ferulic Serum on my face and neck. I've experimented with a couple of serums the last year, including Kiehl's Powerful-Strength-Line-Reducing Concentrate. After reading reviews and also getting feedback from friends, I decided to give SkinCeuticals C E Ferulic Serum a try and I haven't looked back. My complexion has improved and the color of my skin has evened out. I've also noticed that the lines under my eyes have faded. The only drawback with this product is the price ($108 on Amazon), but I'm telling you, it's so worth it…and it lasts for months.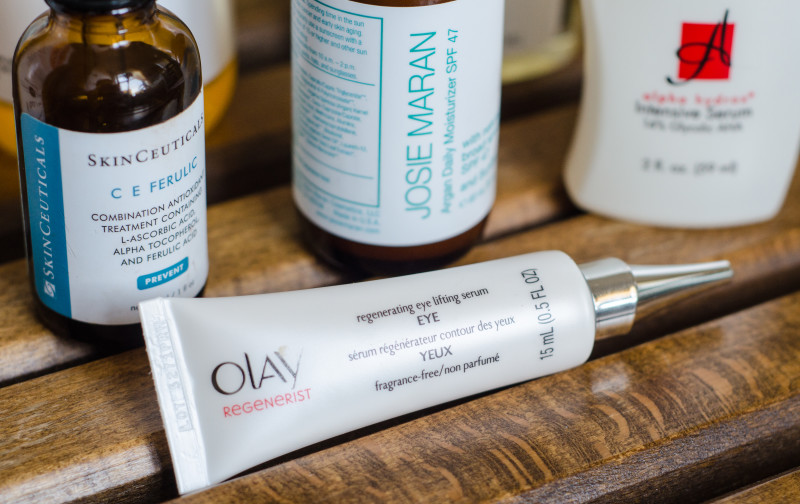 Eye Cream
On top of the Skinceuticals serum, I apply Olay Regenerist Eye Lifting Serum. I bought this product recently and love how it makes my under eyes and eyelids feel and look. My skin is smooth and silky after application, and I've noticed my dark circles have improved. My eye area also feels plumper -such a good buy!
Moisturizer with SPF
I started using Josie Moran's Argan Daily Moisturizer with SPF 47 and I'm obsessed. I apply it liberally to my face and neck in the morning after applying my serum and eye cream. It smells amazing, it's incredibly hydrating and it has the SPF that I need in a daily moisturizer. My previous moisturizer was severely drying out my skin, so I was happy to discover one that works for me. This product works best with normal to dry skin – if you're on the oily side it may not be a fit for you.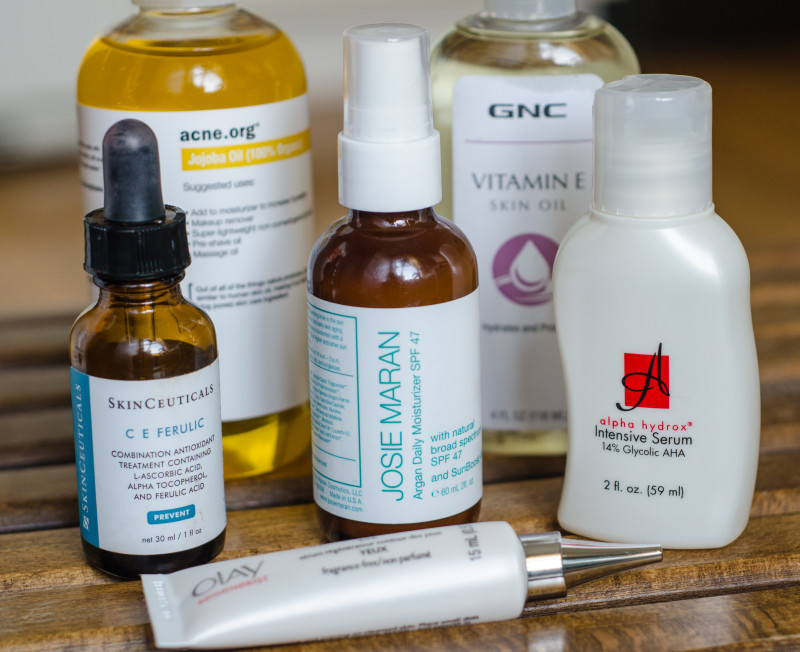 Exfoliant
After I remove my makeup in the evening, I apply Alpha Hydrox Intensive Serum with a cotton ball. This serum contains 14 percent glycolic acid, which makes your skin glow almost immediately. I needed to add a product to my routine that exfoliated but wasn't too abrasive, and this product has been perfect. It stings a bit at application, so it may not be best for those with sensitive skin.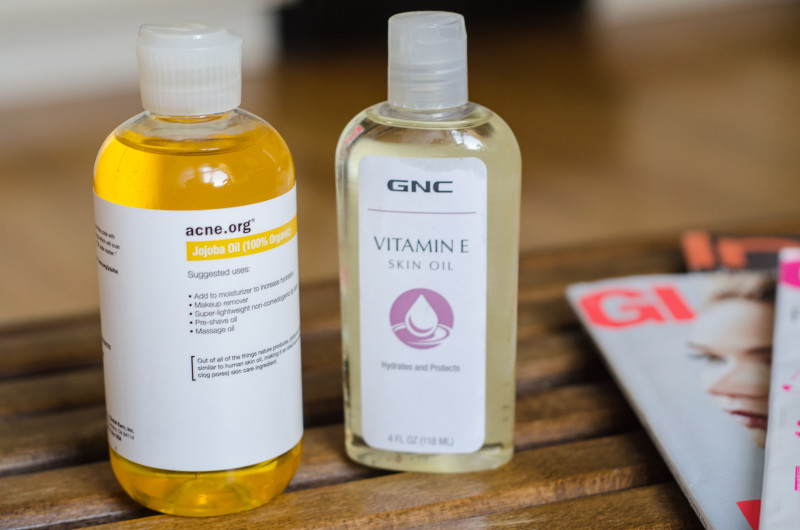 Face Oils
I was SO afraid to experiment with oils, but decided to take the plunge and have seen great results. I use two oils daily, one in the morning and one in the evening before bed. I apply acne.org's Jojoba Oil after my AM moisturizer for some extra hydration. I may not use this product daily in the summer, but this time of year I need all of the hydration all I can get! At night before bed, after applying the Alpha Hydrox Serum, I layer on GNC's Vitamin E skin oil. It gives my skin that dewy look, and my face feels amazing when I wake up in the morning.