Denim Skirt: Vintage Guess (One of my San Francisco finds!), similar here | Sequined Crop Top: Another SF vintage find (getting the theme here?!), couldn't find one exactly the same, but this one has a similar vibe | Sandals: Massimo Dutti (picked them up in Greece last summer) similar here | Cross body Woven Purse: Stolen from my aunt's closet, similar here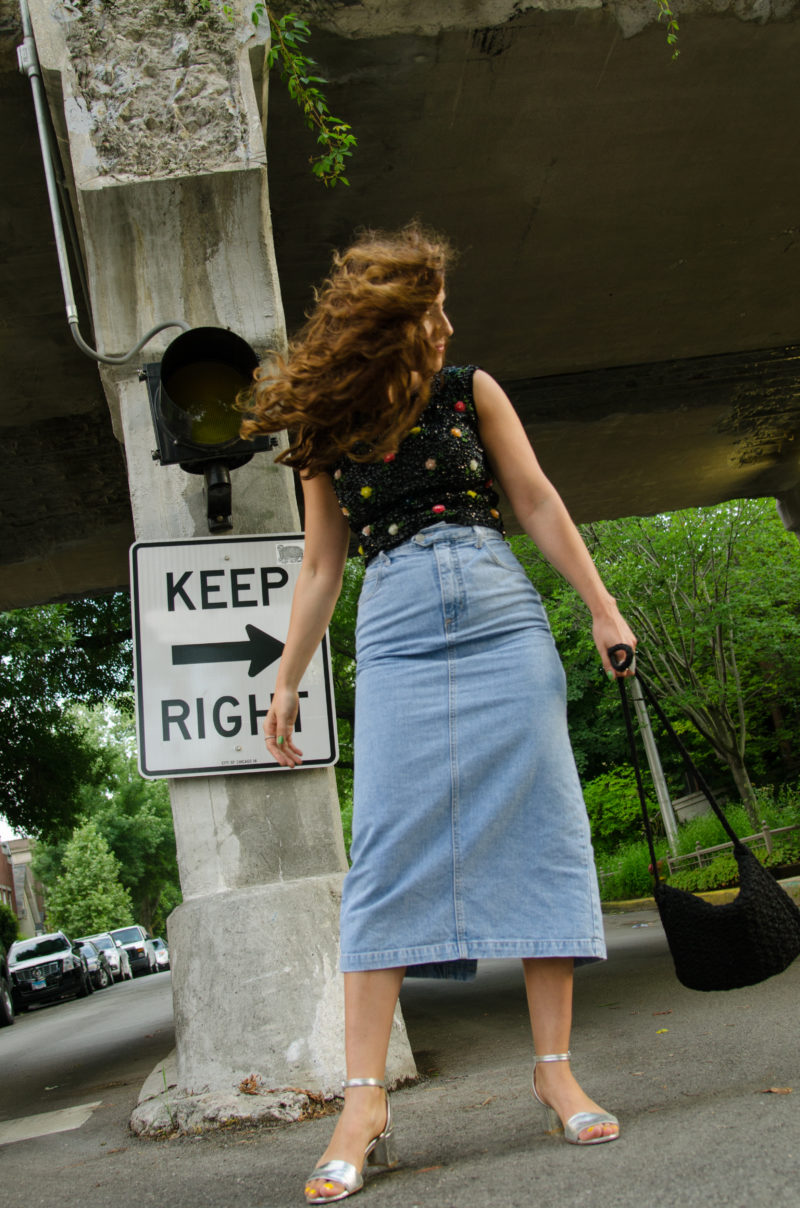 A couple things I'm incredibly grateful for – a job that is flexible & has offices all around the states (where I can easily hop in and work from!), and the fact that I have family & friends across some of my favorite cities. Those two things combined allow for lots of long weekends and impromptu adventures.
Just a couple weeks back, I extended a work trip to the Bay Area and crashed with my cousin in San Francisco. She's actually the cousin who shared her list of favorite summer wines last year (she works in the wine industry, so she's got credibility!). Apart from catching up on all the latest (she's engaged and getting married in January, yay!), we squeezed in plenty of time to do our favorite things – boozing, eating and shopping. This was actually one of many San Francisco visits for me, but I think it was particularly special because of the timing of it. I was coming off of a very rough weekend/week where I was just emotional, stressed and needed to get away for a bit. It felt so good to step away from the daily grind and immerse myself in the culture & vibe of a new place. PLUS, I picked up this adorable top & denim skirt while I was there which was an added bonus :).
We explored a handful of shops, restaurants, and bars that are definitely worth highlighting – so I wanted to share in case you have a SF trip coming up!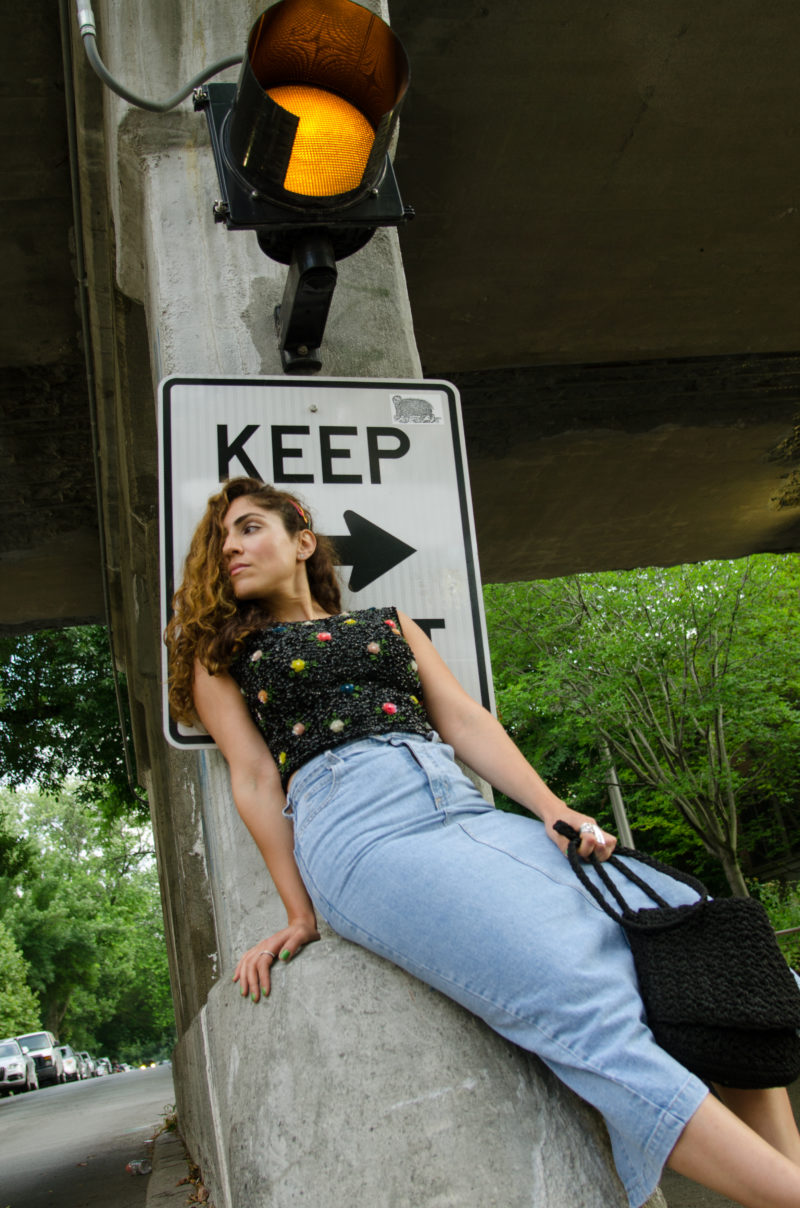 food.
I admittedly requested lots of Asian cuisine as we were mapping out potential restaurants for the weekend. What can I say, it's the BEST on the West Coast, and though we have decent Chinese in Chicago (along with solid ramen), I think we're deprived of a really good Thai place (Vegan Plate has been my go-to for Thai delivery lately and it's DELISH but just not 100% the same). Anyway, that's why you'll see a couple of Asian spots below – I had to get my fix!
Nojo Ramen: Though getting a reservation here was a bit of a pain, it was totally worth it once we got in! It's a very cool spot with a lively vibe and is in a great neighborhood (especially if you're looking to grab a drink somewhere nearby after or before dinner!). We ordered a couple of appetizers and then got the Chicken Paitan Tan-Tan Spicy Miso as our main – don't worry, we didn't share the main, we just all got the same thing because it was so good, ha! Highly recommend this dish if you're a spicy food kind of person. Overall, awesome experience, but I will say our waitress was a bit sassy…maybe it was an off night for her? Anyway, still worth a visit!
Farmhouse Kitchen Thai Cuisine: HOLY SH*T, this place was INSANE. I'm still dreaming about this meal. This was unlike any other Thai restaurant I've been in that it was festive & authentic to the extent that the staff was in Thai clothing. Super cool experience! Warning – the restaurant is loud (or maybe there happened to be a lot of "birthdays" while we were there?!), but it's such a lively and upbeat ambiance…just part of the overall experience. Highlights from the menu: Hat Yai Fried Chicken (they're known for this dish!), Tom Kha (my cousin ordered this soup and offered to share – pretty sure I ate half of it), Green curry (because you can't go to a Thai spot and NOT order curry!) and the delicious blue rice they bring out as a side. Make sure you book a reso, place gets packed!
Home Plate: A really cute neighborhood diner we walked to for brunch on Saturday. Sort of an "upscale" diner if you will, but wasn't too offensive price-wise and all the dishes were tasty. Their Bloody Mary was REALLY good, and they pass out these mini scones with coffee that are to die for.
Souvla: This was one I'd actually been to on my last trip, and loved it so much we went back for lunch on our day shopping around in the Mission District (more on that in the next section!). Flavorful, filling salads topped off with some frozen greek yogurt that comes with unique toppings (baklava, sea salt & olive oil) that sound bizarre but are out of this world.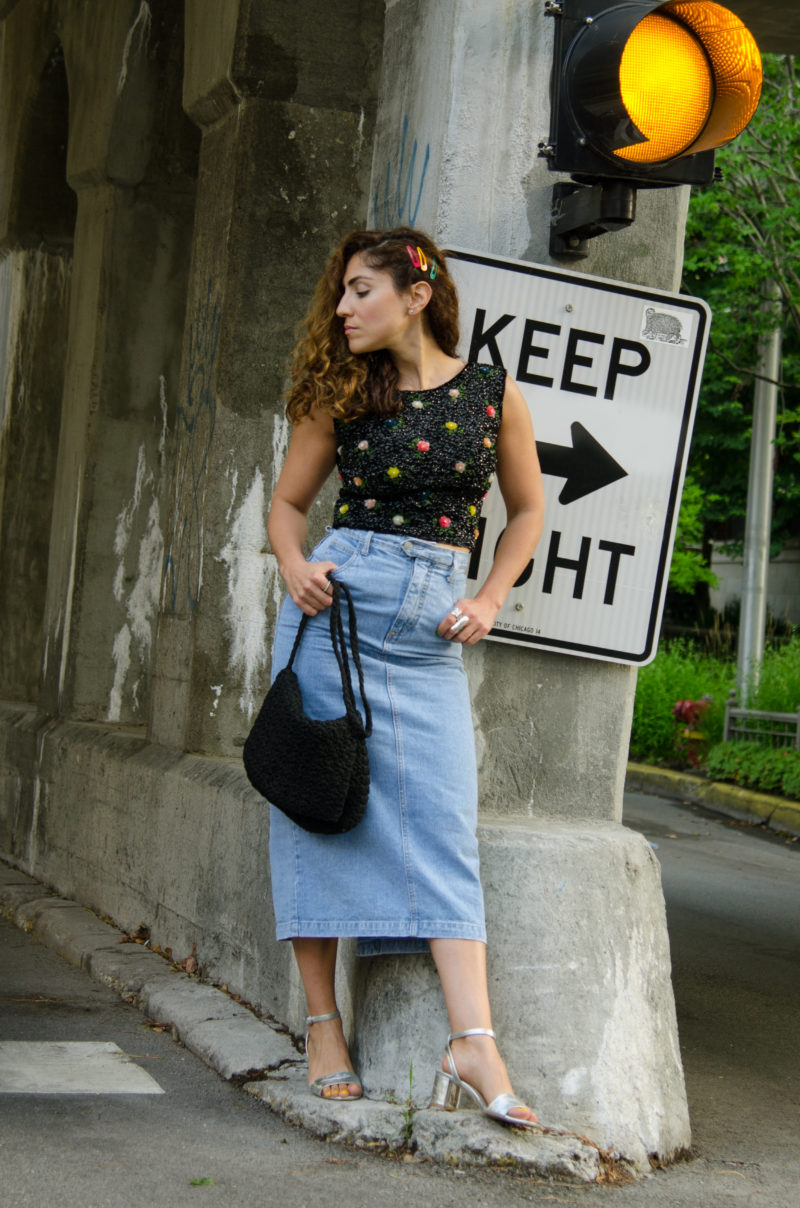 drinks.
ABV: We stopped here before our Thai dinner for drinks, and were all pleasantly surprised with how good it was. It was packed, but we were lucky enough to snag seats at the bar and each enjoyed a couple of cocktails. I had the La Botana (obvi, given my mezcal obsession) and it was delish.
Ritual Coffee Roasters: This may be the chicest coffee shop I've ever seen. It was a beautiful open concept space, white walls with high ceilings and minimalist decor. It helped that the coffee was also exceptional.
shopping.
Since I'd never been to the Mission District before, we decided to spend an entire afternoon exploring the neighborhood, so all of the shops listed are ones we visited that day! It may be my new fav SF hood. It has so much culture and is a little rough around the edges, in the best way possible. Lots of amazing restaurants, bars & eclectic shops that were 100% up my alley.
Afterlife Boutique: The first place we stopped, and where I found this very Carrie Bradshaw sequined crop top & this Guess denim midi skirt. One of the best curated vintage stores I've come by, and affordable prices.
Everlane: YESS, there is an EVERLANE STORE in SF! It's just as amazing as it sounds. I actually haven't ever shopped Everlane, so it was nice to touch & feel the product in real life. Their pieces fit really well and the quality is better than average. High end quality for reasonable prices – great for basics.
The Voyager: If you're looking for a curated experience of small, high-end apparel & accessory brands, this is the place to go. Super trendy & funky items that were inspiring and fun to go through. Definitely on the expensive side, but it is high-end after all!
Acacia: I am such a sucker for a good modern home store, especially one that carries European brands you don't see anywhere else. From table & dining accessories to rugs to blankets, I wanted to go home with a suitcase filled with home goods from this store.