I was going through old photos at my mom's this weekend, and I think it's safe to say that it's officially one of my favorite pastimes. My dad's a photographer, so we have boxes & boxes of photographs…from my parents engagement photos, baptisms, family vacations, birthday parties to simple moments like my brother playing on our swing set. I love seeing photos of us as kids, but I particularly love seeing photos my parents & grandparents. It's such a strange thing to see pics of my parents when they were my age – I wonder what they were thinking, what challenges they were facing, what dreams they were aspiring towards. Life is a crazy thing.
Father's Day tends to be a more emotional holiday for me. I've always been close with my mom, but my dad and I have had our ups and downs over the years. Maybe it's because we're weirdly alike, or that we're both stubborn and refuse to see things from the other's perspective. Either way, we've always had a different type of relationship, and I don't get to see him as often as I'd like for various reasons. I also lost my grandfather a couple of years ago – the first time I ever lost a family member that close. I feel very lucky to have grown up with a grandfather, as I know many people aren't able to experience that, and I have some guilt about not appreciating the time I had with him as much as I could have.
With all that said, I try to make the most out of every Father's Day and spend some quality time with Dad. I've realized the importance of telling loved ones how much I care and spending time with them because you just never know how much time you have.
On a lighter note – quality time is the best gift you can give, but an actual gift is a always a nice little bonus. I put together a quick list of the Father's Day gifts that are top of mind, and will put a smile on Dad's face (no guarantees, but I think you'll get something out of him!).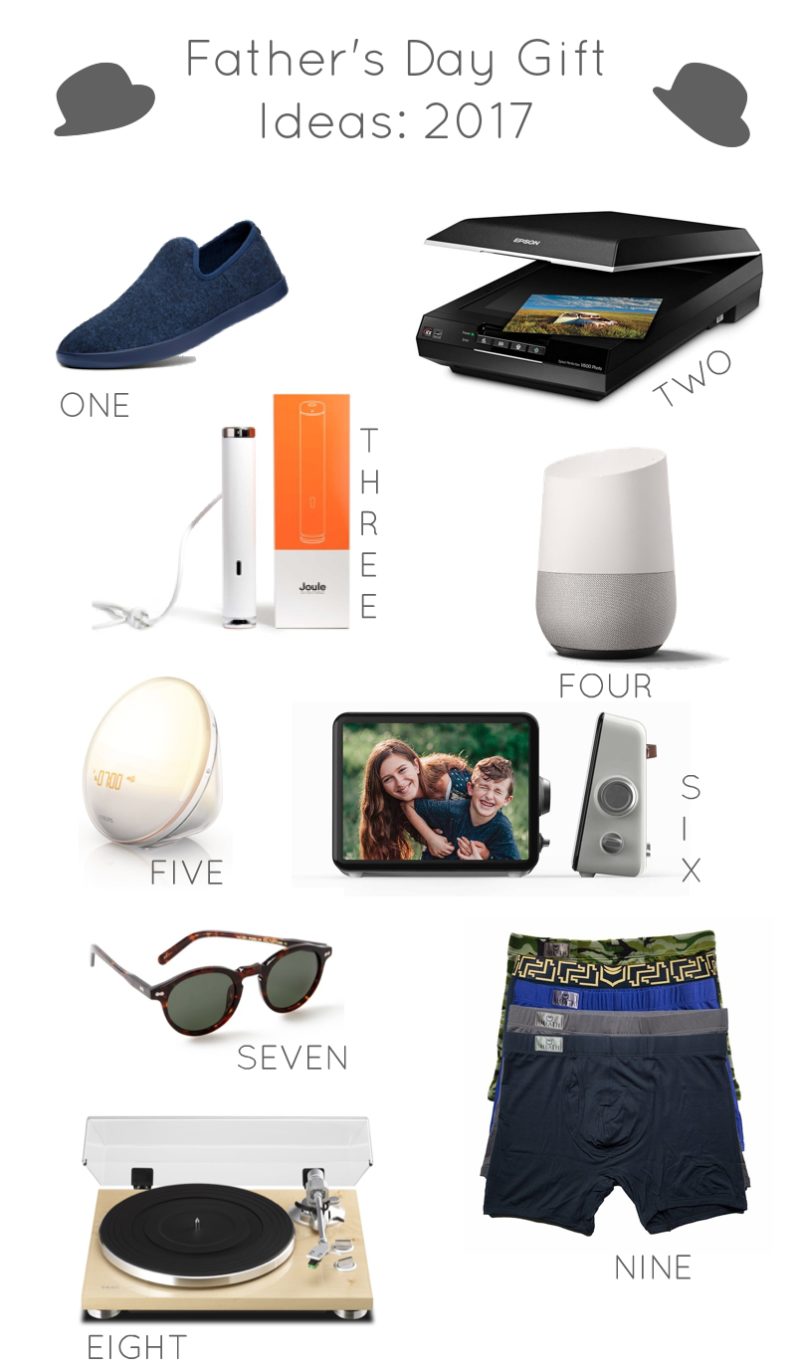 All Birds Wool Loungers: I have a pair of the All Bird runners and they're one of the comfiest sneakers I own. They recently released this pair of loungers that are perfect for all dads out there – and more stylish than most slippers/loafers they'd wear.
Epson 4600 Scanner: If your dad is anything like mine, he has mounds of old photos stored away in various containers around the house. This scanner is top of the line when it comes to restoring & making digital copies of photos (it even scans negatives!) – have him get those pics in the cloud ASAP!
Joule by ChefSteps: You probably saw my post on this last week, but we just got one of these and it's pretty awesome – my only issue with it is the price…but with gifting that's not as much of a concern.
Google Home: If your dad is a tech nerd, he'll geek out with the latest Google Home. Assistants are popping up everywhere now, so it'll be a fun new technology for him to learn and will hopefully make his life a little bit easier.
Philips Wake Up Light Alarm: If Dad isn't a morning person, this would be the perfect gift for him! This light therapy alarm slowly brightens (simulating sunlight) based on the wakeup time you set, allowing you to wake up feeling more refreshed & ready to start your day.
Loop: For those of you far away from home, this is the gift to get. Loop is a digital frame that connects to any album you select across various sources (Facebook, Instagram, Dropbox) and will automatically show pictures based on what you upload to your albums. You can surprise Dad with new photos every day.
Moscot Glasses: I bought Leo a pair of these last summer, and he has worn them ever since. They're customizable glasses, so you can adjust the sizing based on your face. It's a classic brand with timeless styles (& they offer both optical & sunglasses).
Teac Turntable: Leo claims this is one of the best record players out there, so this is the way to go for record-collecting dads. It also looks super cool – really simple, minimalist design.
Sheath Underwear: Another Leo-approved item, this underwear is supposed to be incredibly comfy. They're supposed to eliminate skin-to-skin contact (I know, TMI).