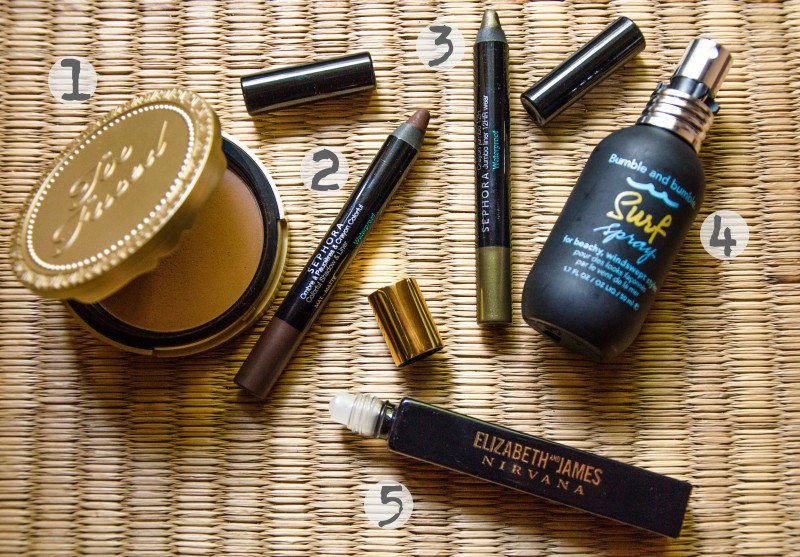 Prior to leaving for Greece, I went for a quick Sephora run to make sure I was stocked up for the trip. This last run was a combination of new products and refills of my all time favorites. I also was pleasantly surprised to learn that I am now officially a VIB (Very Important Beauty Insider) at Sephora, which means I get special perks…and also a reminder that I spend WAY too much money on cosmetics. Oh well, at least I'm getting some recognition for it, right?
1. Too Faced, Soleil Matte Bronzer (Chocolate): I've been using this bronzer for almost 2 years now, and I have NO desire to switch things up because this stuff is amazing. Not only does it smell delicious (cocoa powder is one of the ingredients), but it provides the perfect tint to my skin without adding shimmer. I use it to contour, putting it underneath my check bones, on my jaw line, and on the outline of my forehead. It also lasts for months, which is always a plus.
2 & 3. Sephora Collection, Jumbo Pencil for Shadow & Liner (Dark Brown Matte & Kaki): Another product I've been using for a couple of years is Sephora's multi-purpose jumbo pencil. This can be used as both an eyeshadow or eyeliner. The Dark Brown Matte is what I wear daily – I have dark features so I find that brown eyeliner still serves the purpose of bringing my eyes out, but also softens my face. I decided that since I love this pencil so much, I'd try a new color for a change, which is were the Kaki comes into play. A beautiful hazel green with shimmer, the Kaki is perfect for a night out, especially if you don't want to go too crazy on the eye makeup but still have some sparkle. These pencils are waterproof so they won't smudge, but I'm able to wash it off with my daily cleanser (makeup remover is not necessary – HUGE plus for me).
4. Bumble & Bumble Surf Spray: I love how my curls look after a day of swimming in the sea, but unfortunately, I'm only able to naturally have this look a couple weeks out of the year when I'm on vacation. Luckily, Bumble & Bumble's surf spray allows this look to be achievable all year round. In fact, this spray is even better than the real thing because it provides added moisture that salt water does not. I bought a travel size version to bring to Greece – perfect beach bag addition.
5. Elizabeth & James, Nirvana Black: One thing I love about Sephora is their section of rollerball perfumes. Buying a new fragrance can be an investment, so it's nice to have the option of spending just $20-30 to give a fragrance a test run before you buy a full-size bottle. I've been wanting to give Elizabeth & James Nirvana a try, and I decided to go with Nirvana Black as I'm a huge fan of more masculine fragrances. This one reminds me a bit of Tom Ford's Black Orchid, but it's a little sweeter. It's a mixture of sandalwood, vanilla and violet. There are a lot of layers to it which I appreciate; my only complaint thus far is that the smell doesn't last long. I'm still undecided on whether or not I'm going to pull the trigger on the larger size.