I've been rocking my curls since age 3. Sure, I could straighten them (and sometimes do), but I think the curls represent me and my style. It's sort of my "thing" at this point. Luckily, I've figured out how to manage these bad boys over the years. They didn't always look like this. I can pull up some scary photos from my Facebook archive – apparently, I was very into the "wet" look in my high school days. Not sure it was intentional, but it definitely happened.
It takes time, lots of trial and error, but once you know how to manage your curls, you'll put that straightener away for good. Here's how to care for curly hair (at least, how I do it!) –

This is the one rule I never break. I used to wash my hair every day, and the outcome was a frizzy mess. I shampoo 2-3x a week – and I workout almost everyday. Yes, it sounds gross, but I'm telling you, it works wonders. Curly hair is naturally dry, so I've found the longer I go without washing, the better it looks. I use dry shampoo in the AM and I'm be set. When I'm not washing, I never brush my hair and try not to fiddle with it as that increases frizziness. I ONLY brush my hair after shampooing. 

Thank god for diffusers. Seriously, I couldn't wear my hair curly without one. It accentuates my curls and keeps them nice and bouncy. I diffuse when my hair is wet coming out of the shower (either after shampooing or after my mid-wash rinse that you're about to find out about!), and after my product is in. On days where I don't shampoo or rinse, I'll wet my hands, run some water through my hair & re-diffuse to give the curls life again. 

This rule is my little secret & total game changer. About a day or two in after shampooing, I'll rinse my hair with water in the shower and towel dry it. I don't brush it afterwards – just reapply a little product and re-diffuse. My hair becomes nice and shiny and the curls are well defined. It usually looks it's best on days I do my mid-wash rinse.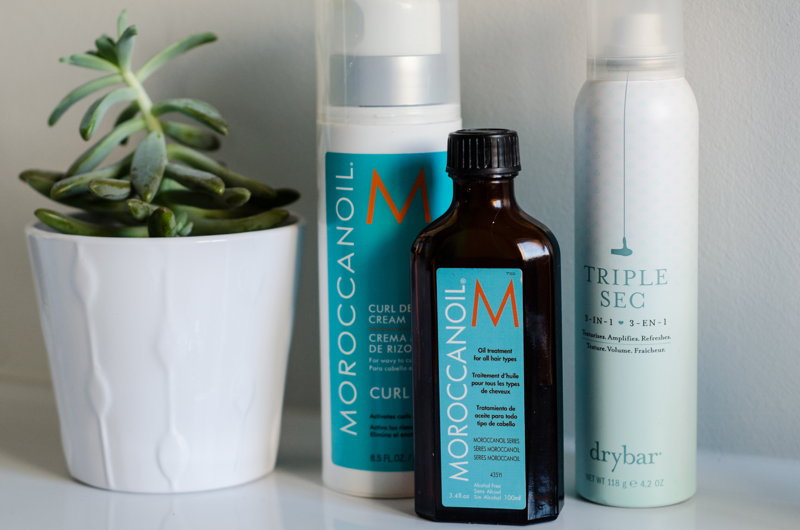 I can't stress this enough, but investing in quality products can make or break your hair. Especially with curly hair that is already dry as is, I have to be careful that the products I'm using aren't drying out my hair further. My go-to product line is Moroccan Oil – I live by this stuff and have for YEARS. The curl defining cream is what works for me as I have looser curls. If you have a tighter curl, I recommend using the intense curl cream. You will fall in love with the results (& it smells AMAZING). I use it along with a texturizer on days I need a little extra volume, and sometimes add the actual moroccan oil in after showering for hydration.

Or as often as you need to (prob more in the winter). I have a very simple formula – I melt coconut oil and run it through wet hair, avoiding my scalp area. I'll pin my hair up and let it sit for 20-30 mins before rinsing. It helps keep my curls intact and limits frizziness…and is overall just good for your hair (because coconut oil is good for everything, right?).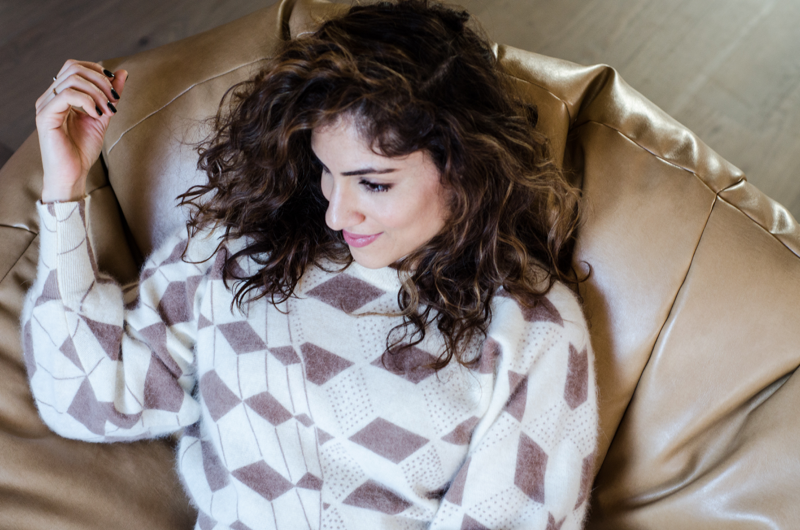 SHOP MY GO-TO HAIR PRODUCTS