Wearing: ASOS jeans, Lacoste sneakers, Larsson & Jennings watch, vintage jacket
I'm sure you've noticed, but I'm a BIG fan of white sneakers. Basically, I don't know what I'd do without them. I wear them when I feel like being comfy (which let's be honest – that's most days) – and I love that depending on the outfit, I still feel stylish rocking them. The only issue with white sneakers is that they only look good when they're crisp and clean. Scuffed up, dirty sneakers are not a thing…yeah, I know, wouldn't it make our lives easier if they were? I've got a few hacks to make my sneaks look brand spankin' new, or at least close enough. Here are three things I regularly do to clean my white sneakers (and keep in mind that sneaks don't last forever, so if you're past the 2 year mark, you prob need to pull the trigger on a new pair):
PS – If you're on the market for new sneakers, check out my roundup of favs!

This was the best thing I ever did for my shoes…and it's SO easy. Maybe I'm the only one, but I have this weird phobia with bleach. I normally don't keep it in the house because I'm clumsy and terrified I'll spill it all over my favorite pair of jeans and cry myself to sleep for a week. Anyway, I got over my fear and bought some splash-less Clorox (is it splash-less for real though? TBD). I mixed about a gallon of water in a bucket, put about 3-4 tablespoons of bleach and a splash of detergent and threw my white laces in the mix. I let it soak for about 3-4 hours (you don't need to leave in there for that long, but I find I see better results the longer I soak). I let them air dry – don't put them in the dryer because the ends of the laces can get ruined & unravel. No joke, my laces looked brand new after this process.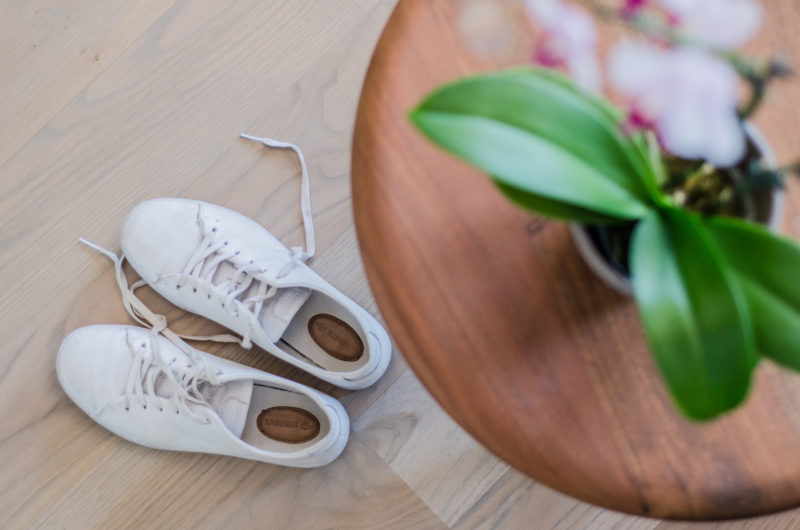 It's tough to get stains out of rubber soles, but if you grab an old toothbrush and hand soap and give it a good scrub, you'll see much better results. I've found the soles don't have be perfectly clean as they're less noticeable, but it's still good to get some of the dirt off where you can!

This is my secret step. Thank you to Leo's mom for introducing me to the magical capabilities of baby wipes. Who would have ever known they would be effective in removing scuffs from leather sneakers?! It's the quickest & easiest thing to do after wearing your sneakers – at the end of the day, give them a wipe down with baby wipes and you're all set! Be sure to get the baby wipes with lotion, I find those to be the most effective.