My mom's hummus is ALWAYS better than whatever I find at the store. Every. Single. Time. I never asked how to make it, because I figured it'd be too complicated/too much work. A few weeks ago, I finally asked how this magical hummus is made, and was surprised to find that it only required a handful of ingredients and a blender. Since I now know how to make it myself, it's officially in my healthy snack rotation. It's creamy & full of flavor – I love that I know exactly what's in it and that it's all natural! I've been eating it with fresh cucumbers and tomatoes…YUM. Below, you'll find the easiest homemade hummus recipe EVER!
Yields 4-6 servings
Ingredients
Juice from 1/2 a lemon (you can add more if you want more acidity)
15 oz can of garbanzo beans
1/2 cup tahini (this is my fav brand)
1/2 tsp-1 tsp salt (again, based on preference)
1 garlic clove
Top with olive oil, cumin & chili powder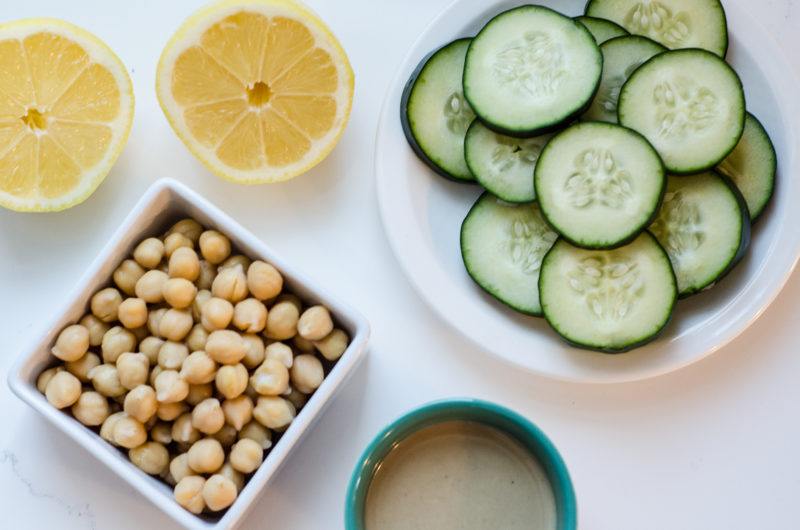 Get ready for this…it's SUPER complicated! Kidding, kidding. It's so simple. Drain the garbanzo beans & save the water in a separate cup (you'll need this later to make the hummus more creamy). Add the drained garbanzo beans, lemon juice, tahini, garlic & salt in your food processor/blender (I used my Ninja, but any food processor should do the trick) & pulse away. After a few pulses, add some of the water you saved from the garbanzo beans to add more liquid to the mixture. Continue to pulse until everything is fully blended.
I like to top the hummus with a touch of olive oil, some cumin, & chili powder for a little spice. I haven't tried this yet, but you can mix additional ingredients with this recipe (i.e. roasted peppers, pine nuts, etc) to make flavored hummus! Enjoy.