White Ankle Boots: Vagabond Shoemakers | Pleated Midi Skirt: Vintage Escada, similar here | Ruffle Top: Vintage YSL, similar here | Floral Clutch: Gift from India, similar here | Blazer Dress: Vintage, similar here | Croc Leather Belt: Vintage, similar here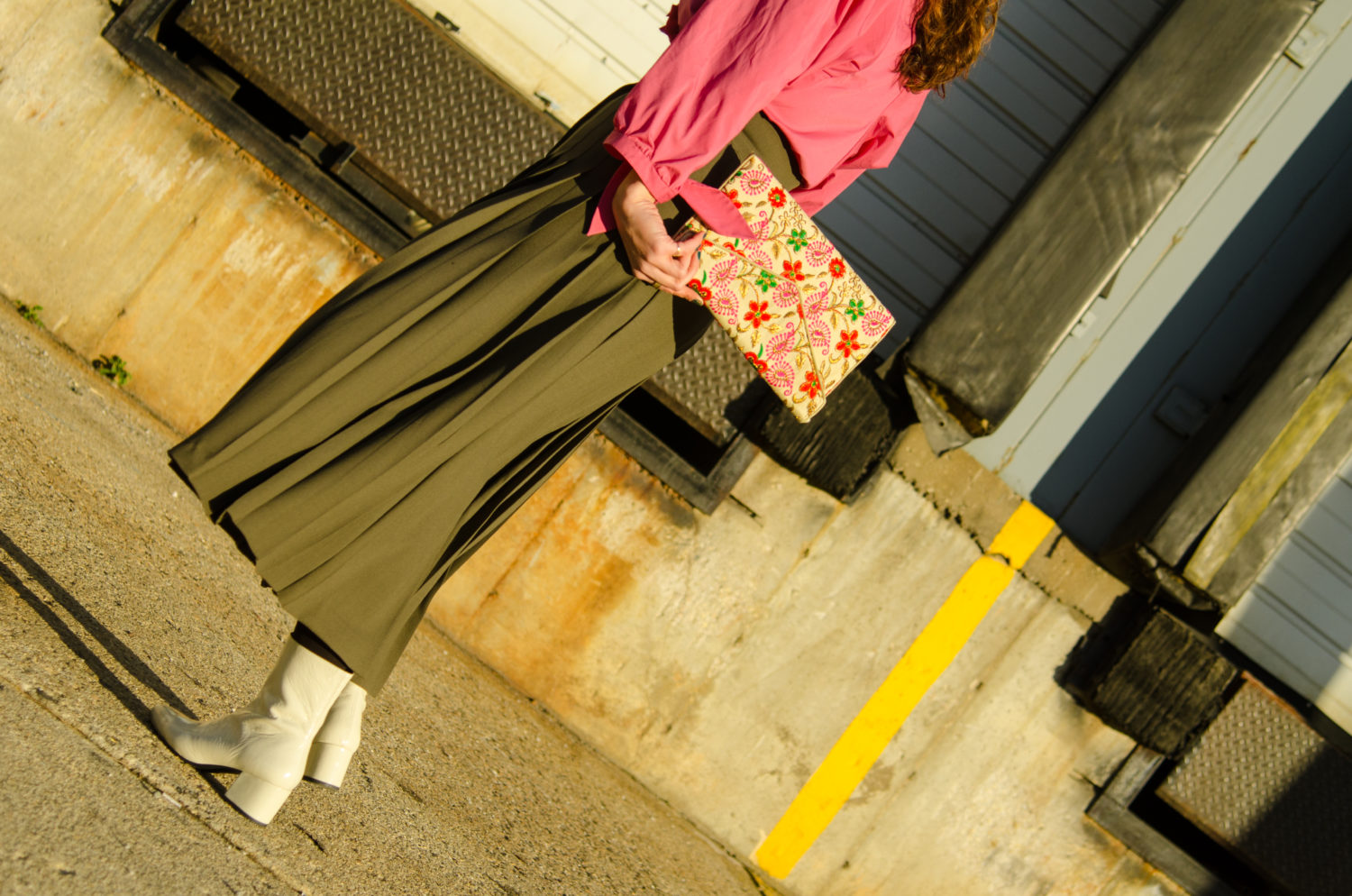 Ahhhh the white boot…the trend that stays alive & well! I bought my first pair of white booties about a year and a half ago right before I went to my first New York Fashion Week. I wasn't convinced the trend would last, so I got myself a cheap ass pair from Zara. Don't get me wrong, they were cute…and exceeded in looks the $40 I paid for them.
Fast forward to a year and half later…the white boot is alive & well, and coming into 2019. I felt it was time to get rid of the Zara pair and buy myself a proper pair of white ankle boots. I am a grown ass fashionable (TBD) woman after all. PS – I've been selling all my stuff on Poshmark, so follow me there if you want first dibs on my goodies!
Now, I had to search LONG & HARD to find the perfect pair of white booties, because they had to hit all of the criteria I was looking for. See below (yes, I am potentially a nut case…don't judge) –
Color – I didn't want them to be a true white, but more of a white with a cream tone to it. I feel like a nice quality, true white boot is tough to find without forking over some serious cash, so thought cream would be a good compromise.
Height – My old pair hit me right at the ankle, and as a result not as versatile as I would have liked. I already have short legs as is, and these were doing me no favors. I felt uncomfortable wearing them with anything but pants. That said, I was looking for a boot that would come a bit higher on the leg. This would allow me to wear them with anything my heart desired.
Heel – #realtalk: the days of torture I put myself through in my early twenties to squeeze my feet into 5 inch heels are officially over. Frankly, the thought of putting my feet through that again makes me gag a little. My ideal boot height was 2.5-4 inches, and I was looking for a block heel or a thicker heel, not a stilletto. Not that I don't like stillettos, they're just a little dressier and I was looking for an everyday boot.
Composition – They had to be 100% real leather. That's just a deal breaker with all shoes I buy now. Again, I'm feeling f*cking grown, because I used to be the first B in line at the Forever 21 register with a pair of platform heels in hand.
Price – Anything over $250 was a no go.
Despite my aggressive criteria, I was able to find the ONE. The Vagabond Mya Patent Leather Boot. It's f*cking epic, ya'll. I'm currently overcome with joy and prancing around my house trying to figure out all the ways I can wear these dreamboats. The question of how to style white booties is one I come by often, so I wanted to show you a couple ways I've been styling them lately.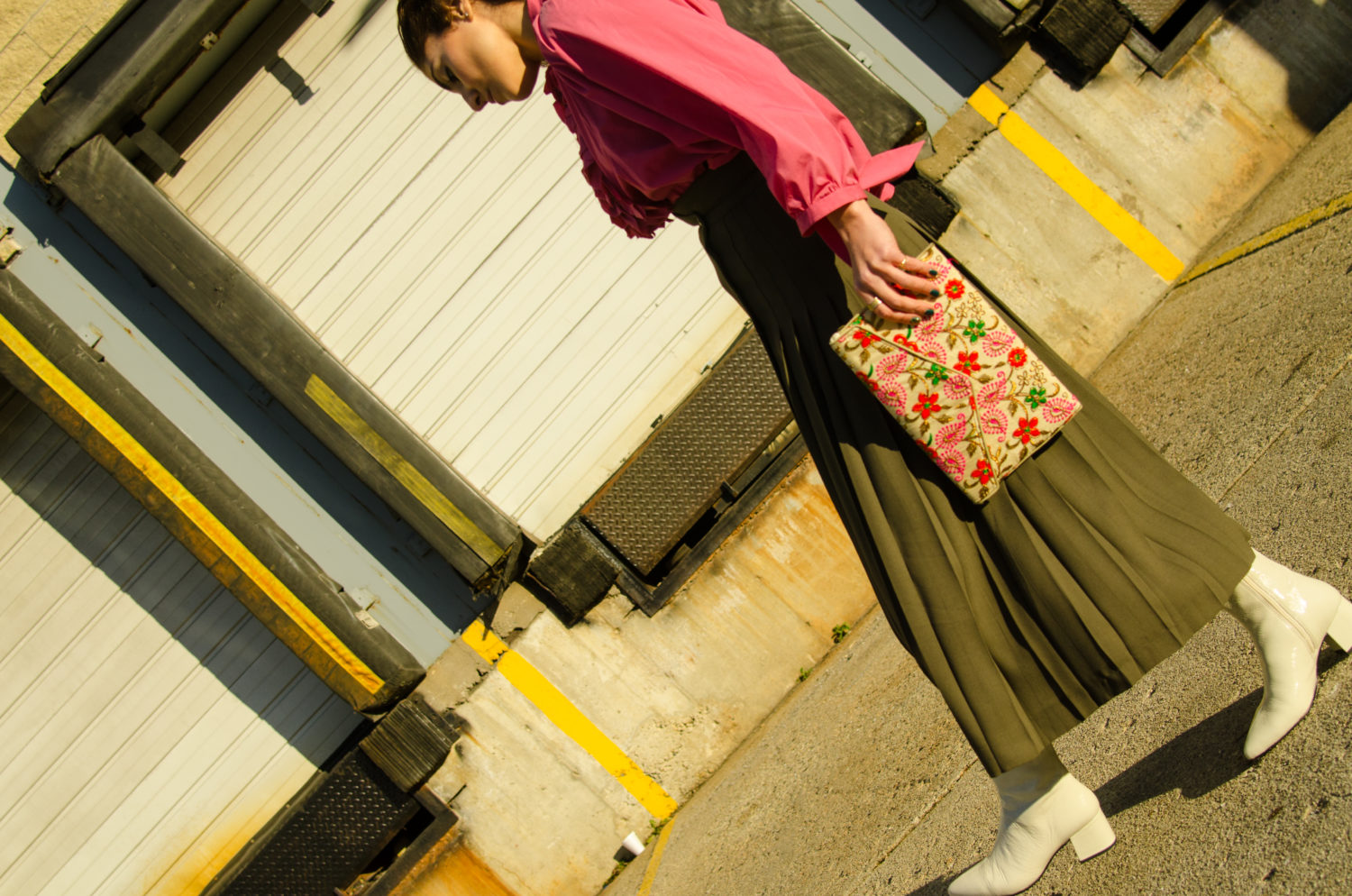 how to style white booties – look #1
The ultimate combination…a white bootie with a pleated midi skirt (or any midi skirt, really). The whole point of the height on these boots was to allow for this type of pairing, and I just ADORE how the end of the skirt meets the top of the boot, leaving slighty enough space for my pastey ass winter skin to peep through. It's a glorious combination, and one I will never get sick of. One thing worth mentioning – don't get too tripped up on matching colors with white boots, they go with everything. White is a neutral, so even if you're not wearing white or you're wearing darker colors, it works. Here I have paired it with a dark taupe pleated midi skirt and a pretty pink ruffle top (which I normally would be way too girly for me, but I took a risk on this one and I'm glad I did).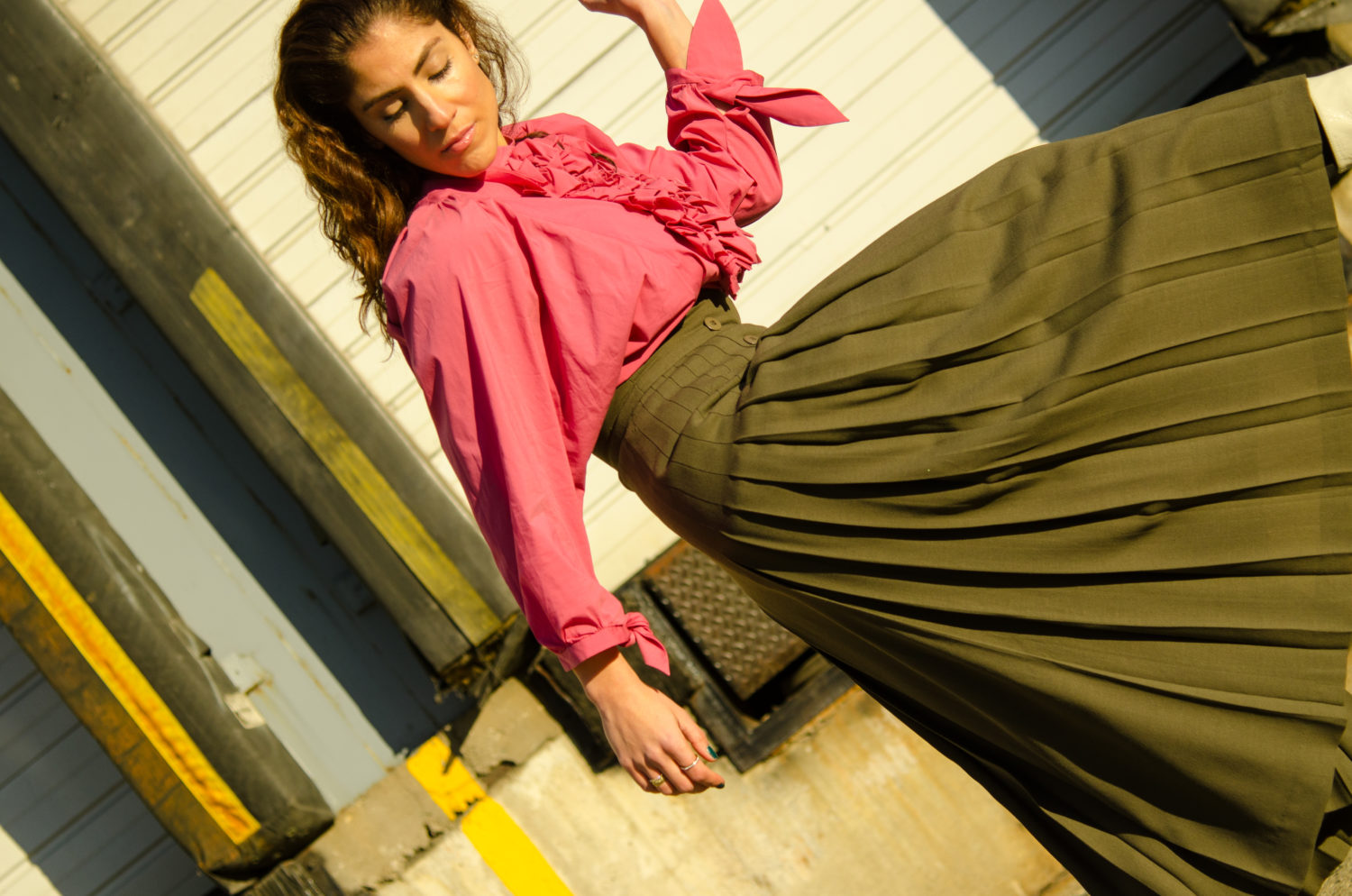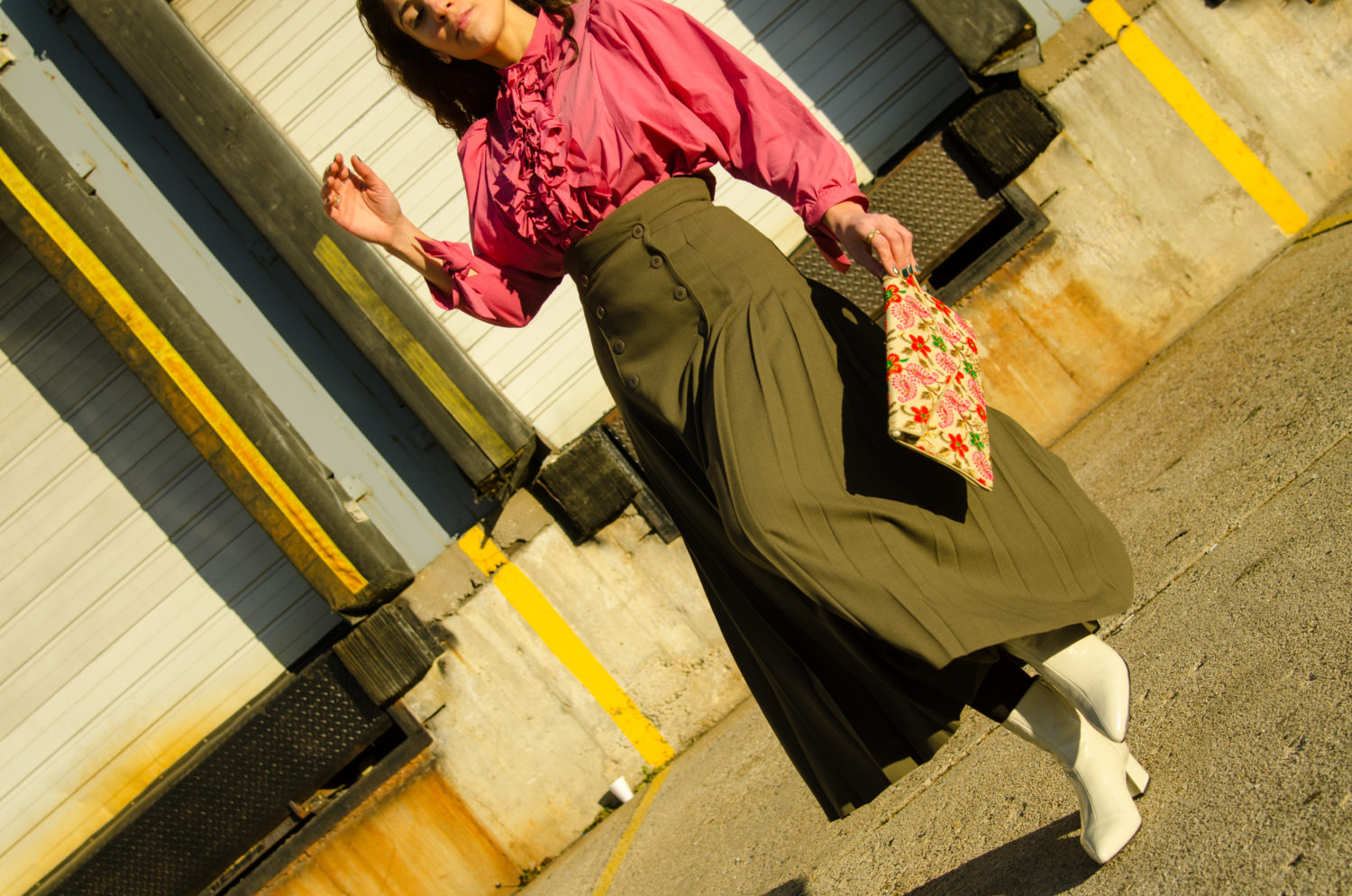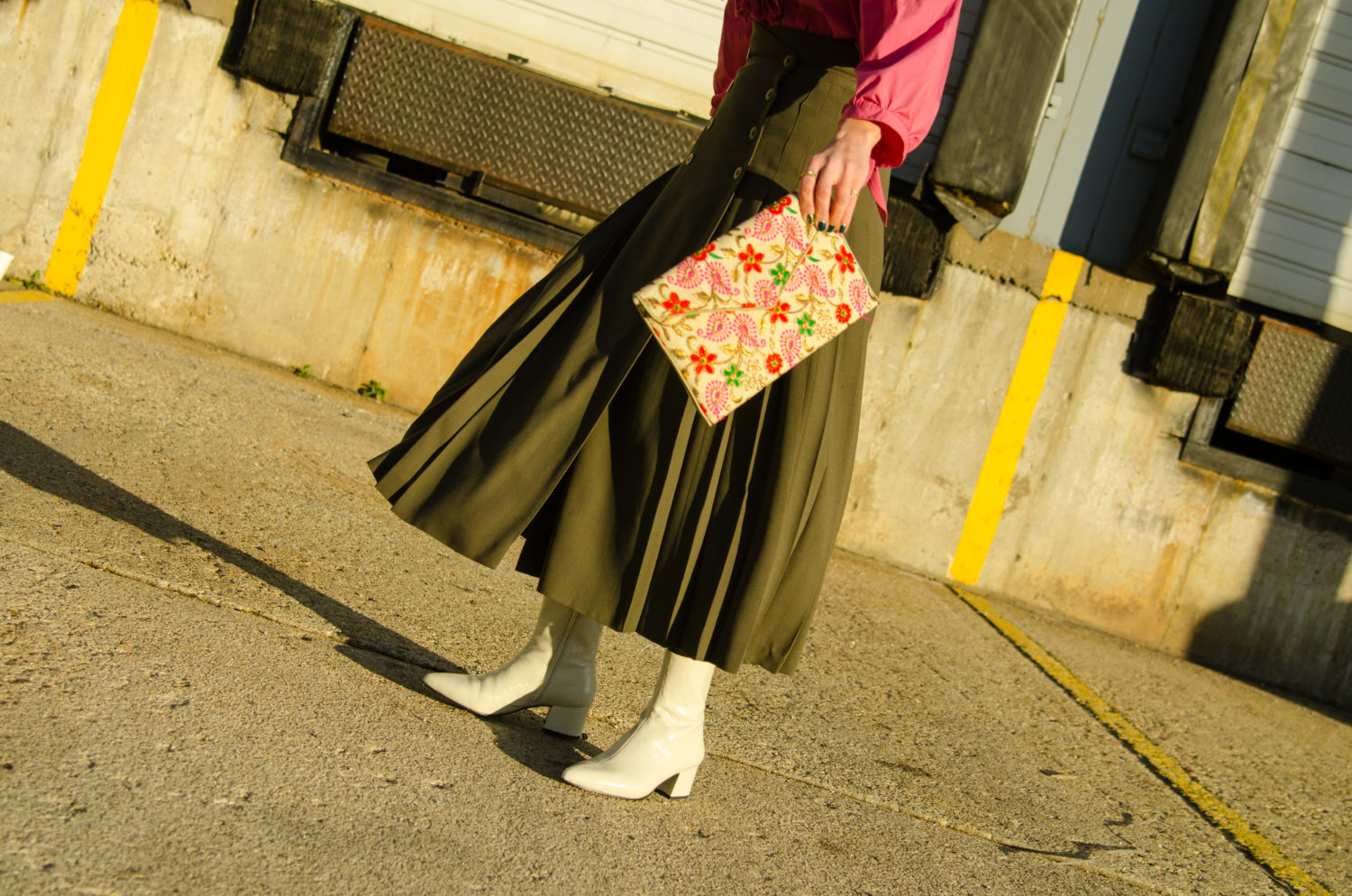 ---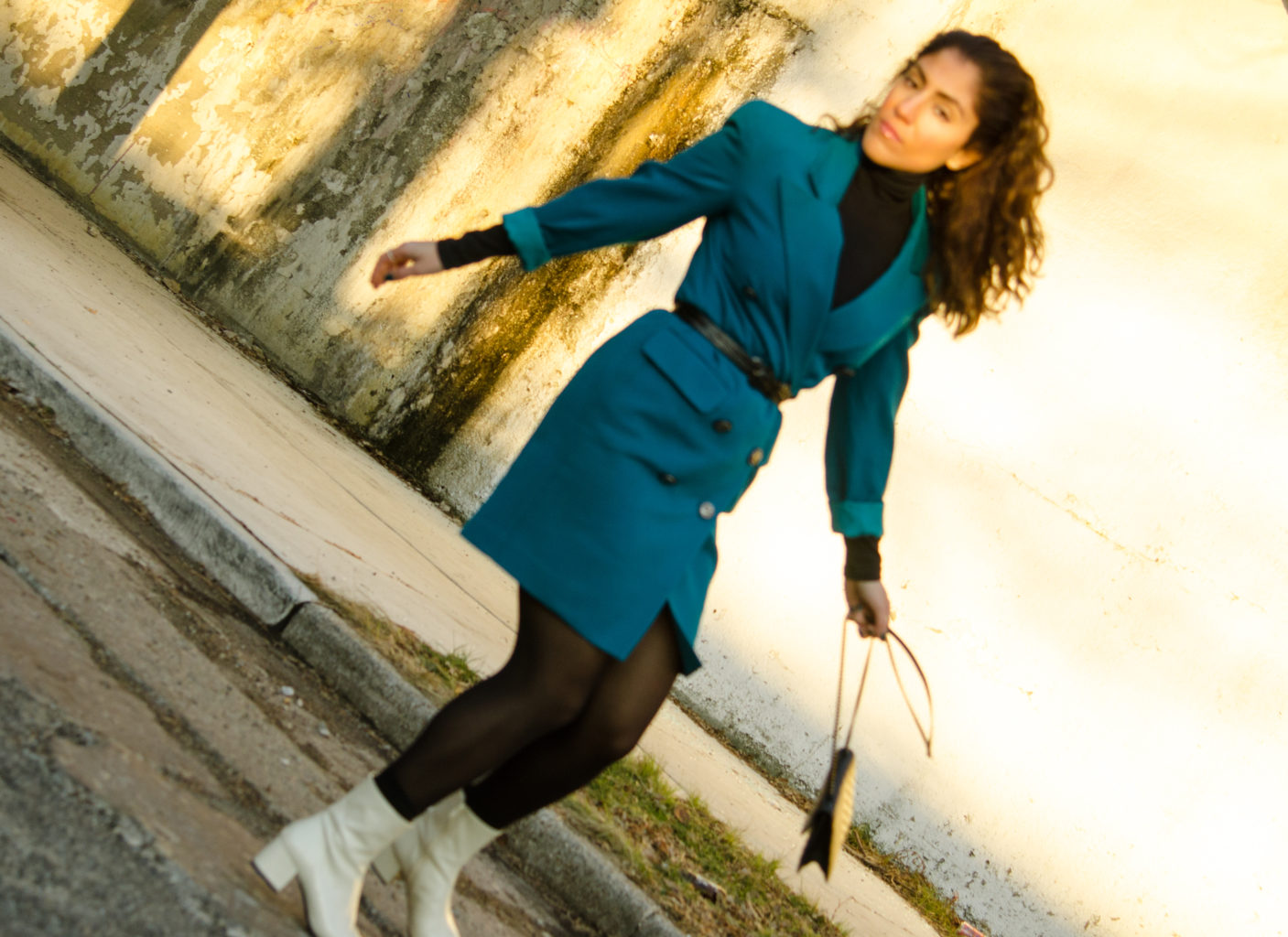 how to style white booties – look #2
Okkkk, here's another dress/skirt situation. Maybe I'm subconciously pairing these with skirts & dresses because I was previously deprived in this department with the old pair. Either way, I dig how these boots look with a mini skirt or mini dress as well, and in this case I paired them with a blazer dress. To prove my point earlier – nowhere in this outfit is there white, but the boots do work! I actually like the contrast between the black tights, blue blazer and white boots. It makes the outfit more interesting and unconventional. Matching all of the time is BORING! Take a risk and do something cray once in awhile…in fashion…and in life.
PS- here's how I styled my old pair with shorts, cropped pants and stirrups. How are you wearing YOUR white boots this season?