Dress over pants?! What?! Why would anyone do that? Because it's chic as hell, that's why. I admired this trend from afar for a very long time, until I mustered up the courage to try it earlier this season with a sweater dress (I've also attempted the look with a wrap skirt). My worry was always that all of the layers would result in unflattering bulkiness, but belting the look made a world of a difference. Behold – there is a waist underneath all of the layers! Surprise surprise! The magic of accessories.
I took another risk this week, and tried it again, this time with a wrap dress. I'd like to think this was a successful attempt, but that is up for the people to judge. I've realized with a few rules of thumb, this look can be foolproof…read below for my tips in pulling this off.
PS – If you're digging the tassel earrings, you can shop my favorites here!
SHOP THE LOOK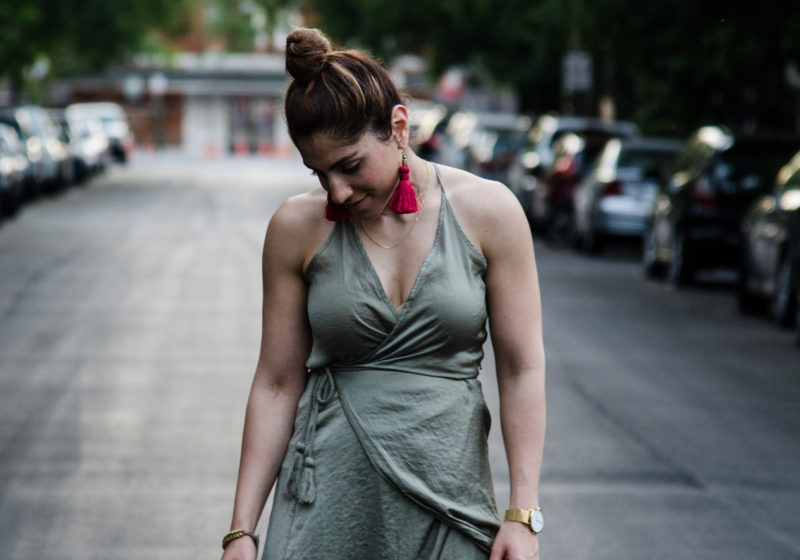 Do it with a wrap dress or one with high slits
Having the pants show underneath is clutch – this is easily done with wrap dresses or dresses with high slits. The worst thing you can do is completely cover the pants…then things get weird. As long as the dress is shorter (or if it's a high/low situation that works too) or has side slits exposing what's underneath, you're set. I got this dress last summer from Lou & Grey.
Cropped or flare pants work best
I've found cropped/frayed denim or super flare pants look most flattering with a dress over them. Experimenting with different shapes and lengths adds depth to the look and makes it more interesting. I rocked my Levi's Wedgie Icon jeans underneath the dress – the raw hem added some edginess to the look.
Pair the look with feminine shoes
You lose some femininity with all of the layers going on, so I find that adding a pair of feminine shoes adds balance to the overall look. Strappy heeled sandals, metallic mules, patterned shoes…any of those would work. I ended up wearing this vintage pair of Stuart Weitzman's my brother gave me. They have this square toe that is SO 90s. They murder my feet but whatevs (I'm pretty sure they're too small and I'm literally squeezing my foot in) – they're adorable and worth the pain.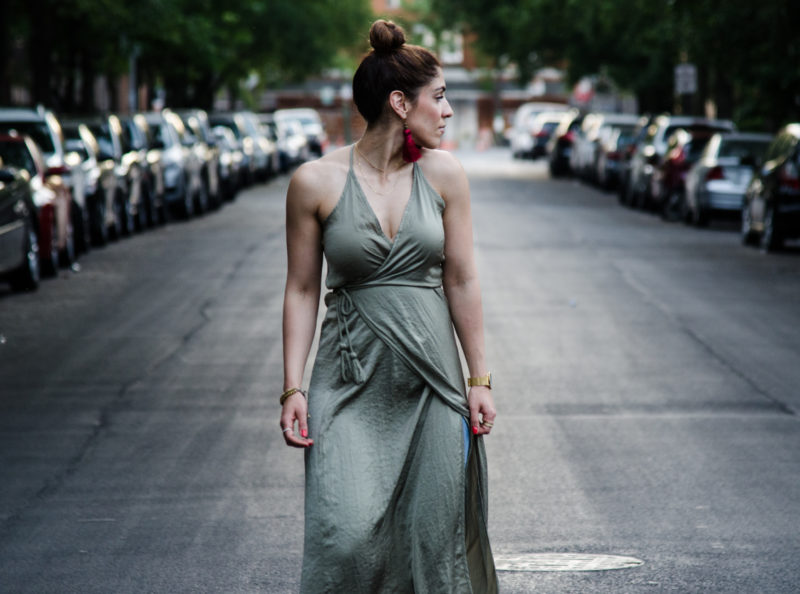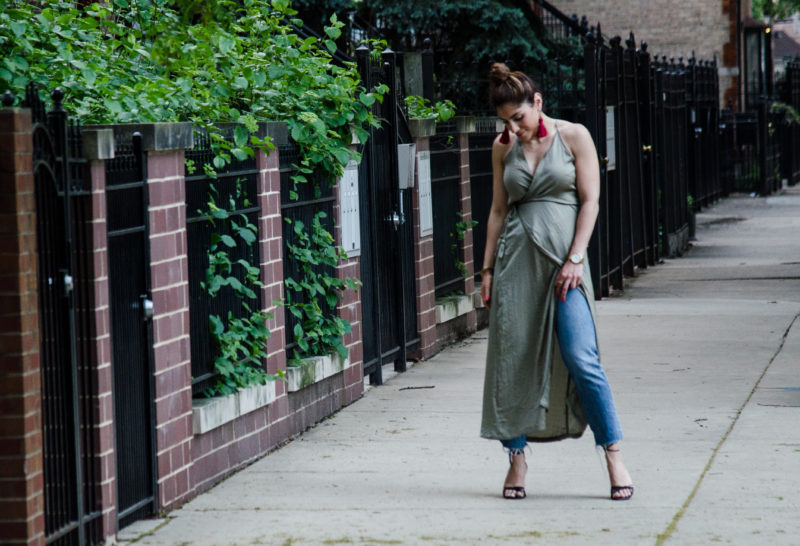 Play with fabrics and patterns
I kept it simple here, but patterned, ruffly dresses work really well with this look! The more you play on textures, fabrics and patterns, the more points you win on the chic-ness scale.