Rugs have been a tension point in our house. We've been desperately needing one in our living room, yet Leo has had an aversion to it…I'm pretty sure it's a germ/cleanliness thing…but up until a few months ago, he wasn't down to get one.
It took almost a year of convincing (with the help of many friends who also pushed for the cause!), and he is officially on board! WOOOOO! With that news, I quickly began my search online. I had a vague idea of what I wanted – a distressed, vintage rug that gives our space the pop of color that it needs. The problem? I had NO IDEA where to even look to find these types of rugs, and also know that they are legitimate and properly cleaned & cared for.
Sure, there's Etsy, but I just didn't trust or feel comfortable with most of the shops I was coming across. Also, the prices are through the roof in some cases, and they're also inconsistent, so it's hard to tell whether or not you're getting ripped off.
I've been on the hunt for a few weeks now, and even though I haven't found the right rug just yet, I know where to look at least! Today, I'm sharing with you a list of where to shop for vintage rugs (aka all the shops I'm hitting up daily). They're well curated, legit, update their inventory often (most of them update once a week), won't break the bank, and are all professionally cleaned upon arrival (a deal breaker for my germiphobe roommate – haha!).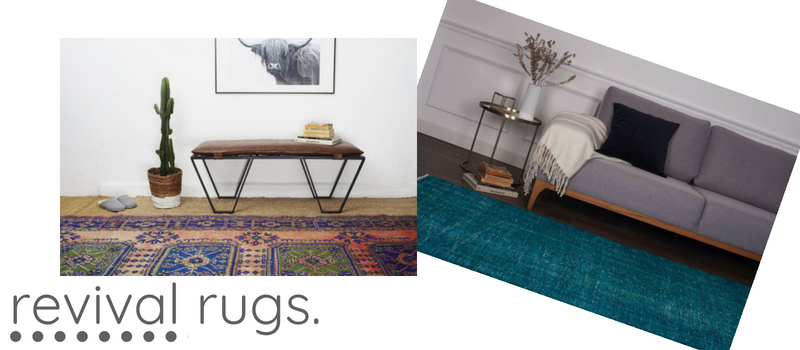 I came across Revival Rugs on Apartment Therapy, and I was immediately drawn to their story. A girl can relate! On top of their site being so well organized and aesthetically pleasing, they offer free shipping & RETURNS! That's right, you can ship your rug back for free if you change your mind..pretty mind blowing. My biggest hesitation with buying a vintage rug online is that it's so tough to visualize the coloring and how it will fit in without seeing it in person, so this return policy is a HUGE plus for me and rare to come by.
My current favorites: Barnet / Fiza / Frankie / Hiba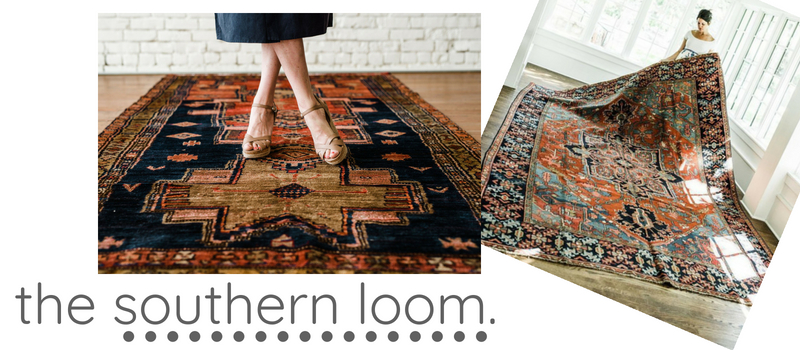 I just so happened to stumble upon The Southern Loom via Instagram (it is such a gorgeous feed, isn't it?!). Laura, the founder & curator, was a stay at home mom with a passion for vintage rugs…and the rest is history! Most of her rugs are rich in color with bolder patterns. They're all stunning and there is enough variety that there will be something for everyone. Shipping is a flat rate at $20, but all sales here are final, so make sure you really do your research before pulling the trigger!
My current favorites: Clay / Dawes / Presley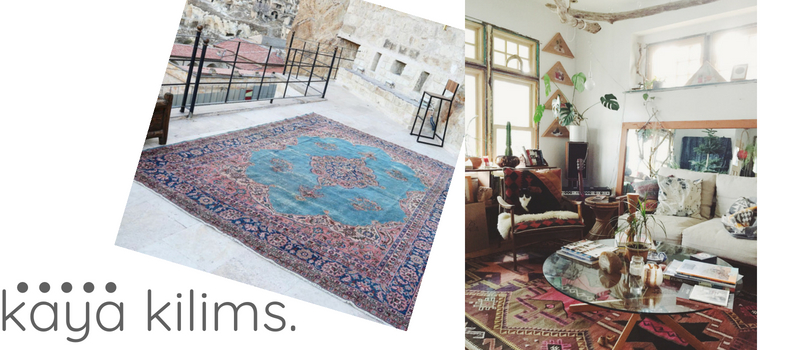 Kaya Kilims is a rug shop based out of Turkey, and they specialize in vintage handmade rugs. Their inventory of rugs is significantly more than other shops I've come by. It's impressive! They're also unique in that they sell pillows made of rug material as well, something I definitely haven't seen at any other rug shop. In terms of shipping & refund policies – they do accept refunds, which is great, but the buyer has to pay return shipping. Shipping in general varies based on location, so it's something I've been baking into my costs as I'm shopping around.
My current favorites: Ron / Danil / Akulina / Iowa
Frances Loom was actually recommended by a friend earlier this year, after I shared my dream of getting a rug :). They restock the site every Thursday at 11AM EST, so be prepared for new rugs every week! Kelly, the founder, collects rugs from flea markets in Europe & around the world. Something worth noting – this shop is on the pricier side compared to the others, and the inventory sells out quickly (you'll see that there are only a handful of rugs available at a time). All rugs are final sale and shipping is a flat rate of $25 in the US.
My current favorites: Tash / Young