Skirt: Mango | Belt: Donna Karan vintage, similar here  |Bag: Saint Laurent| Boots: Zara| Bomber: Coat Check (last season), similar here| Crew Neck Sweater: Uniqlo | Lipstick: Glossier, in Leo
DISCLAIMER – I shot this look in the freezing cold, so I'm trying REALLY hard to look normal in these photos. You can see the struggle in my eyes. #fightingthearcticwind
You probably know by now that I'm not the girliest girl. I was a huge tomboy up until sophmore year of high school. I basically lived in hoodies, sneakers and jeans until age 16, which is about the time I started working at Nordstrom (fun fact – I worked at Nordy's for 5 years part time throughout high school & college!). Thank GOD I got the job at Nordstrom – that gig is what sparked my love for fashion…AND of course, shopping.
With that said, I generally steer clear of feminine pieces because they don't suit me. However, I had this strong urge to purchase a pleated skirt (which is basically as girly as it gets). I had a very specific image in my head…jewel toned, metallic. When I came across this emerald pleated skirt doing my Black Friday shopping, I was stoked. It was EXACTLY what I'd been looking for. Now, the question…how to wear a pleated skirt and stay true to my style? I wanted to steer clear of being too feminine, and I didn't want to pair it with something simple to be safe, because…well, I didn't want to look basic! Well, I think I figured out how to wear a pleated skirt and NOT look basic.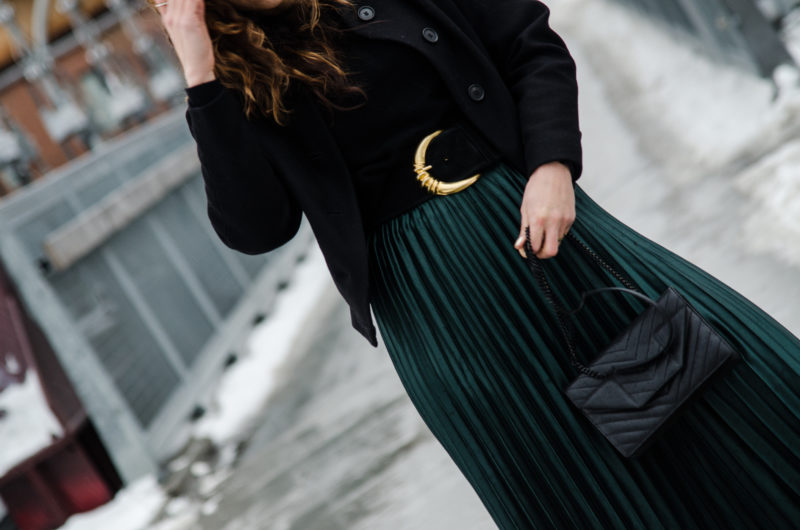 Belt it.
I feel like this is the answer to many outfit dilemmas. JUST BELT IT. For real though, add a statement belt like this vintage one I have (PS – I am obsessed with this belt and wear it on repeat), and you've instantly made your outfit not basic. It's as simple as that. Accessories are magical. Fact.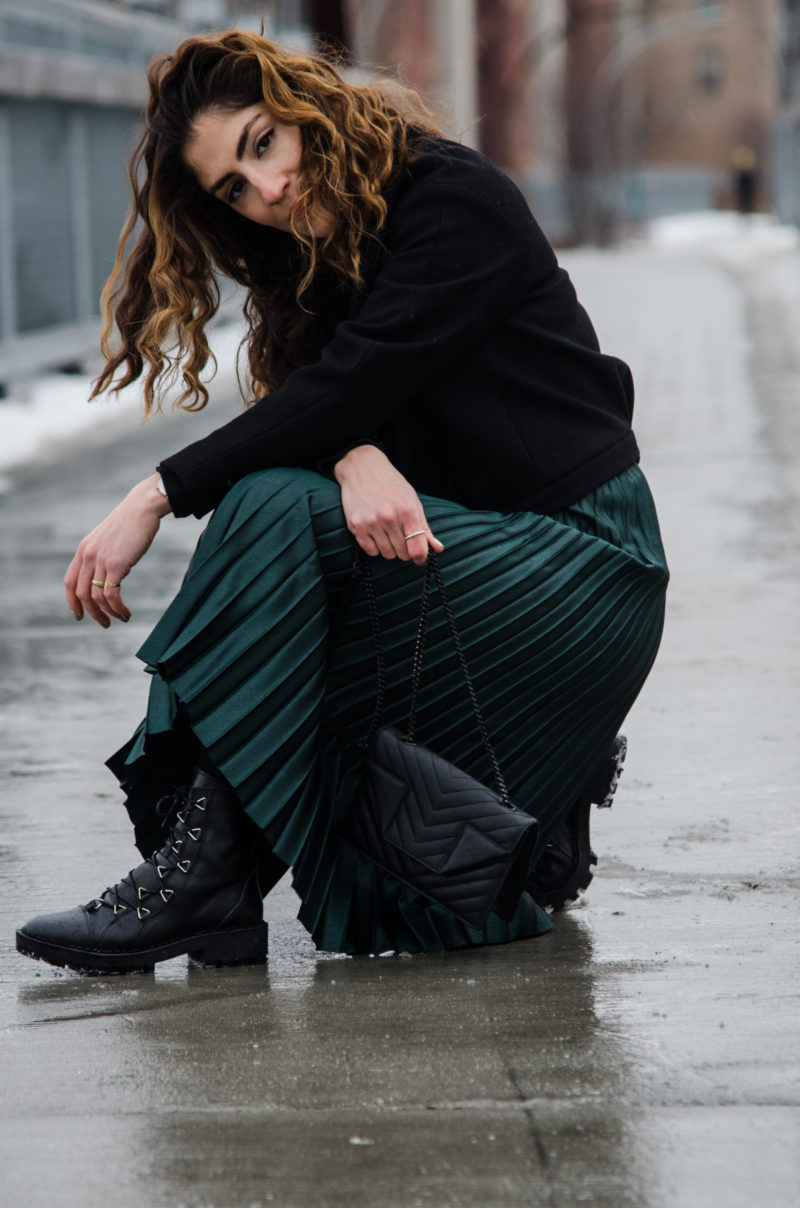 Bust out the combat boots.
Another item I've been wearing repeatedly, the combat boot! They're incredibly versatile – I've worn them with jeans, dresses, skirts, trousers – and they will give any look a touch of edginess. Being the tomboy that I am, I like that they add an element of masculinity. If you can successfully balance both masculine & a feminine piece, you are a fashionista in my book.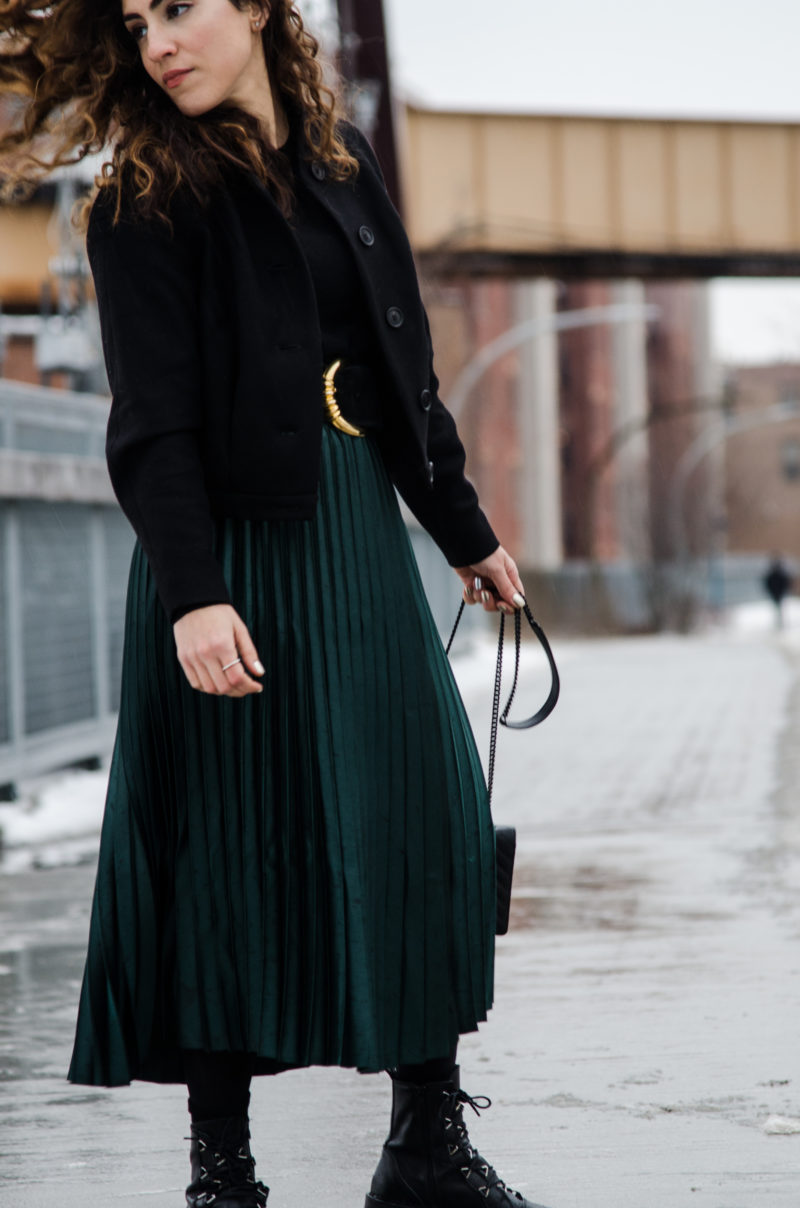 Get a unique color and/or fabric.
My biggest challenge was finding the right pleated skirt. There are plenty out there, but I wanted one that stood out from the crowd. Whether that's in the length, the fabric, the color (which this fits all of the above!)…finding one that is unique will set you apart.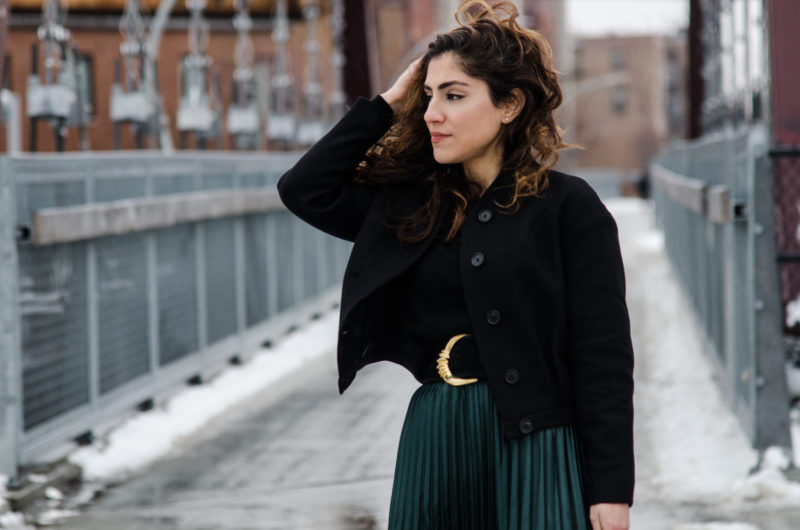 Dress it down with a track or bomber jacket.
Last but not least, dress the skirt down with a masculine jacket. I went with a wool bomber, but a track jacket could look just as cool (it sounds crazy, but see for yourself!).