Sweater: SUPER old, similar here| Pencil skirt: Vintage, similar here |Bag: Saint Laurent| Boots: Zara| Tights: Old, similar here | Lipstick: Glossier, in Crush
December has been one big hangover for me. Anyone feel me? I'm ready to get under a blanket and fully veg this weekend. I still have a couple of last minute gifts to pick up (if you're still shopping, check out my gift guides!). Hopefully, you'll have some time to lay low over the next few days. I know I need to! If you're in the baking mood, try making these pretty holiday cookies (or these Christmas-themed ones!)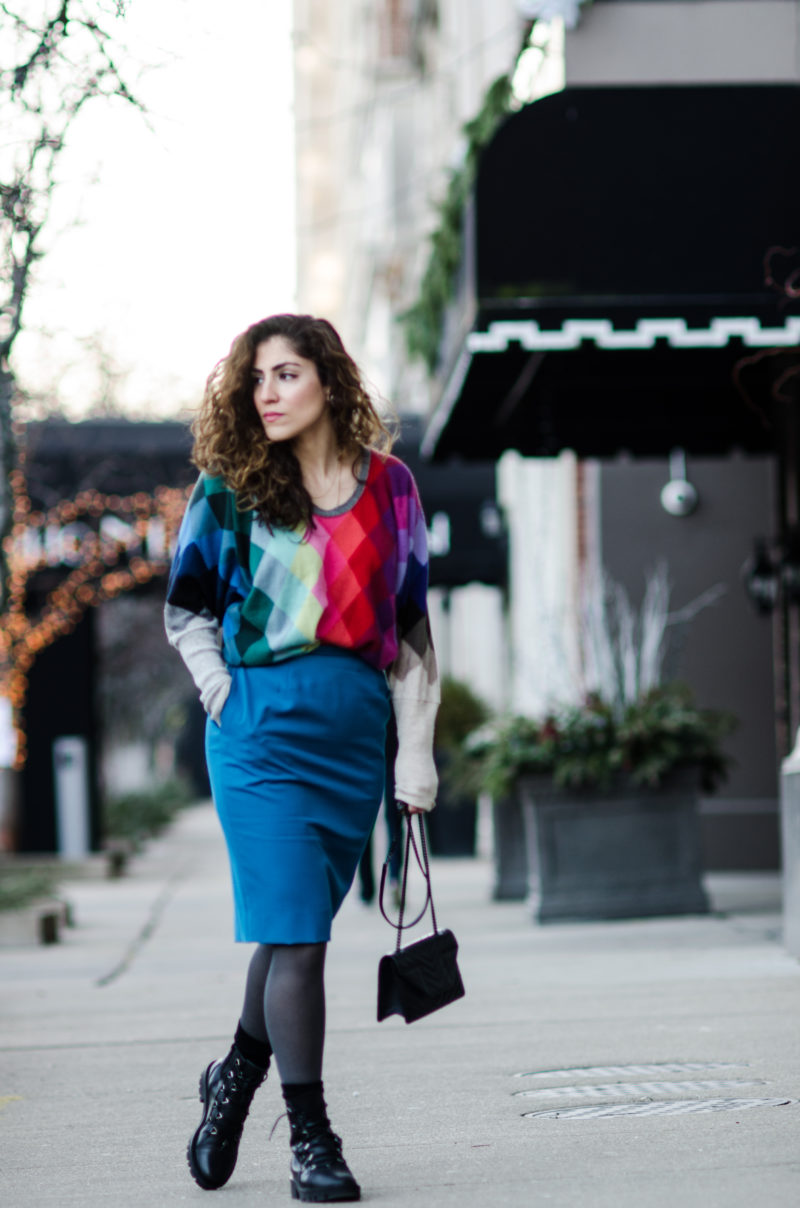 You know what else I'm needing rn? A winter pick-me-up. I have my usual strategies to help me get through the winter, but sometimes, I need a little splash of color in my life (literally). I spice things up once in a while, but for the most part, I'm a neutral kind of girl. Last weekend, I came across this stunning argyle sweater I bought at Benetton YEARS ago (like, 8 or 9 years ago, no joke). It was buried in the depths of my closet. I almost gave it away last winter, because I hadn't worn it ages, but I couldn't get myself to let go of it. The dolman sleeves, the bright colors…it is OUT there…but that's what I love about it. And, I don't know, maybe there's a sentimental piece to it as well.
My mom gave me this cobalt blue pencil skirt a few weeks back, also from the depths of her closet ha. It used to be part of a two-piece suit, but apparently she no longer has the jacket (believe me, I was very upset about this). I took the skirt, not knowing what the F I'd pair it with…until I found my argyle sweater. The PERFECT match.
I swear, the pop of color uplifted my mood. From time to time, it's fun to go out of your comfort zone and go a little cray. Shop a few "uplifting" bold sweaters below! I couldn't find one exactly like mine, but these should do the trick!