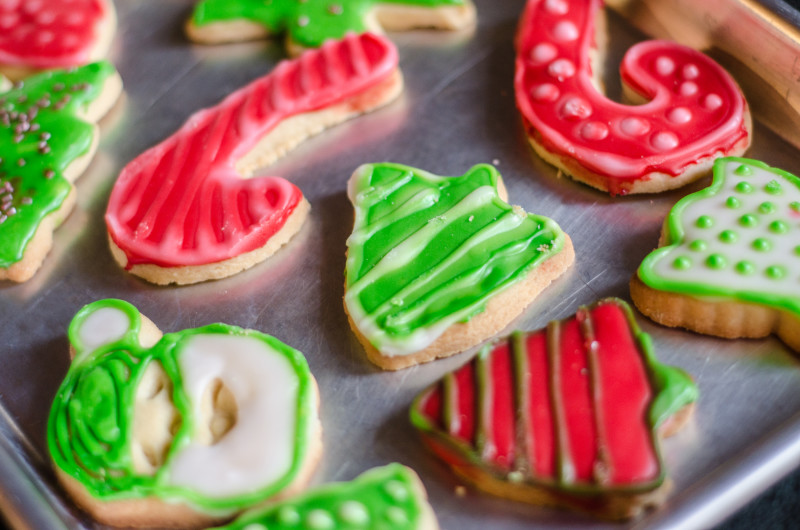 Since I can remember, one Saturday in December was always dedicated to decorating my mom's delicious butter cookies for Christmas. The last few years, this tradition sort of fell through the cracks as my brother and I have been either out of town or busy for the holidays. Being home for the holidays this year, I made sure to set aside time to make these delicious treats. Not only can I enjoy them with a nice cup of coffee Christmas morning, but making them brought back so many precious memories of holidays in my childhood.
As you can tell, they aren't perfect (& my mom slightly burned one batch – fully blame her for that), but that's the beauty of decorating your own cookies – right?
Hope you all have a wonderful holiday.
Yields ~4 dozen cookies | Bake for 6-8 minutes at 400 F
Ingredients:
Cookies
1 cup butter
2 tsp vanilla extract
1 1/2 cups sugar
2 eggs
3 1/4 cups flour
1 tsp baking powder
1/2 tsp salt
Frosting
1 cup powdered sugar
1/4 cup water (can adjust depending on how thick you want it)
2-3 drops food coloring
Cookies: Cream butter with vanilla, gradually add sugar & beat until fluffy. One at a time, add the eggs. Sift flour, baking powder, and salt together in a separate bowl. Add the dry ingredients to the wet mixture into fourths, blending well after each addition. Roll a small amount of dough to around 1/4 inch thickness on a floured surface, cut using your favorite holiday cookie cutters. Chill thoroughly before frosting.
Frosting: Mix powdered sugar, water & food coloring together in a bowl. Repeat for as many colors as you'd like. To decorate, cut a small piece off the corner of a ziplock back and spoon the frosting inside the bag. Squeeze the frosting out of the open corner of the bag – there you go, now you're a professional!
Once the decorating is complete, leave the cookies out on a rack to dry overnight. Enjoy them with a cup of coffee in the morning…delish.