My life has been so consumed with home renovations – between picking out paint colors & tile, to dealing with various stuff that comes with owning a house (roof leaks, broken porch lights – it never ends!!). That said, it makes me all the more excited to share when we actually FINISH something! This time around, it's our master bath…potentially my favorite makeover thus far.
Our master bath is the room that got the biggest facelift in our house. Previously, it was small, crammed, dark, and even worse…had a single vanity! That wasn't going to fly. We wanted to open it up and make it a brighter space – this involved some serious construction like moving the door, knocking down storage areas that were embedded in the ceiling, building a completely new shower. The things that come up while your remodeling you can sometimes NEVER expect. Lots of improvising and flexibility is needed…along with the million decisions you have to make (which is what makes it all so stressful). Regardless, it's so worth it in the end. You quickly forget about those late nights you spent debating between paint colors (the winner was Calm by Benjamin Moore)!
Now…let's start with a quick snapshot of the before & after, so you know what kind of changes I'm talking!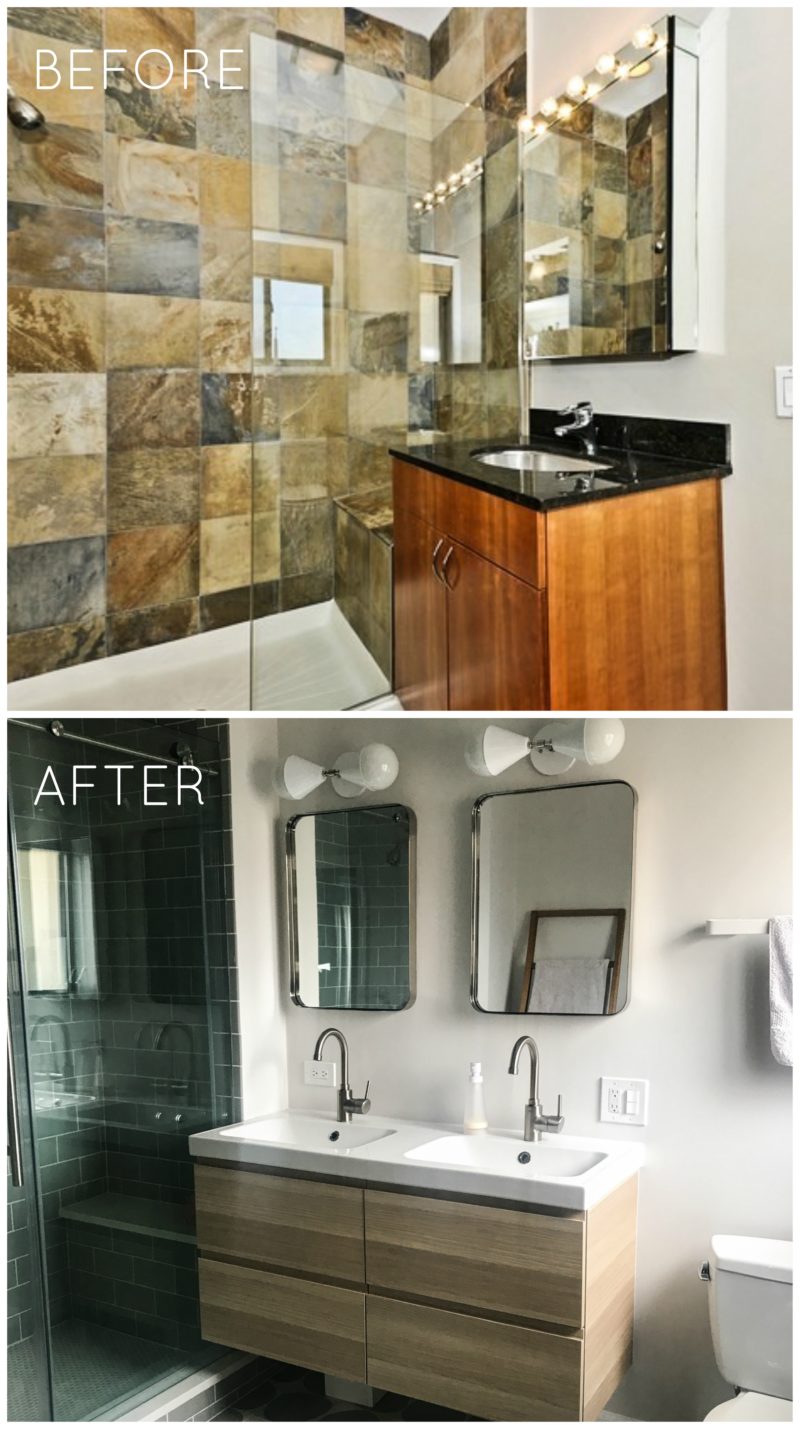 It's amazing how much brighter & more welcoming the room became! Plus, there was so much wasted space with the old set up that we were able to maximize. Read on if you want to hear the nitty gritty (& shop the room!):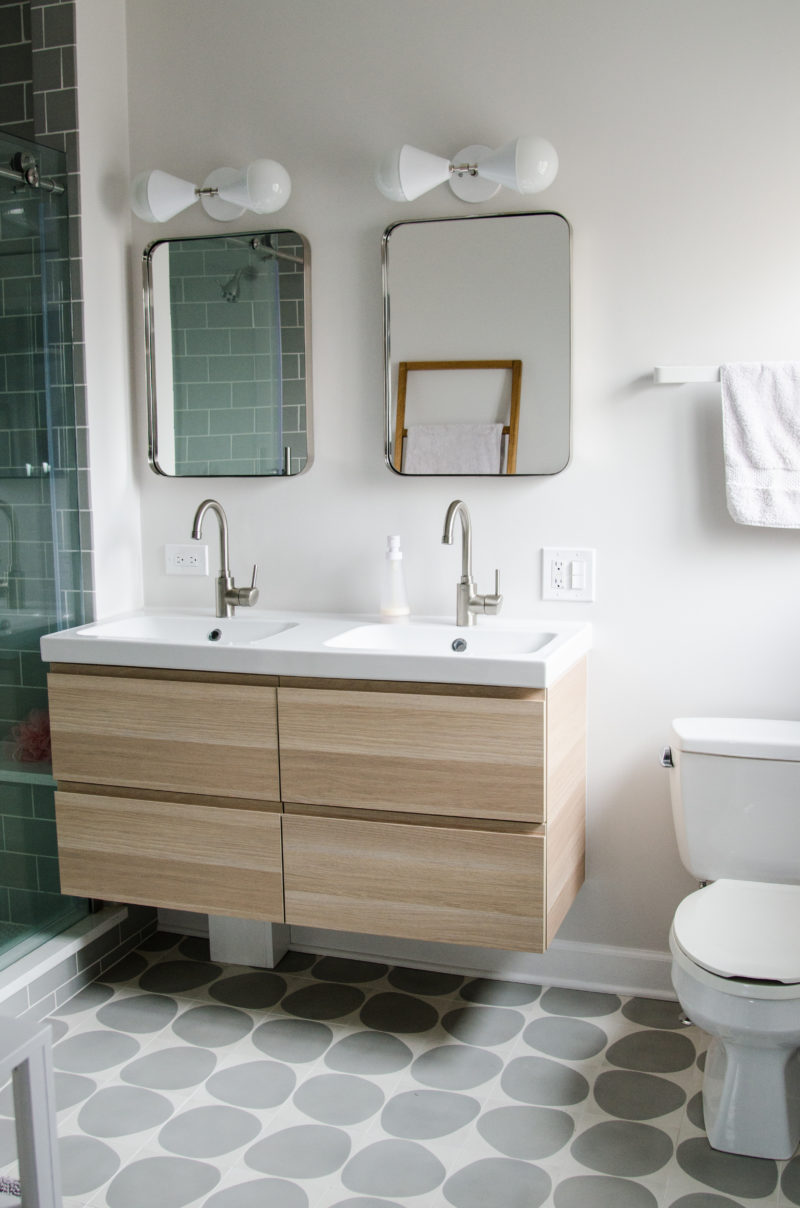 Tile: This decision took us the LONGEST. We had to pick out 3 different tiles for this room – the shower floor, wall and bathroom floor. We had been shopping for moroccan cement tile for our den, and came across this gorgeous pebble tile at Marrakech Design. It was such a pain to coordinate shipping it across the globe, and praying we ordered the right amount..but at this point I can say I'm happy I did it. I've never seen tile like this before. It also went with our shades of grey and white theme, added bonus! We did a simple subway tile in the shower (from The Tile Shop) and a light grey pebble tile for the shower floor.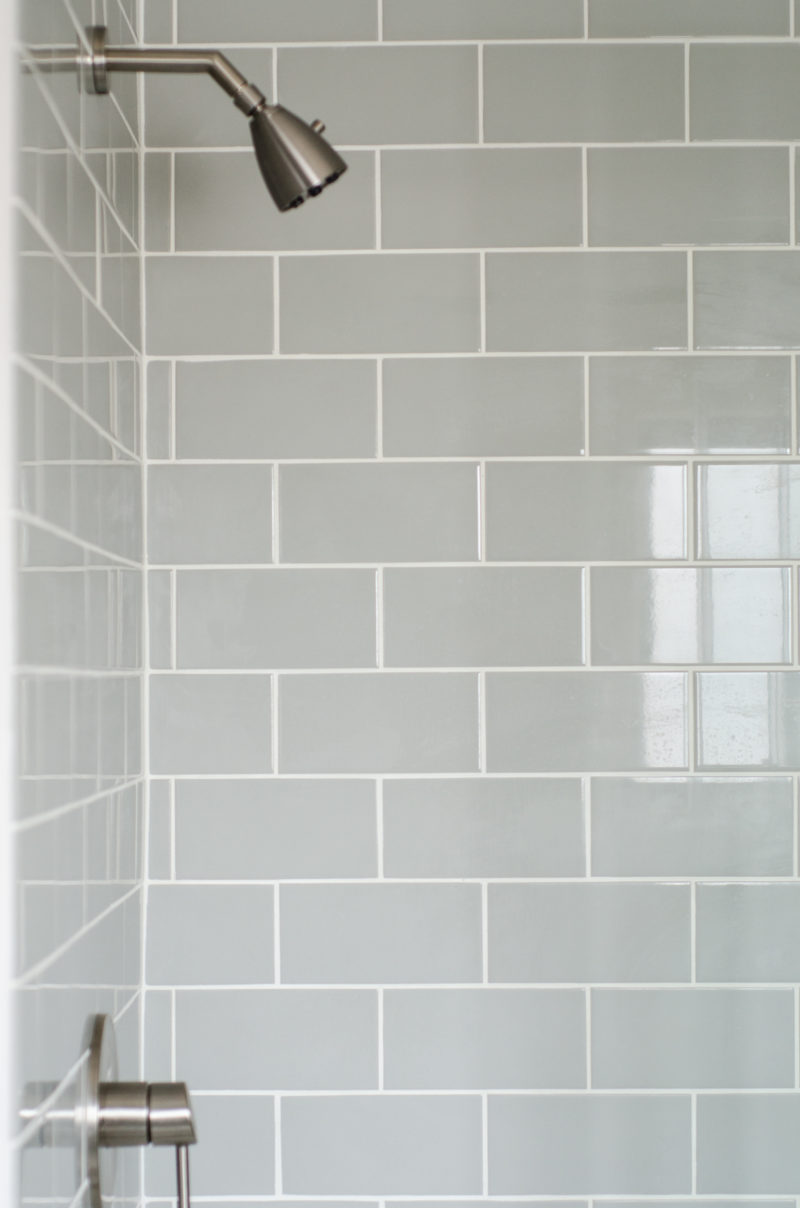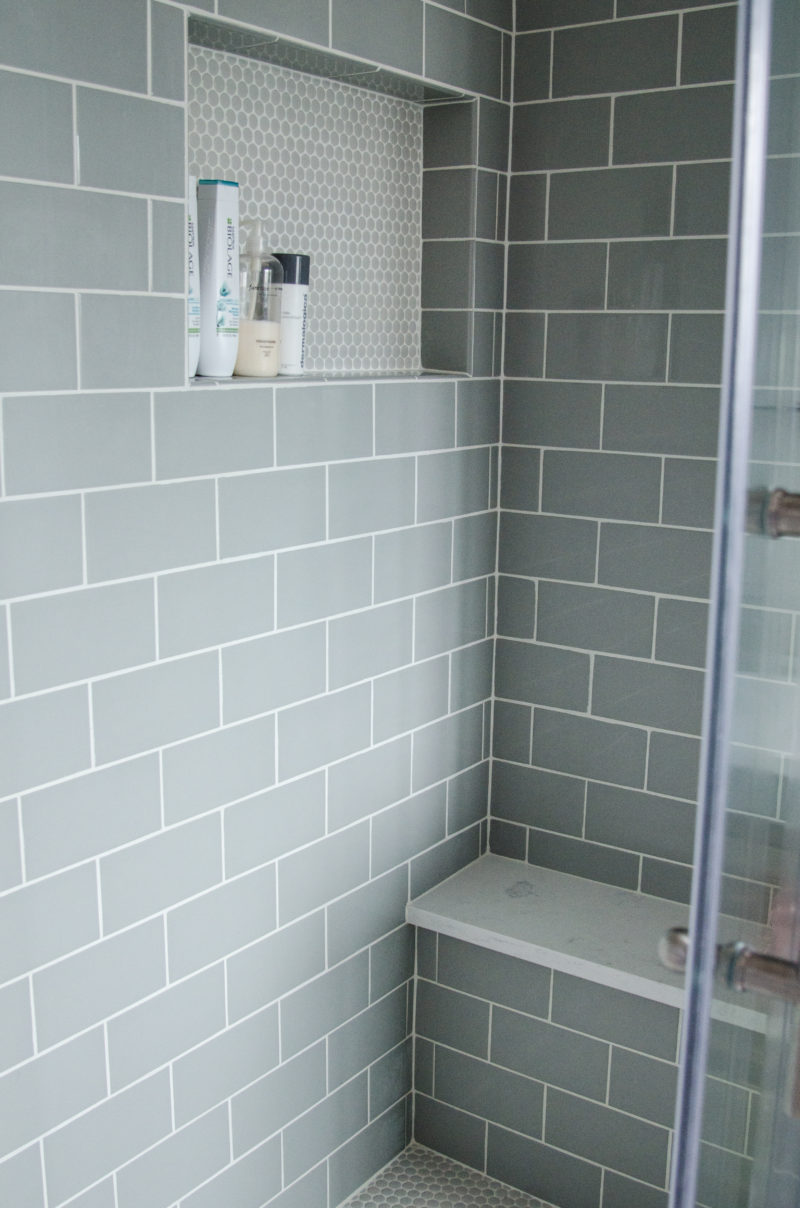 Vanity: We didn't have a ton of space for a double vanity (most are 54″ and we had to find one that was 48″), so that was a challenge. We found this one at Ikea and it turned out to fit just right. Not much counter space, but the drawers hold a TON of stuff. The faucets are Grohe from All Modern.
Lighting & Mirrors: After a lot of back & forth, we decided we wanted to go with two mirrors & vanity lights. Finding mirrors was so tough! Mostly because we needed a specific size that allowed us to fit two above the sinks, and also have enough space in between so that it didn't look crammed. I fell in love with these mirrors from Restoration Hardware. The rounded corners made them stand out – they are so simple and sleek. For lighting, I went to Etsy and found these cool sconces with dual cones. Warning, it takes about 5 weeks to get them as they're handmade, so plan ahead!
Towel Racks: The bathroom is a little oddly shaped, more square than rectangular like most bathrooms, so it would have looked of place to put a normal towel rack next to the shower. Instead, we decided to put a wooden towel ladder against the wall. It's nice in the sense that it looks clean, and we're able to fit both of our towels on it (& they properly dry!). For our hand towel, we installed this super cool towel bar by Menu – I'm obsessed with ALL of their stuff.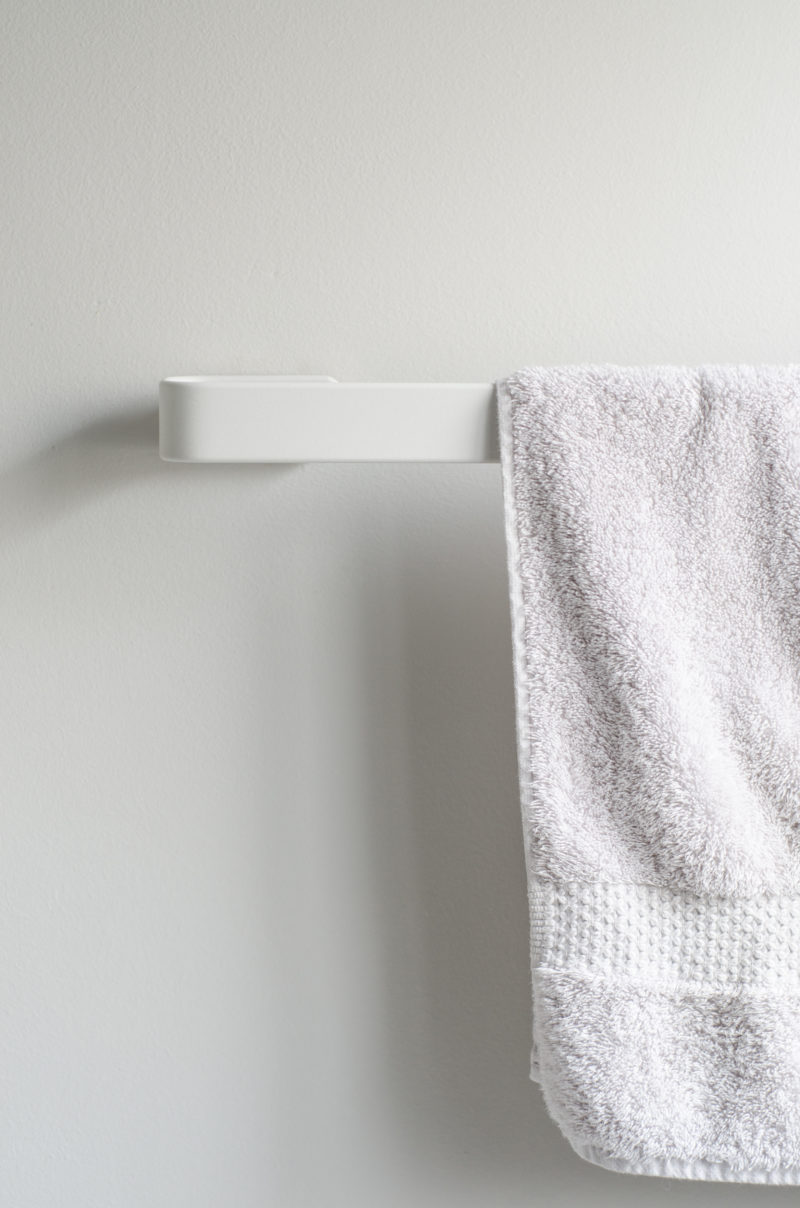 Shower Door: We wanted a frameless sliding shower door. Initially, the size of the opening for the door required one that was custom made, but we were able to add a small piece of wall at the end to fit a standard shower door. This saved us a TON of money. Highly recommend doing it if you're the same situation. We found this door at Home Depot for a super reasonable price.
Storage Cabinet: Though our vanity fits all of our personal items, we needed space to put things like toilet paper & extra towels. I can't remember exactly where we got this cabinet (I think it was Target), but you can find these anywhere. Leo was happy that he had somewhere to put his radio & magazines…I was happy about having a place to put my orchid. It was a win win!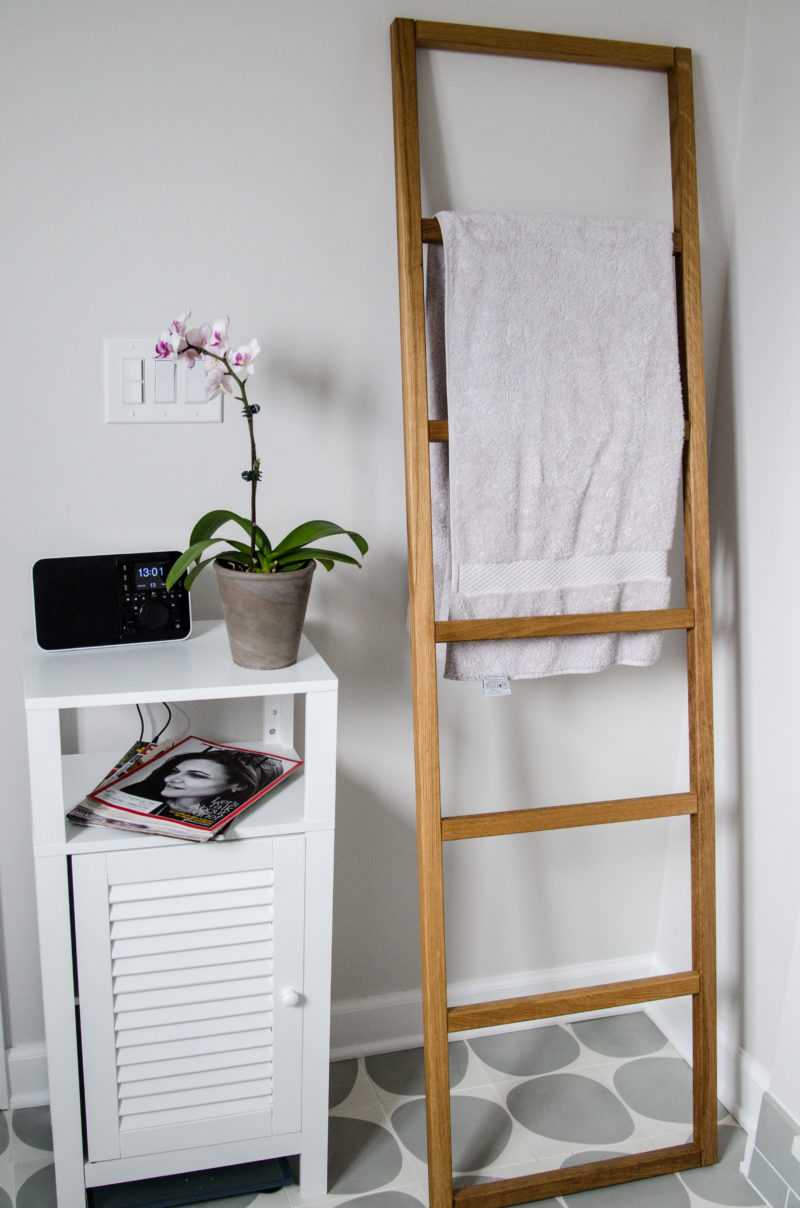 Door Hanger: Because we have limited counter space, we thought it would be a good idea to install a door hanger where can hang our clothes or extra towels. This was the one we installed (another Menu item – shocking haha).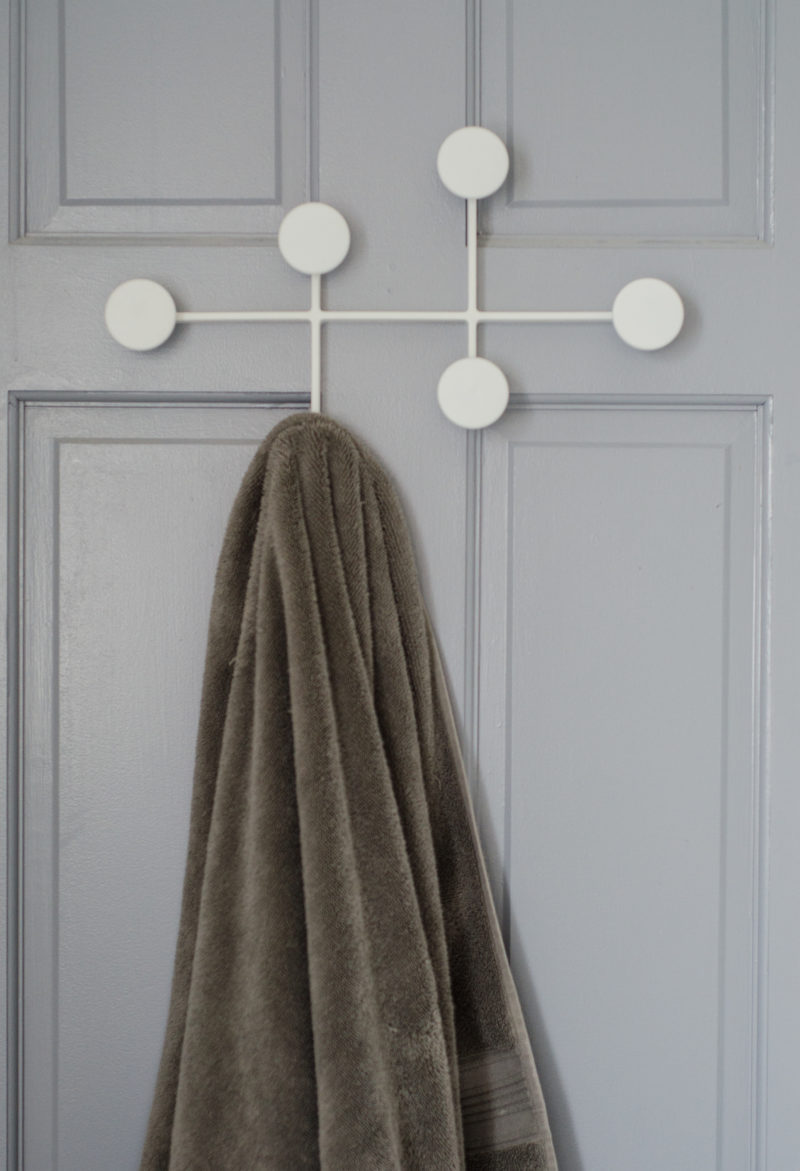 SHOP THE ACCESSORIES