As most of you already know (I've only been talking about it nonstop the last few months!), when we bought our place in August of last year, we knew we had a lot of work to do. The condo needed some SERIOUS love, as it hadn't been updated in about 20 years. Though remodeling can be exhausting – literally the number of decisions you have to make is mind numbing – I found it to be so so worth it in the end. There is something special about having your place just the way you want it, minus some potentially regretful decisions (which we did have too haha).
I've got plenty of projects to share with you guys, but wanted to kick things off with one of our biggest ones so far, the kitchen! When we bought the house, the kitchen was super dark. Dark cabinets, counter tops, a green-ish beige paint color on the walls. We wanted a more modern, minimalist feel, but one that still felt cozy & warm. I feel like coziness can get lost in modern homes, so we kept that in mind as we made our kitchen decisions. Ready for the BIG REVEAL?!!! Here's our completed modern kitchen remodel…
PS – You can now see our kitchen reveal featured on Shutterfly!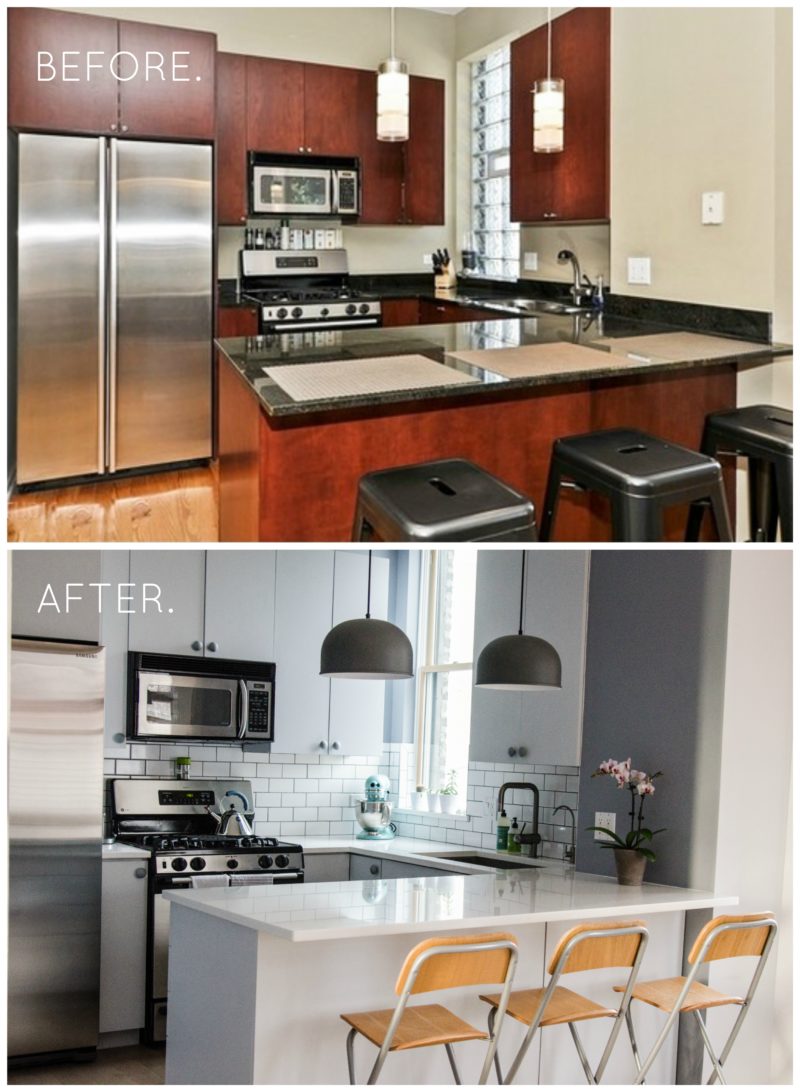 Quite the transformation, right?! It's kind of crazy for me to even look at these images side by side – I can't believe it's the SAME room! Here's a breakdown of what we changed:
Cabinets: We actually DIDN'T change the cabinets! In an effort to save some money, we decided to paint them instead. In this case we paid a contractor to do it, but I painted the cabinets in our den a few weeks ago myself and it was quite the project (I'll save that story for another post!). We went with Benjamin Moore's Bunny Gray – it turned out a little more blue than we had initially hoped, but once everything was complete we were happy with it.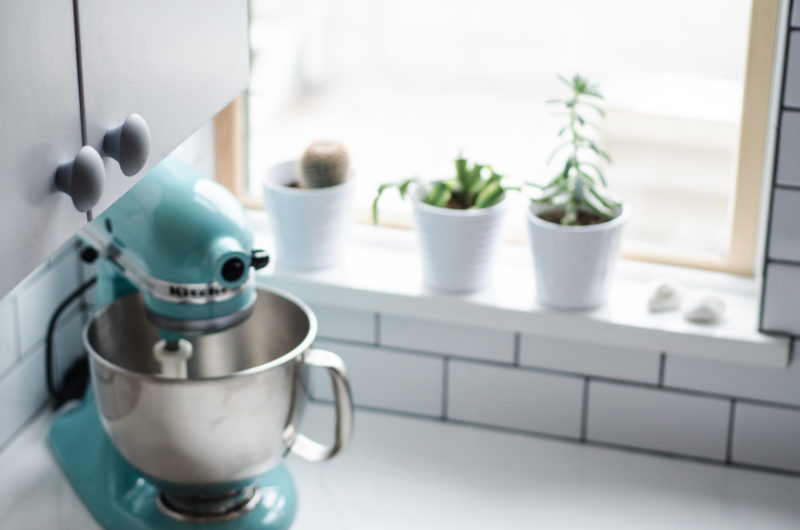 Knobs: Knobs & handles can completely transform a look (as we saw with my dresser)! We really wanted gray knobs, and almost everything we came across was a variation of metal. Finally, Leo discovered these amazing porcelain ones from an online shop in Australia. They ended up being the perfect shade of gray.
Pendant Lights: We replaced the existing pendant lights with these from Design Within Reach. They are the epitome of minimal & modern! I love their simple, sleek design.
Countertops: The countertop was previously a dark green granite. To go with our lighter, more modern kitchen, we replaced the granite with HanStone's tranquility quartz. It's a white quartz with very light gray veins.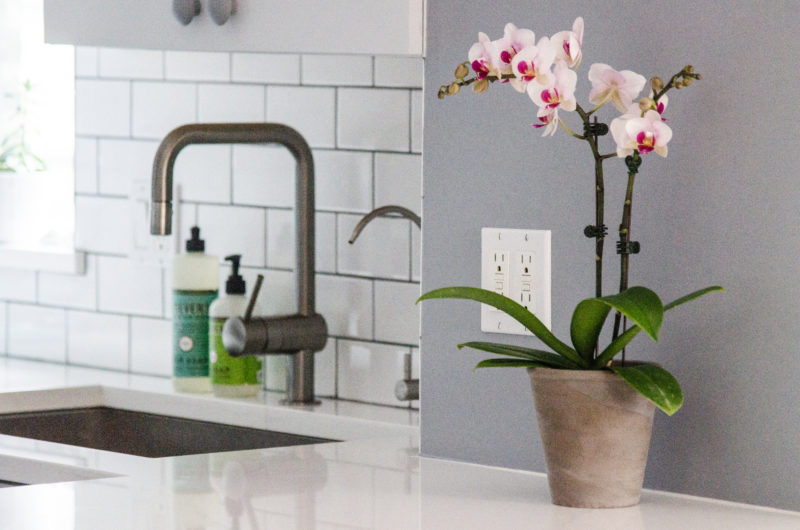 Sink & Faucet: The old sink had two compartments and wasn't as deep as we would have liked. We replaced it with a deeper, single compartment, rectangular sink. We also changed the faucet to one that matched the modern kitchen (and also had a really unique shape to it).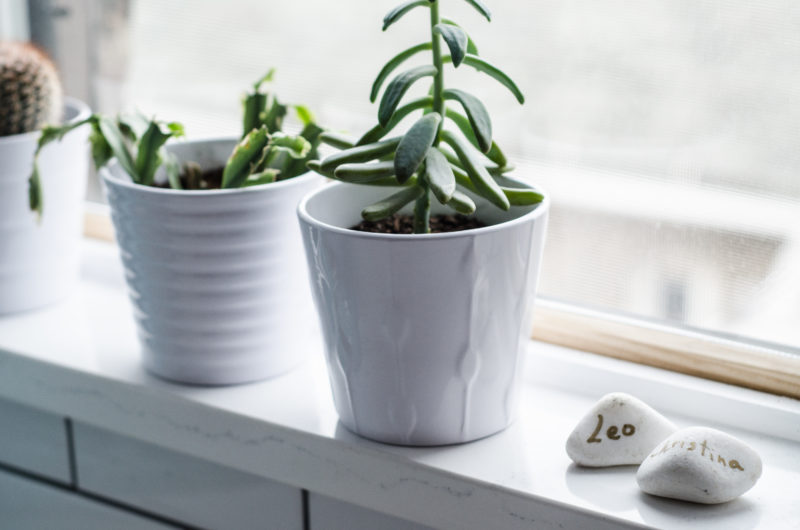 Window: The window in the kitchen was previously made of glass blocks, where you couldn't see out (& also gave a bit of a "basement" feel). We replaced it with a normal window that now brings in more light & make the space feel more open. PS – remember these little rocks from my old place?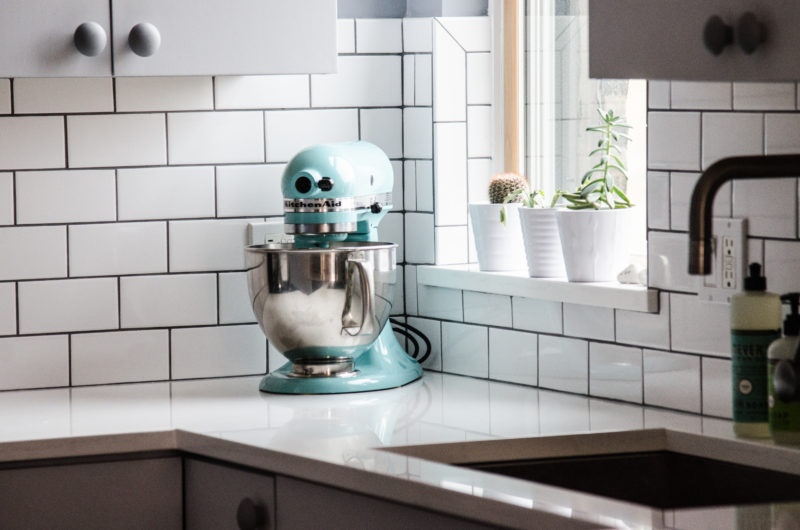 Backsplash: This was the cheapest change we made, and it made the BIGGEST difference. We bought this subway tile from Floor & Decor and paired it with a dark gray grout. It made the kitchen feel like a professional one you'd find in a restaurant (because I'm obviously only cooking restaurant-quality food – ha!).
Paint: To offset the lighter color of our cabinets & countertops, we painted the walls in the kitchen Benjamin Moore's Nickel. The medium blue-ish gray tone brought in just the right amount of contrast to make the cabinets & counters pop.
Annnd that's it! We're hoping to eventually put a piece of art up above the kitchen island and get new bar stools, but we're pretty happy with the current situation. One step at a time!
SHOP OUR KITCHEN