FINALLY! I've been meaning to do this post for AGES and here it is! One of the questions I get asked the most is how I do my everyday makeup, and it's so much harder to explain in person without showing you what exactly I use and how I apply it. That's why…wait for it…I'm launching my first EVER YouTube video along with this post! Yay! Another project I've been meaning to get to for a while.
For the most part, I keep my look very simple, but I really really love a good glow (& am having a major "glossy" moment), so that has heavily influenced my daily routine. My current lineup consists of a few products I've been using for years now, and a few newbies (a lot from Glossier, of course). More dets on all the products I use daily below…and check out the video to see my everyday look come to life!
PS – For all the Glossier products I link to, shop with me and get 10% off your entire purchase (if you're a Glossier first timer!).
I've been a bronzer queen since I was 15 years old, and luckily, I've gotten away with not wearing foundation regularly my whole life. That said, bronzer is a life saver for me and I've tried quite a few. This one has been my go-to for a few years now, and I don't foresee that changing anytime soon! For one thing, it smells like chocolate. Yes, I'm SERIOUS. I also like that it is matte (so none of that glitter nonsense) and it goes on so smooth and even. It also lasts me 6+ months, and I use it daily! I apply it on my brow bones, cheek bones, jaw line and around my hairline. There are three different shades available, this one is good for medium skin tones. PS – the packaging has recently changed so don't be alarmed if it doesn't look like this one that I have!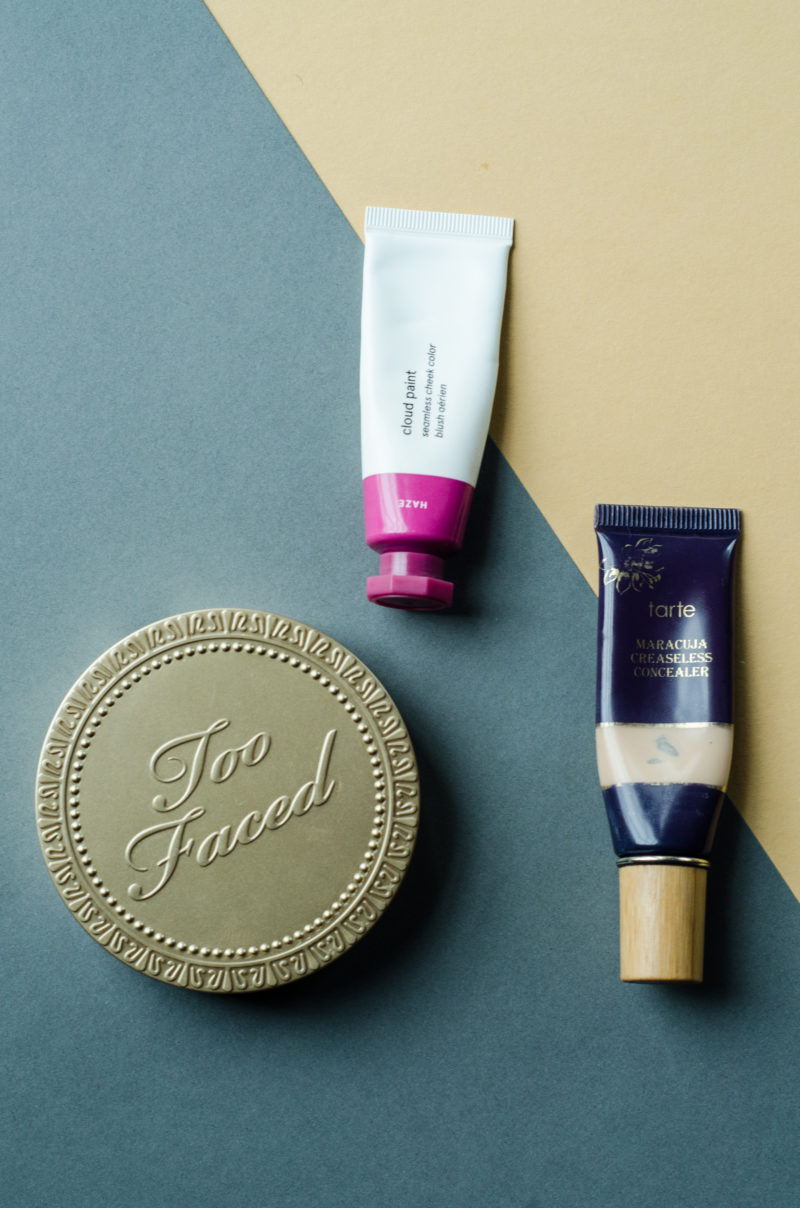 Another all-time favorite of mine! This concealer has amazing coverage, but what I love most about it is the pretty glow and brightening effect. It covers dark circles and gives that dewy look, all in one. I mean, what more could you ask for? A little goes a long way here, so I take a small amount and dab around my eyes and on eyelids for a nice even, highlighted look. It's waterproof so it stays on all day! I go with a lighter than normal shade for more of a brightening effect, but that is totally personal preference.
I didn't dabble in the creamy blush realm until more recently, and OMG, where have I been?! I have combination skin, with my cheeks being the most dry area, so I need all the moisture I can get. The Glossier Cloud Paint is seriously MIND BLOWING. It adds a beautiful tint while giving your skin the moisture it needs, and blends really really well. I use the Haze currently, but am really looking forward to trying their other shades this summer! This stuff is VERY pigmented, so you only need a little dab on each cheek.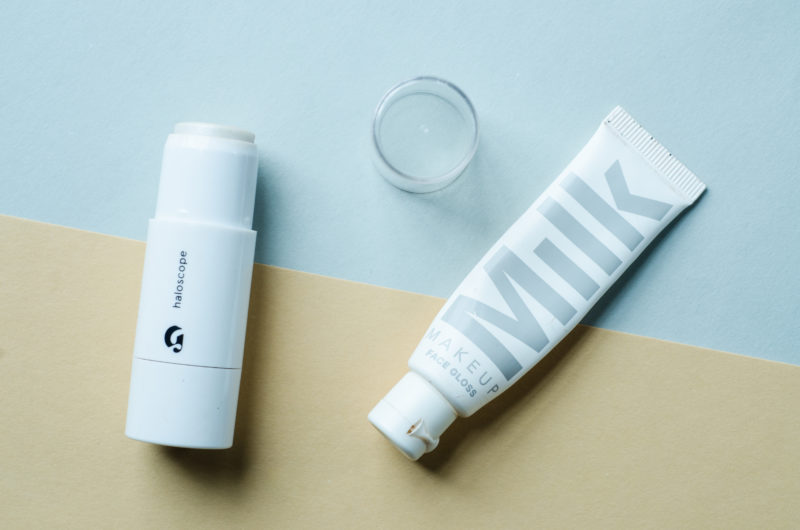 I was a big fan of the Nars Copacabana for the longest time, and recently made the switch to Glossier's Haloscope in the Moonstone shade. I like that is has more a natural tint to it (less glittery, more dewy) and the application of it is so easy with the stick. I run it on my brow bones, cheek bones, on my nose and just a dab on my chin. This is another one that comes in three shades, and I have yet to try the others! I'm sure they're equally awesome.
Not something I wear every single day, but when I'm feeling a little more glow, I'll add the Milk Makeup Face Gloss on top of the areas I apply my highlighter. You can read more about my obsession with this product here.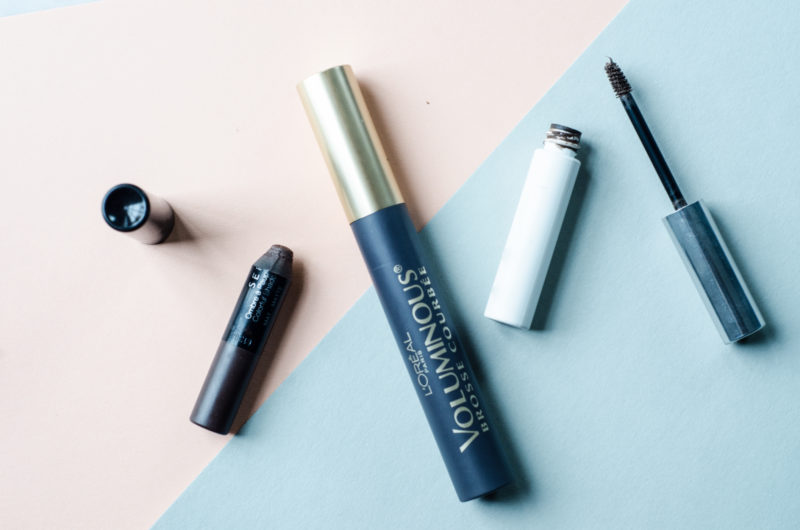 Another product that's been in my lineup FOREVER! I've tried department store brands, other drugstore brands, and I find this mascara to be my fav. Let me preface this by saying that I like my lashes chunky and full. I don't look for length in my mascara because I have naturally long lashes (although this one does lengthen a bit!), so if you're looking for more of a lengthening, wispy look, this may not be the best choice for you. I never curl my lashes, mainly because I'm lazy, so I always go for the curved brush to give me more of the uplift on the ends. I switch up the shades I buy depending on my mood, but I usually rotate between the Black or Carbon Black.
You've heard me rave about this product already, so I'm not going to go on TOO long of a rant here! I will say, I have thick, unforgiving brows that are both a blessing and a curse. They look great when they're tame, but can be a nightmare in other instances. Boy Brow fills in the natural holes I have at the end of my brows, in addition to keeping them in place. It's the perfect balance of gel and tint.
For the last 15 years or so, I've been wearing brown liner. I'll bust out the black liner for special events or evening, but my daily go-to is a brown liner. I have harsh features, and I find that brown liner softens my face and gives me more of the natural look I'm going for. This jumbo liner/shadow pencil from Sephora is awesome (not to mention it's only $14!). I like that it's not a sharp line, but more of a smudgy look that blends and looks more natural. Another liner I've been experimenting with (for times I want more of a clear line) is the Bare Minerals One Fine Line in Straight Spice.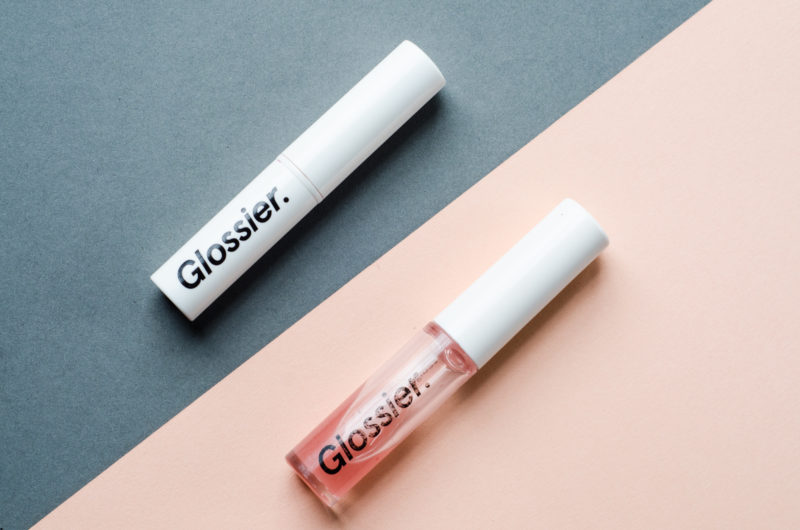 REAL TALK – I'm super lazy when it comes to reapplying lipstick during the day, and that's why I dig Generation G. It's more of a stain, and when it fades, it looks even better. I have it in three different colors (and included it in my summer lipstick roundup last year), but the Leo is the one I reach for when I'm looking for a natural lip. It gives me a pretty nude tint without washing me out. Generation G is matte, so when I want an extra shine…I layer on the…
For a crystal clear shine that can be added to any matte lipstick. It's the shiniest lip gloss I own, and I love love love that it's not super sticky and doesn't have glitter. Seriously, the best lip gloss EVER! And, it's formulated with Vitamin E so it moisturizers your lips too.