I don't know about you guys, but Thanksgiving really crept up on me this year! How is it already the end of November? With only a few days left until the holiday, I'm focusing on prepping my pumpkin pie (that's all I'm responsible for, thank god). I'll be heading to my mom's in the north suburbs where we'll be having a little family gathering. I'm bummed we'll be missing a few family members from out of town this year – I have a big family and love it when we're all together! It's madness, but always fun.
Anyway, I'm always stressed about Thanksgiving outfits, and figured you might be too. That's why I've pulled together a roundup of five potential Thanksgiving outfits that you probably already have in your closet. You may have seen some of these on the blog recently, but either way, it's just a casual reminder that you have options!
PS – If you're looking for some festive recipes for the holiday, try my healthy pumpkin squares or this delicious pumpkin seed dip.
Outfit 1: Belt an oversized cardigan & wear over a midi skirt
This outfit is so easy to pull together – you're essentially mixing up a few basics and accessorizing! You can even switch out the ankle boots for a block heel pump or heeled boots if you want to dress it up more.


Outfit #2: Wear a knit maxi dress under a camel coat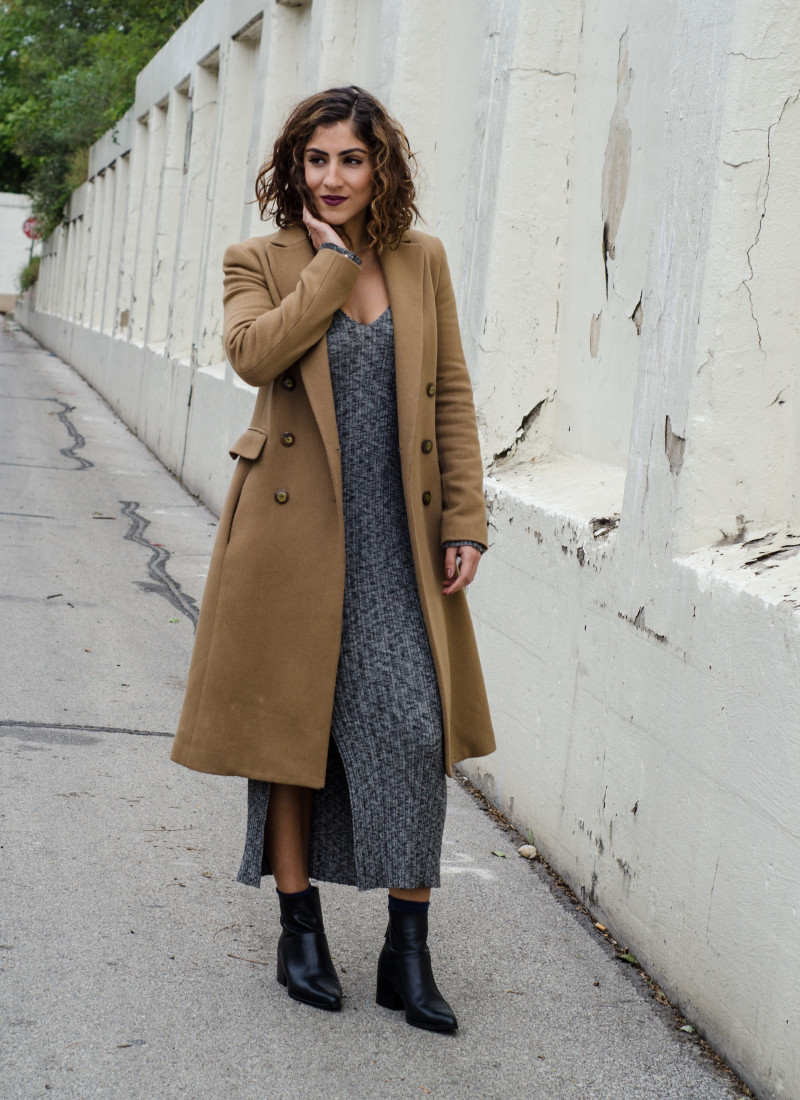 Ahhh! A throwback to my short hair! I kind of miss it?! Anyway, you can't go wrong with a sweater dress, especially a maxi. They're super comfortable and naturally on the "dressier side". I love a maxi dress paired with a shorter coat, especially a camel one.


Outfit #3: Rock a leather skirt with white blouse over a turtleneck
You probably saw this one on the blog last week – I'm obsessed with this outfit! I'm all about layering a white oversized blouse over anything (as seen here and here), so lately I've been layering over knit turtlenecks. Such a chic look, and perfect for the holidays.


Outfit #4: Style flare jeans with an oversized sweater
Flare jeans are magical because they elevate your outfit but they're still JEANS. I love how they look paired with an oversized sweater. Add a pop of color on your lips & some hoop earrings or dainty layered necklaces and you're set.


Outfit #5: Show your adventurous side with stirrups, a ruffle top and ankle boots
Stirrups are my go-to dress up pants as of late. I wear them on a night out, out for dinner, even to work! Pair them with a pretty ruffled (or metallic, if you want to get really festive) top, a pair of ankle boots (preferably pointy ones) and you're ready to go.