Yup, that's right…ANOTHER pumpkin recipe. I just can't get enough! My boyfriend's mom had an amazing recipe for pumpkin squares, and with her recent move she lost it. I've been trying to dig up her recipe – it was a bit healthier than the norm (with no butter or eggs), so I knew that when I came across this recipe on Chocolate Covered Katie, I'd hit the jackpot. I must admit, for my first attempt at replicating the recipe, I'm quite proud of myself. It's the perfect treat and I don't have to feel guilty about eating it (it contains ground flaxseed after all). I've included the recipe below as I made some adjustments; I also changed up the cream cheese frosting recipe (used this cream cheese frosting recipe from Gina's Skinny Recipes).
Yields about 12 squares (in an 8×8 pan) | Bake for 30-33 minutes at 350 F
Ingredients:
Cake
1 cup white flour
3 tsp cinnamon
1/2 tsp pumpkin pie spice
1 tsp baking powder
1/2 tsp baking soda
1/2 tsp salt
1/4 tsp nutmeg
2 tbsp ground flax
1/2 cup brown sugar
1 cup canned or cooked and pureed pumpkin
1/4 cup almond milk
2 tbsp oil
2 tbsp unsweetened apple sauce
1 tsp pure vanilla extract
Cream Cheese Frosting
8 oz 1/3 fat Philadelphia Cream Cheese
1 cup powdered sugar
1 tsp vanilla extract
Cake: Preheat oven to 350 F and grease an 8×8 pan. Combine all of the dry ingredients and then mix in the wet. Wait about 10-15 minutes for the cake to cool before adding the frosting.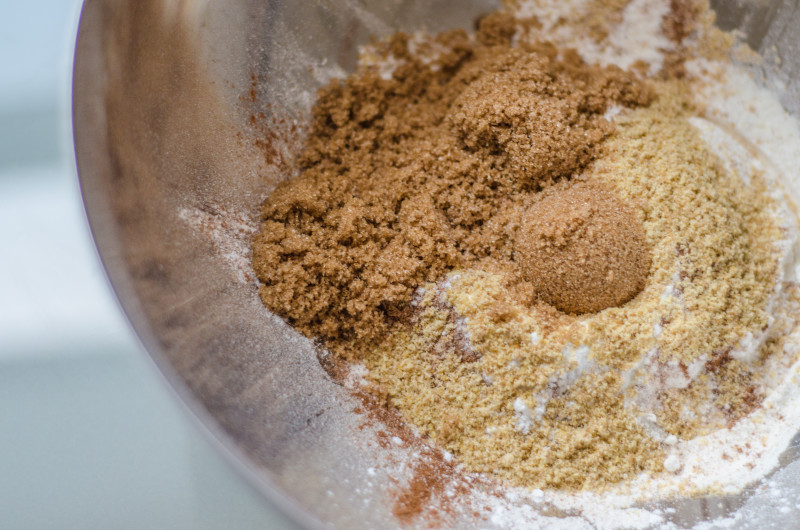 Frosting: Beat together cream cheese, powdered sugar and vanilla until smooth.
Spread the frosting over the cake and…voila! Dig in.