Wrap Skirt: Purchased in Italy, but found the exact same style (different colors) here | White Knit Sweater: Mango (super old), similar here| Earrings: Mignonne Gavigan | Purse: Danse Lente | Shoes: Vintage Stuart Weitzman bronze sandals, similar here (affordable version here)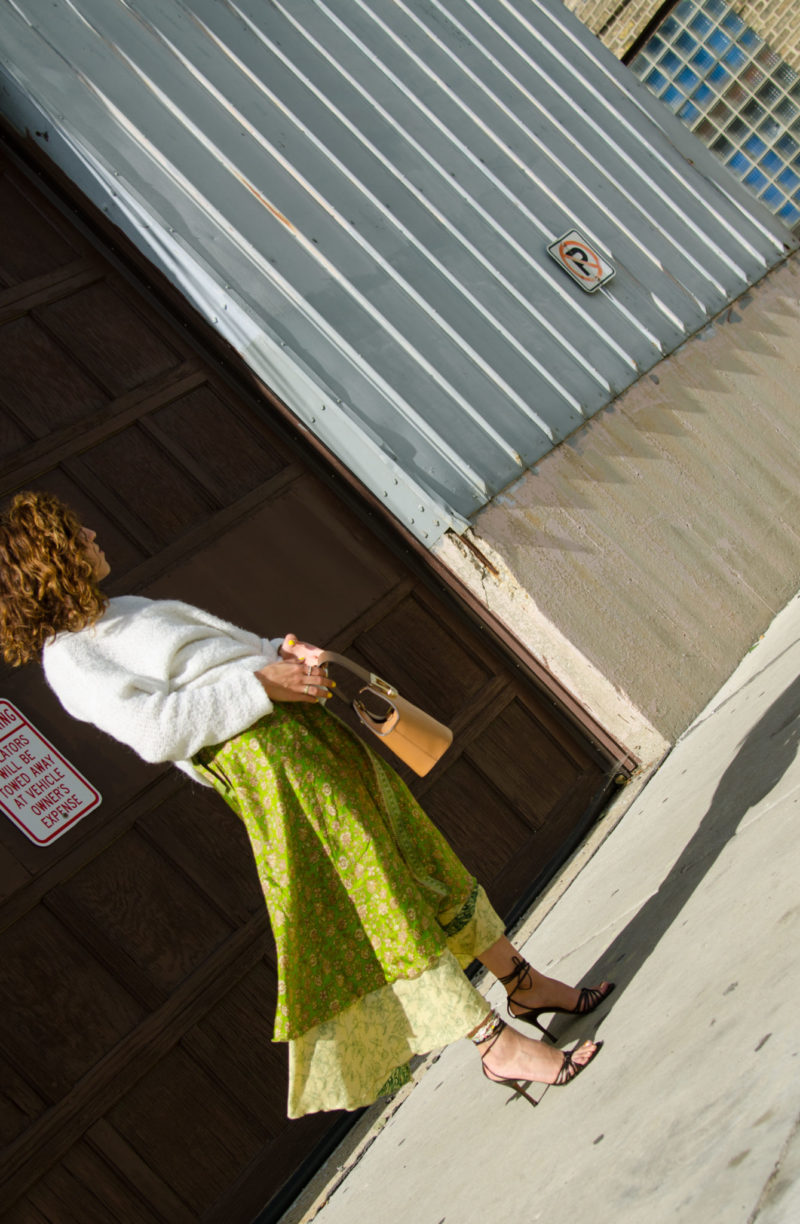 It's that time of year, whether or not we want to admit it. Summer is coming to an end (insert my sadness here). I will say, hidden within my melancholy of summer ending is excitement for a new season and FALL FASHION!! HEYOOOO! Okay, maybe it's not all that hidden.
September through November are actually my favorite months in Chicago. It's leather jacket weather, peeps. Better bust those things out before we move on to those sexy puffer coats (for real though, those can be cute too). It's still sunny and warm, but you get that nice crisp breeze that sneaks in here and there and gives you that fall feeling. My inner basic B self is excited for pumpkin sh*t and all the other basic B fall things.
You know what else I'm excited about? Bringing all this new summer amazingness I got on my trip (check out all the goodies I bought, if you haven't already!) into fall. You heard me right! Spoiler alert – summer pieces can be brought into fall, if ya do it right.
That's why, today we're talking about the summer pieces you can keep on rocking until that puffer comes out…and maybe even after that too.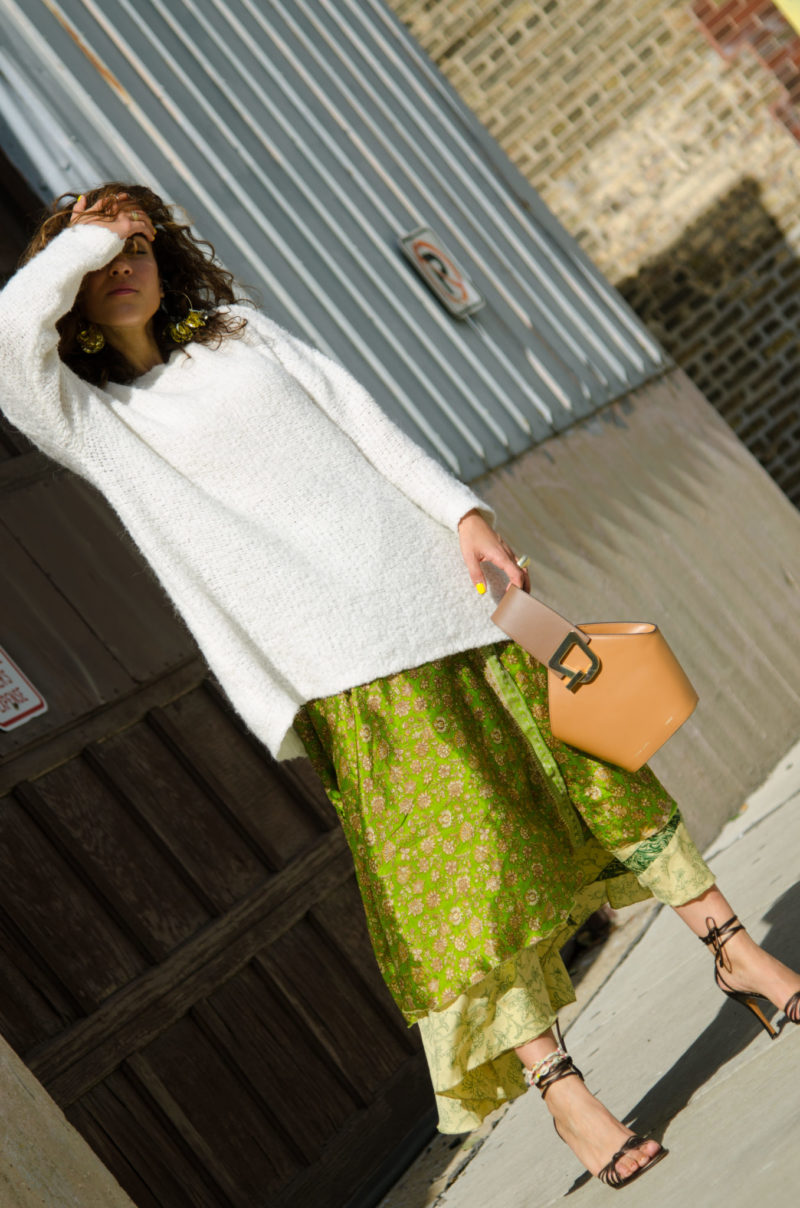 the summer knit.
BRING ON THOSE SUMMERY SWEATERS! This was a sweater from Mango that I got on sale a few years back. It's not wool, it's white and very airy, so I would consider it a summer knit for all intensive purposes. This sweater could easily be brought into fall to wear over skirts, biker shorts, a slip dress, but also allows for layering underneath (think a cool patterned turtleneck – i.e. leopard print please). Here, I've layered over a silk wrap skirt and it loved how the two fabrics worked together, even though they couldn't be more different.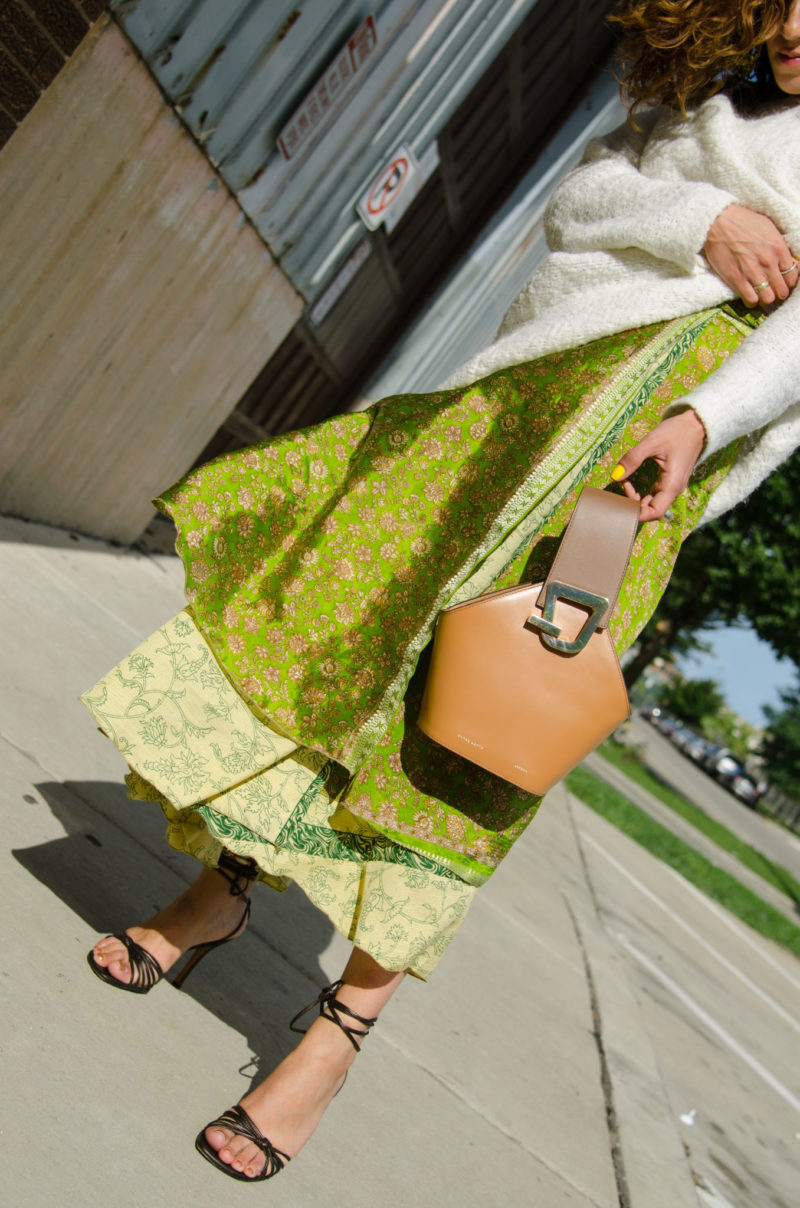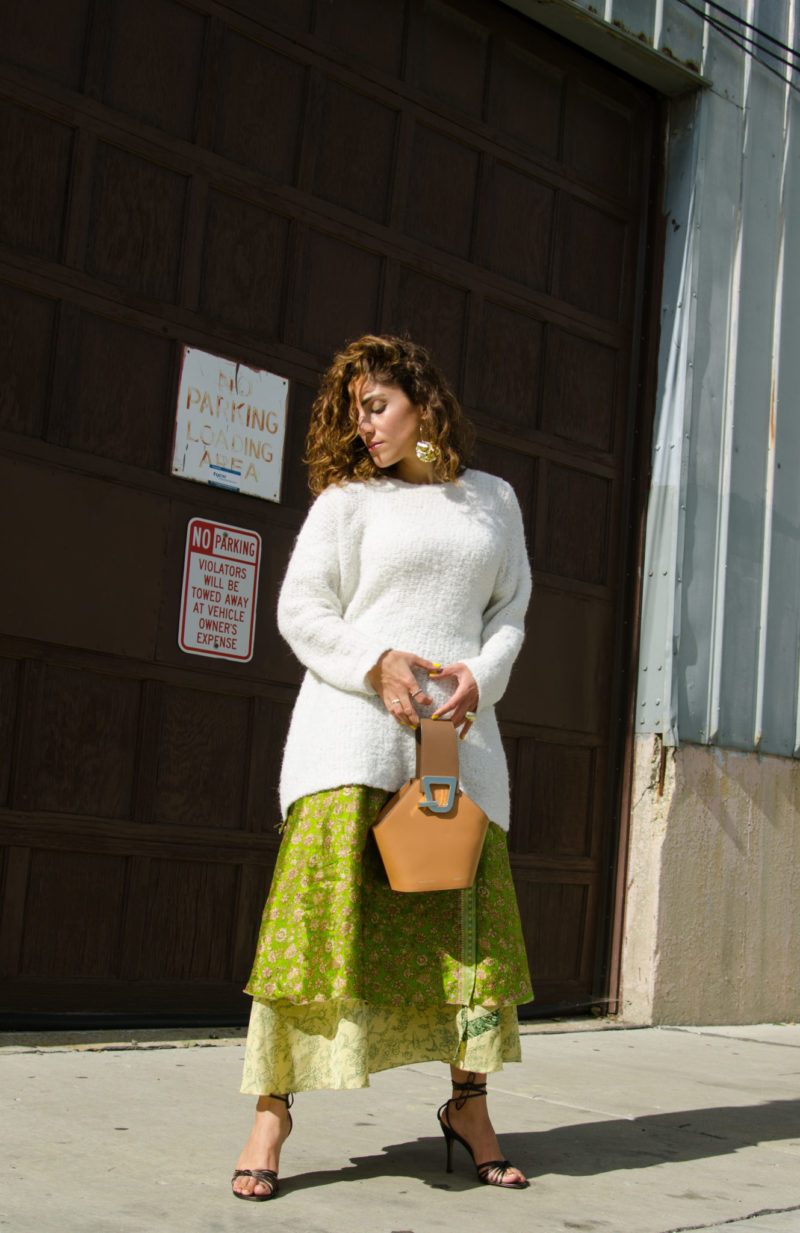 the wrap skirt.
Wrap skirts don't need to live just in the summer! In fact, I'm seeing more & more floral patterns being brought into the fall, worn in creative ways. I'm talking, wearing wrap skirts over jeans, with another dress layered underneath (even a sweater dress, if it's thin enough). My favorite (outside of layering with an oversized sweater, of course) is wearing a long blazer & a tee with a wrap skirt & some ankle boots.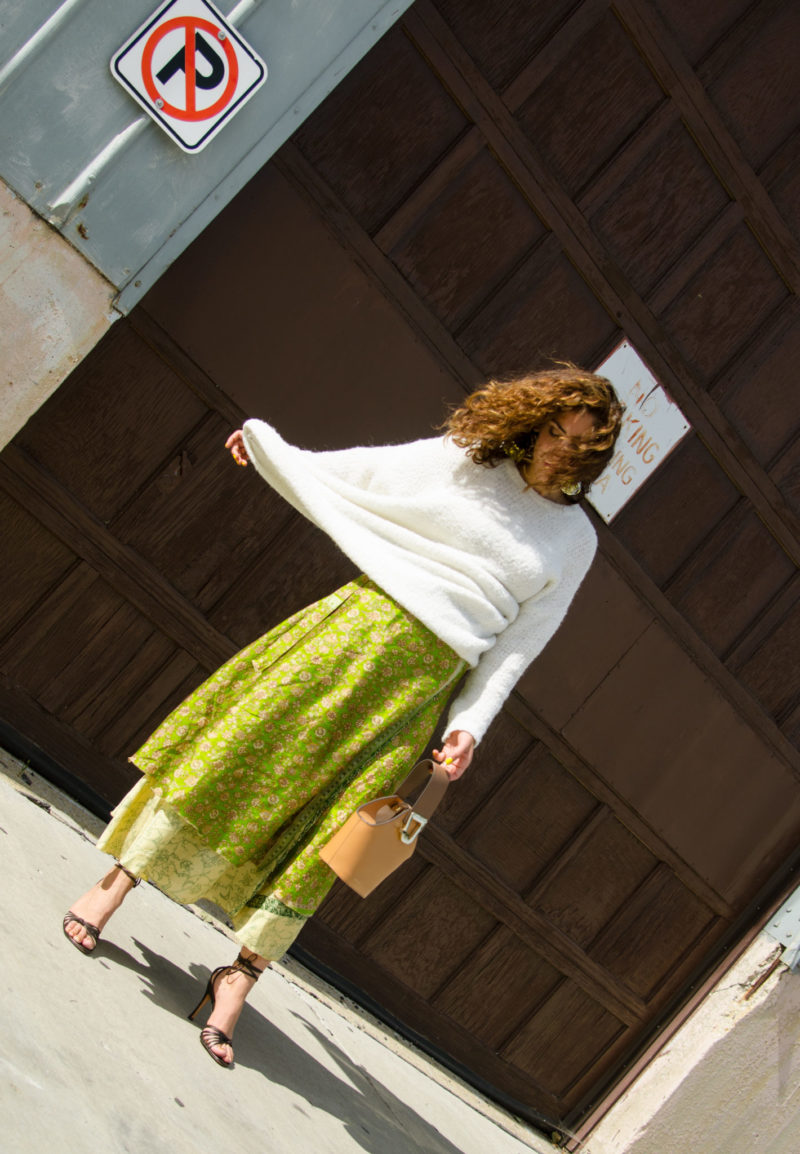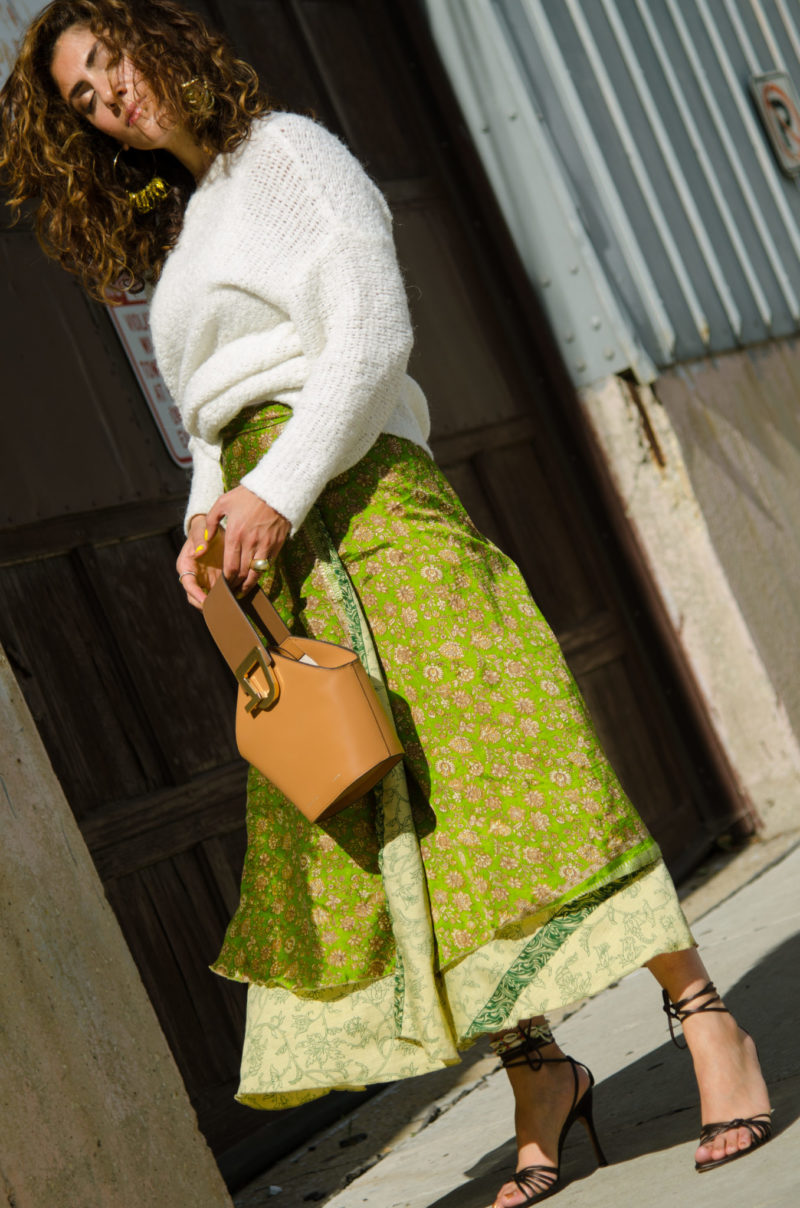 the strappy sandal.
Our whole lives we've lived a lie. Open toed shoes CAN be worn in the fall & winter!! Well, my grandma still rocks an open toe shoe with nylons in the summer, so I guess there are officially no rules. We can write our own ;). In September, when it's still warm out, I'm going to experiment with wearing a strappy sandal with a fall pieces like sweater dresses & blazers, and once it gets a little colder..that's when I'll bust out them socks. Add a pair of socks with those strappy, open toe sandals, and you can wear those bad boys all year long…and look chic AF while you're at it. My brother will hate me for saying this, but DO IT.