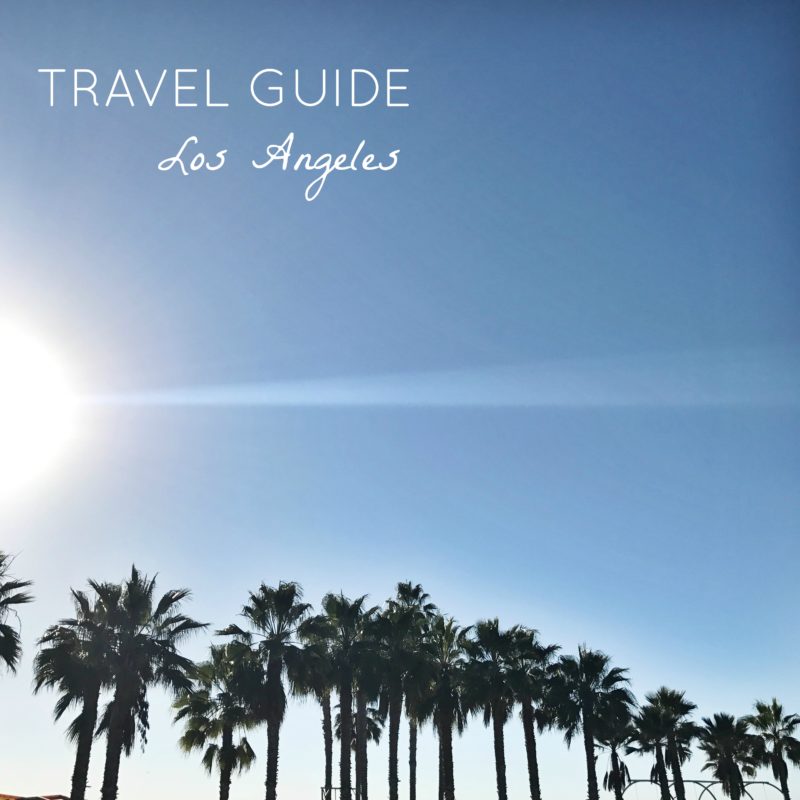 Given I have a good amount of family in LA, it was always a place I visited frequently growing up. I realized in recent years the sheer size of the city and how much I hadn't yet explored, despite my many visits. I've been itching to go back to check out the hot spots…but since Leo travels to LA often for work, it's been a tough sell to get him to go for pleasure. We finally booked a trip for post-Christmas, and brought in the New Year very LA style at a house party in Hollywood Hills. It was a much needed break from our crazy lives lately, particularly the gorg weather (we did have a few days of rain – but hey, still 40+ degrees warmer than Chicago)!
We did plenty of exploring, eating, shopping across this beautiful city. Below are my recommended places to eat/drink/shop/explore based on my recent experience!

Republique – Great restaurant all around, but most known for their brunch. It was the best brunch I had in LA, and perhaps ever. Everything on the menu is spectacular, particularly their bread, pastries/desserts, coffee…I can go on and on. I ordered the shakshouka and it was AMAZING. See the pic below for proof 😉
Crossroads: This is one of Leo's favorite lunch spots for vegetarian, and the burger is the highlight (it's only available at lunch). Crossroads is only one of two places you can enjoy the Impossible Foods burger, a plant-based burger that doesn't sacrifice taste or satisfaction.
Father's Office: Another great burger, but there's nothing vegetarian about it. Fresh, simple ingredients and great side dishes. Heads up – you cannot make ANY modifications to your order…so none of the "light cheese" "on the side" requests. It's a super cool, casual spot and has been around forever.
Moon Juice: We stopped by this place after shopping in Venice, and it was delish. Healthy juices & milks (made from their homemade almond milk), and some treats you can select from as well. A bit pricey, but worth the experience.
Night + Market: Delicious Thai food & fun atmosphere for a great price. There are two locations – one in Weho and the other in Silver Lake. I recommend ordering the filet minon satay, pad kee mao, papaya salad and crispy rice salad (everything else was tasty as well).
Sugarfish: Fresh & simple sushi. The menu is mainly pieces so don't expect the elaborate rolls you'd find at most sushi joints.
Public Kitchen & Bar, Roosevelt Hotel: If you're out & about exploring Hollywood, stop at the Roosevelt hotel's restaurant, Public Kitchen, for their reuben sandwich. It's not on the menu so you have to ask for it, but it's a damn good reuben.
Huckleberry Cafe: This the epitome of a healthy California cafe – adorable inside, and well made food with high quality ingredients. Highlights – fried egg sandwich, breakfast burrito & organic quinoa w/vegetables & eggs.

Abbot Kinney: A great strip of stores, cafes, restaurants down this street. You can spend an afternoon shopping around this area. Stores I loved included A Piece Collective, Roots Canada, Huset.
Slow on Melrose: Best spot for vintage Levi's and furs – known to be a celeb go-to for vintage items.
Wasteland: A rock-inspired vintage shop with four locations. I checked out the one on Melrose & it's massive. It would take hours to sort through everything, but you can find a great deal if you're in the mood to do some digging.
Spitfire Girl: Fell in love with this shop in Los Feliz, and happened to walk by their second location on Melrose as well. It's the perfect shop for gifts, from unique jewelry, to candles, cards, pillows etc. They also have their own fragrances!
Mohawk General Store: A well-curated designer boutique in Silver Lake. They carry known brands like Acne Studios & Isabel Marant to others you may have never seen before.
Clare V Flagship Store: I've always admired Clare V's ultra cool pouches & bags, so it was pretty special to visit her flagship store in Silver Lake.

Runyon Canyon: My favorite part of the trip was waking up early one morning and heading over to hike Runyon Canyon. It was just what I needed for a vacation workout – challenging (but just long enough at ~45 mins), and the views were spectacular.
Griffith Observatory: I unfortunately wasn't able to make it here this trip, but I've heard amazing things from locals about the Griffith Observatory. I was told to head over in the evening for the best views of the city. They also hold various events (i.e. the Public Star Parties, Sunset Walk & Talks). Check out their calendar here!